DIDN'T EVEN KNOW THAT I'D BEEN BORN
Two channel video with sound (09:18). 2023. Videography: Erin Crouch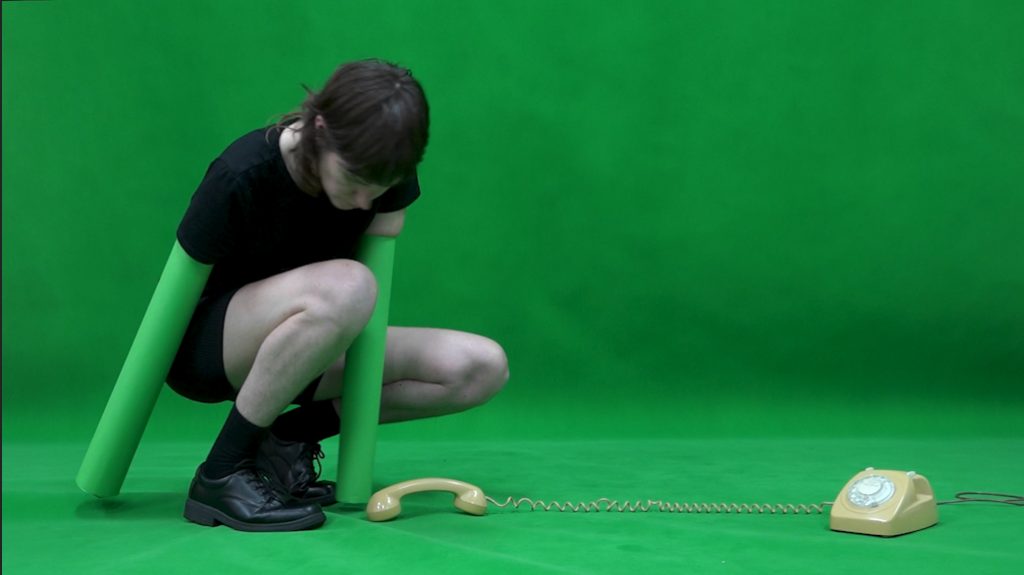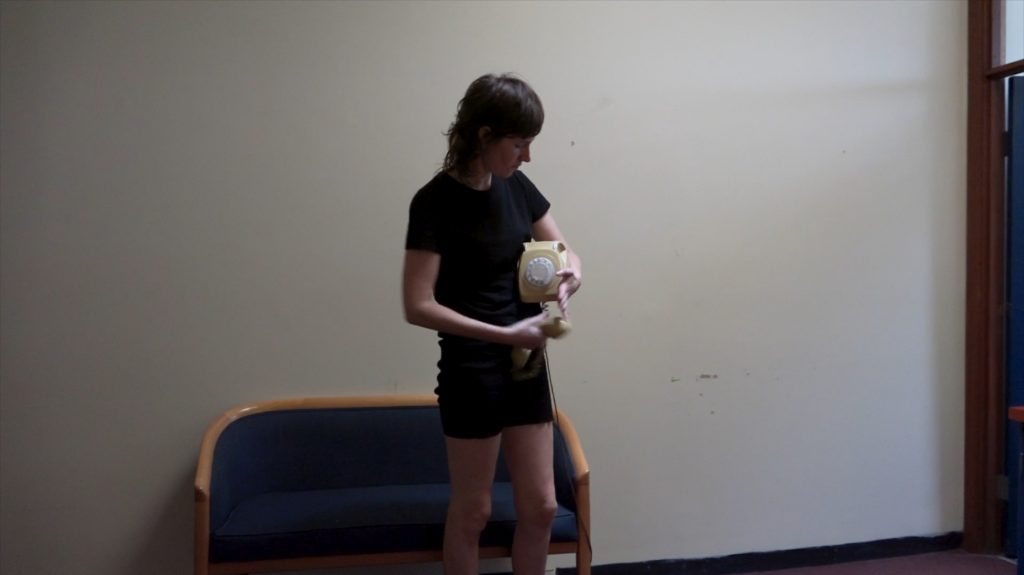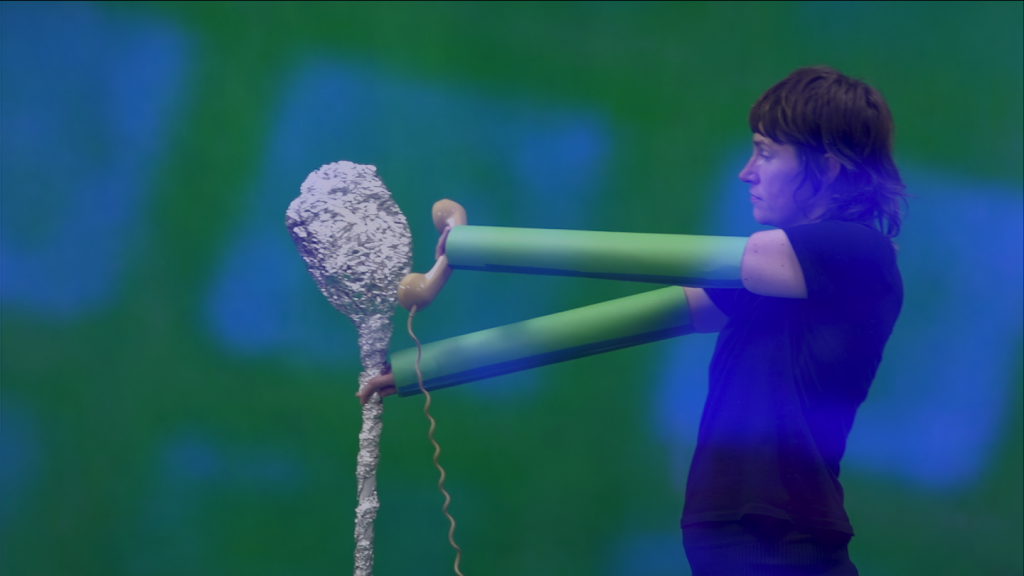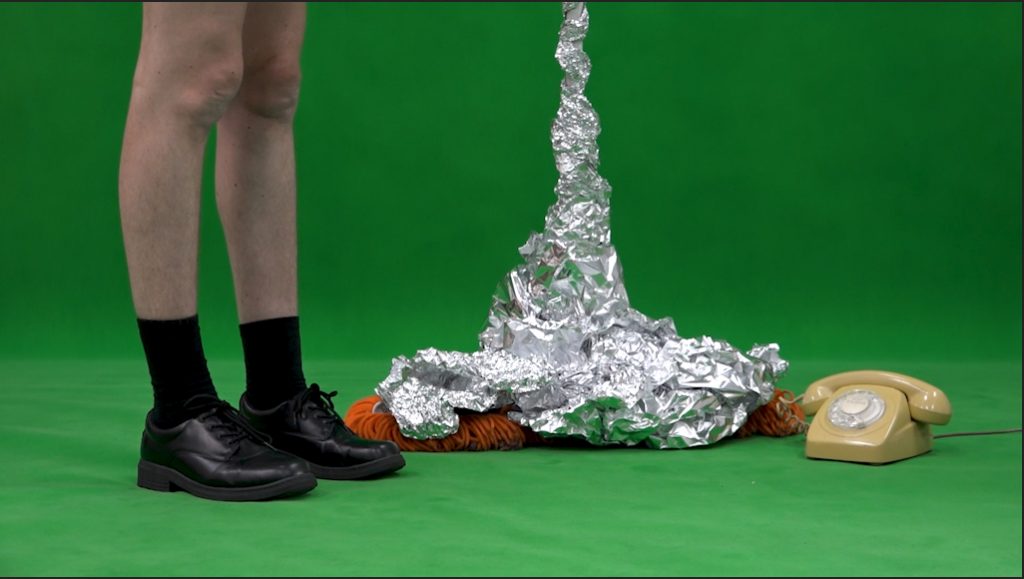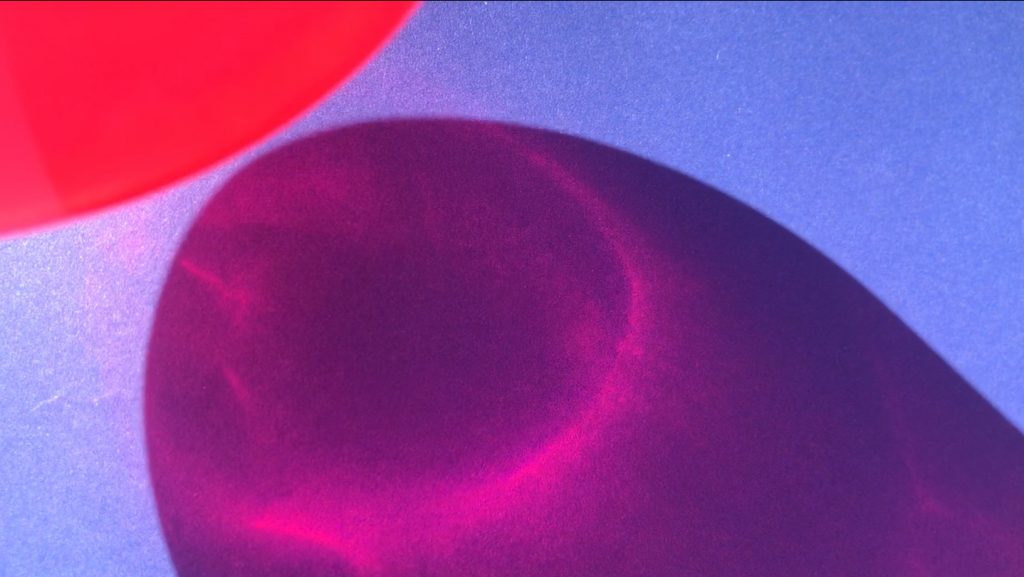 BECAUSE WAIT
'Because wait' – voice, synth, video. Played as part of Radio Insomnia, Montreal, July 2023.
sociabilityofsleep.ca/insomnolence/
GET THE ROCKS TO THE HAMMER
Double sided stained glass drawing. 'get the rocks to the hammer. get the bricks to the stone. get the hands to the mill. get the flag to the chisel. drivel drivel. Where is the thesaurus in a time like this.'
Spit, iridescent gold ink, coloured pencil, watercolour, oil pastel, crayon, watercolour pencil, collaged poem, glass, red nail polish. West Space 20 years fundraiser, 2023. A3 size.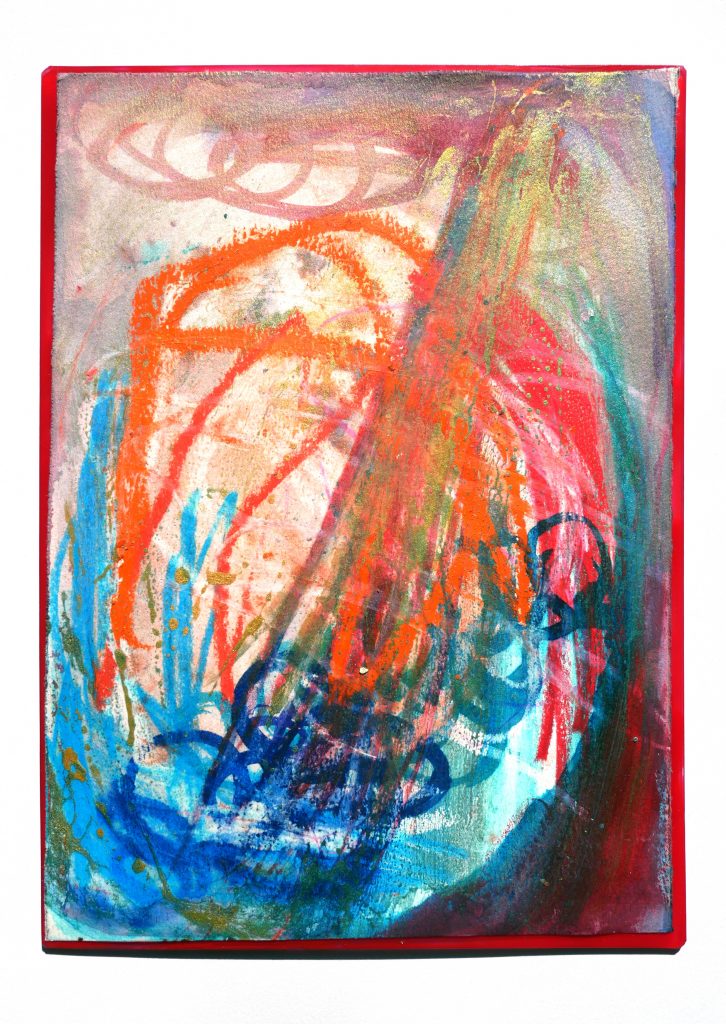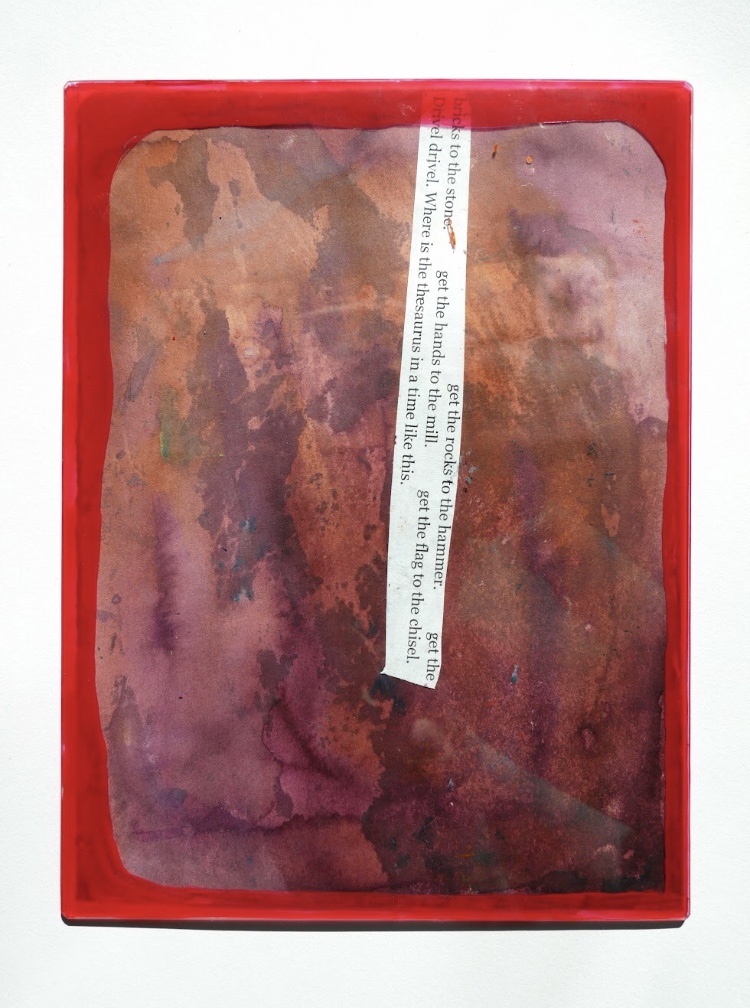 FAIRY
Mel Deerson and Spiros Panigirakis
fairy is an exhibition and public program exploring 'fairies' and queer presences – a space for queer making, learning and performance, held first at The Pavilion, Fitzroy Gardens, Melbourne (2023)
Including: Manisha Anjali, Mel Deerson and Briony Galligan, Jeremy Eaton, Mathew Jones, Kink Group (Queer Australian Art Archive), Luca Lana, Danni McGrath, Spiros Panigirakis, Melissa Ratliff and Francis Parker (Monash University Museum of Art), Ari Tampubolon and Peter Waples-Crowe

https://fairyfitzroygardens.com/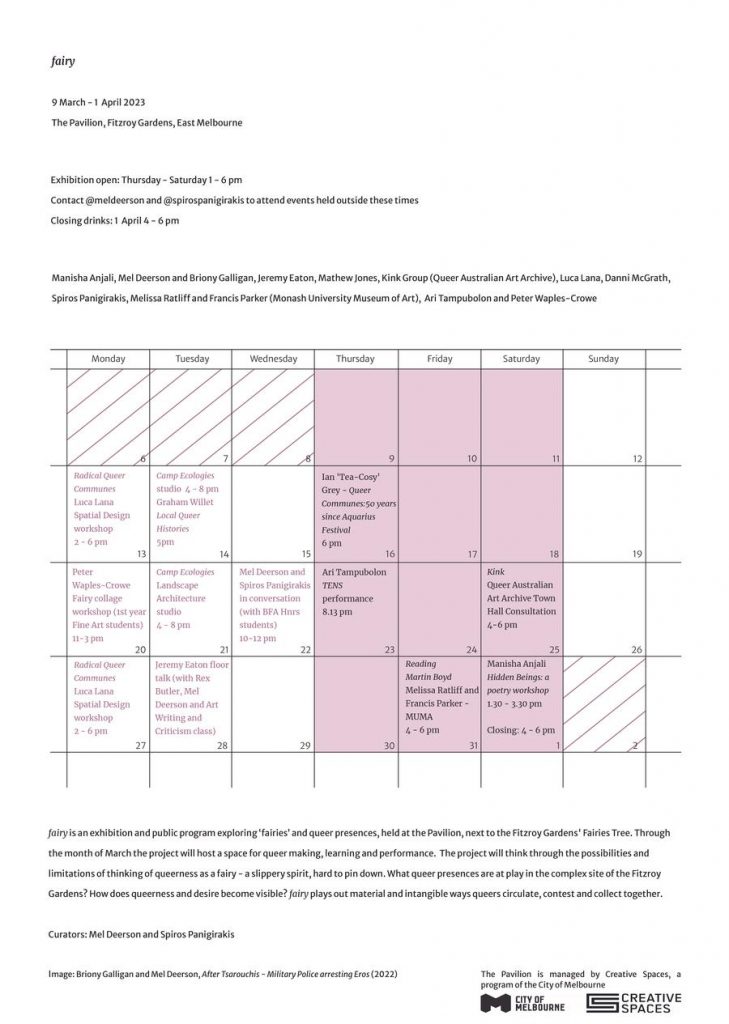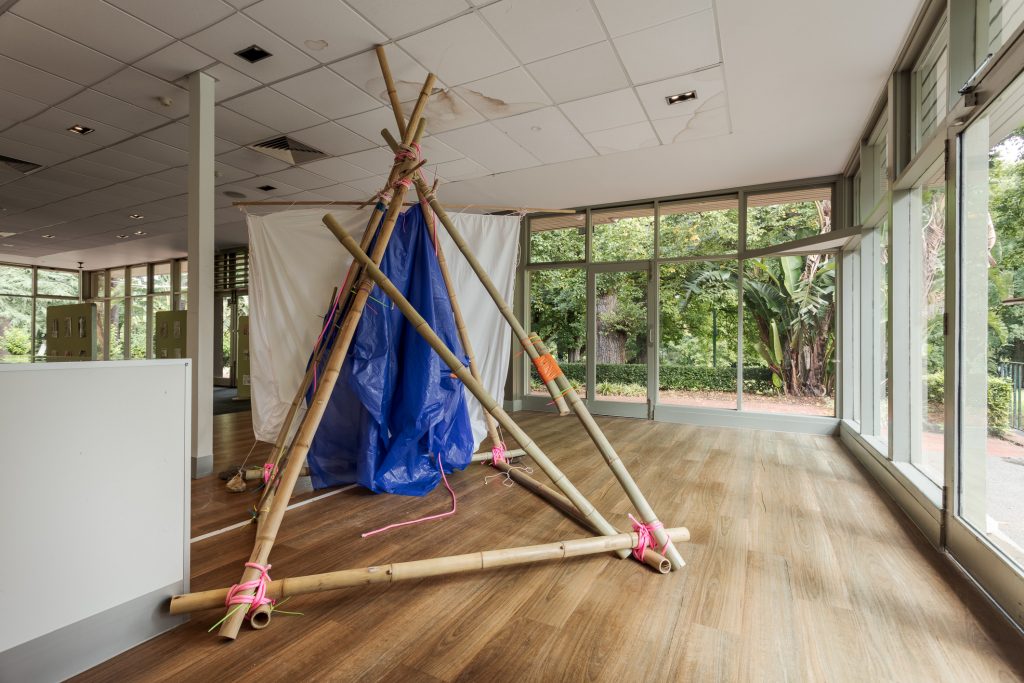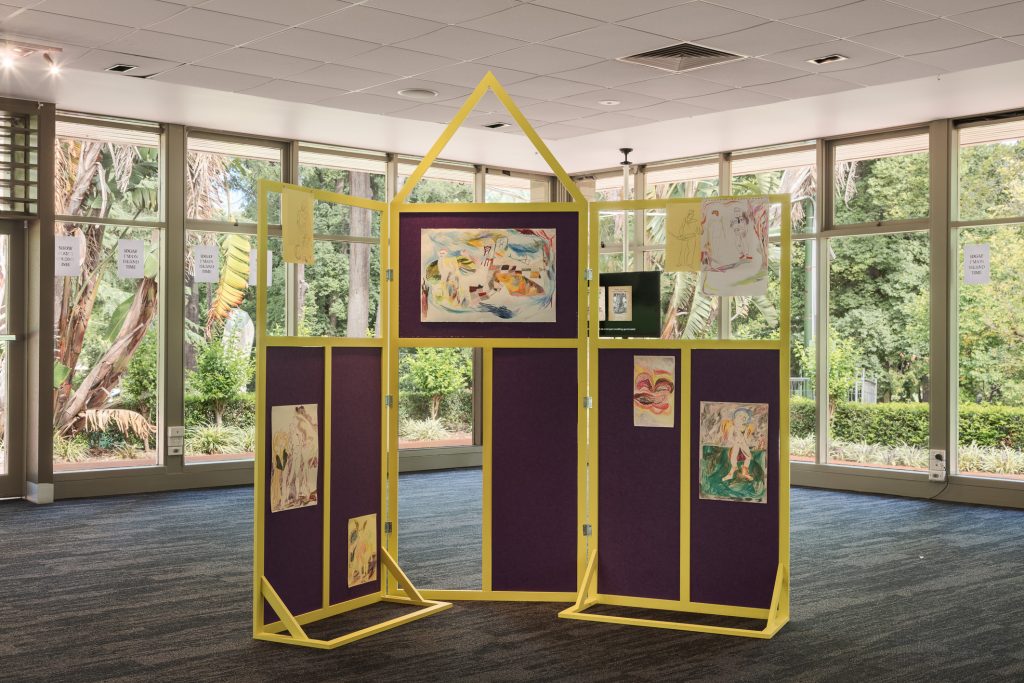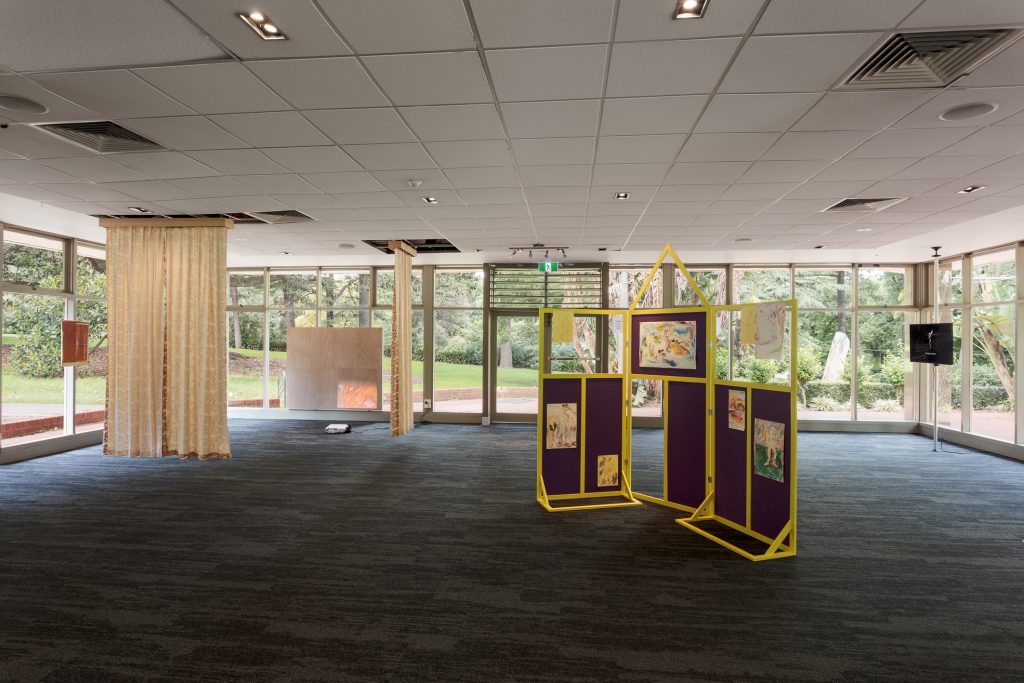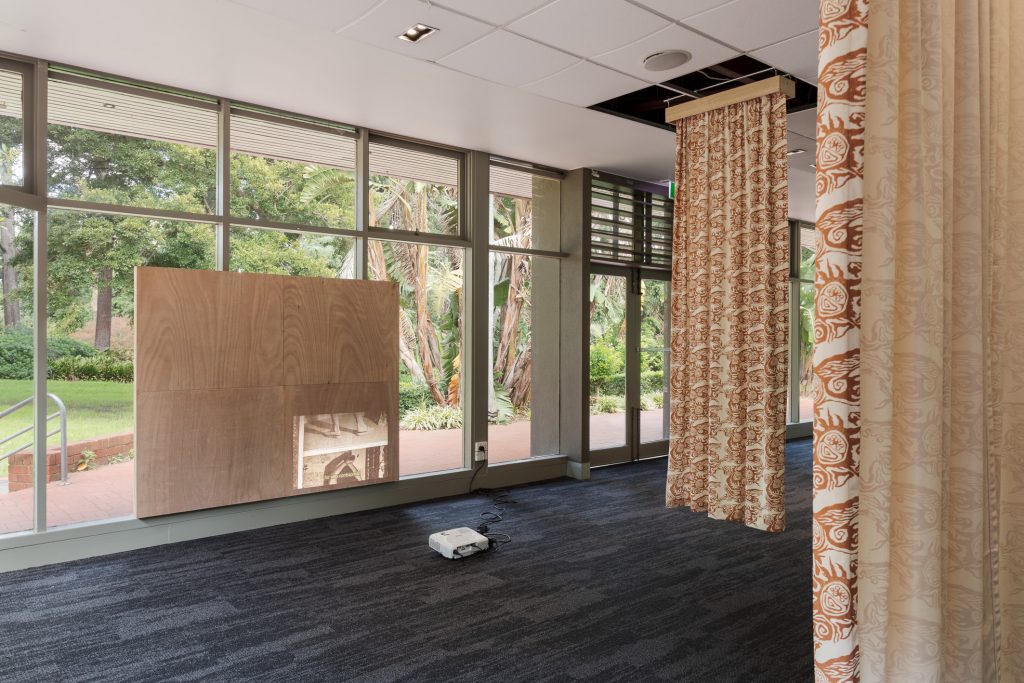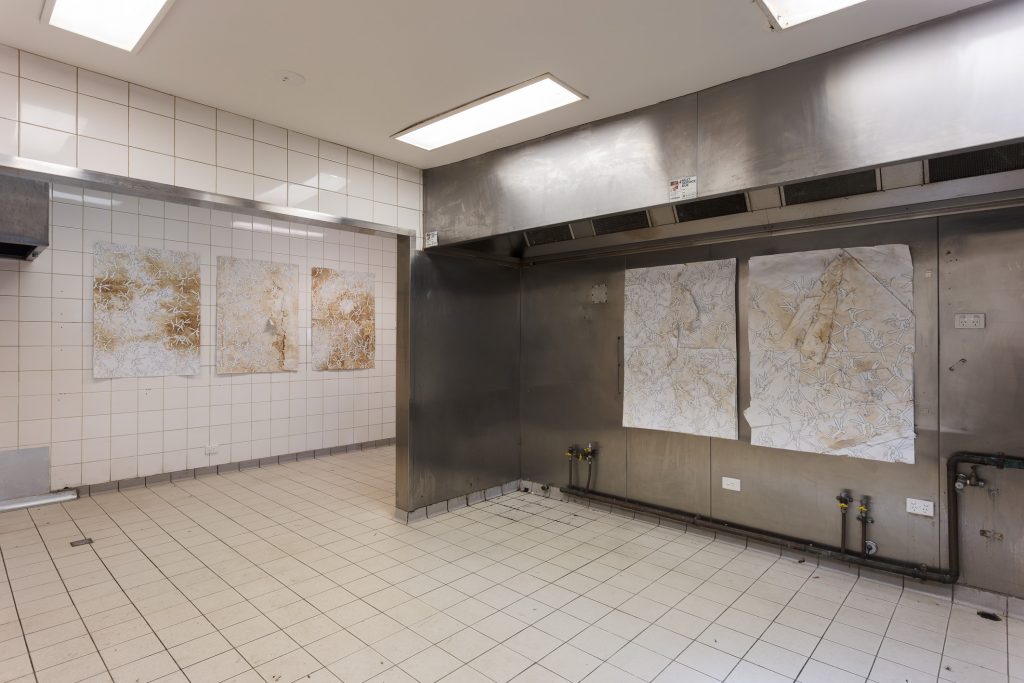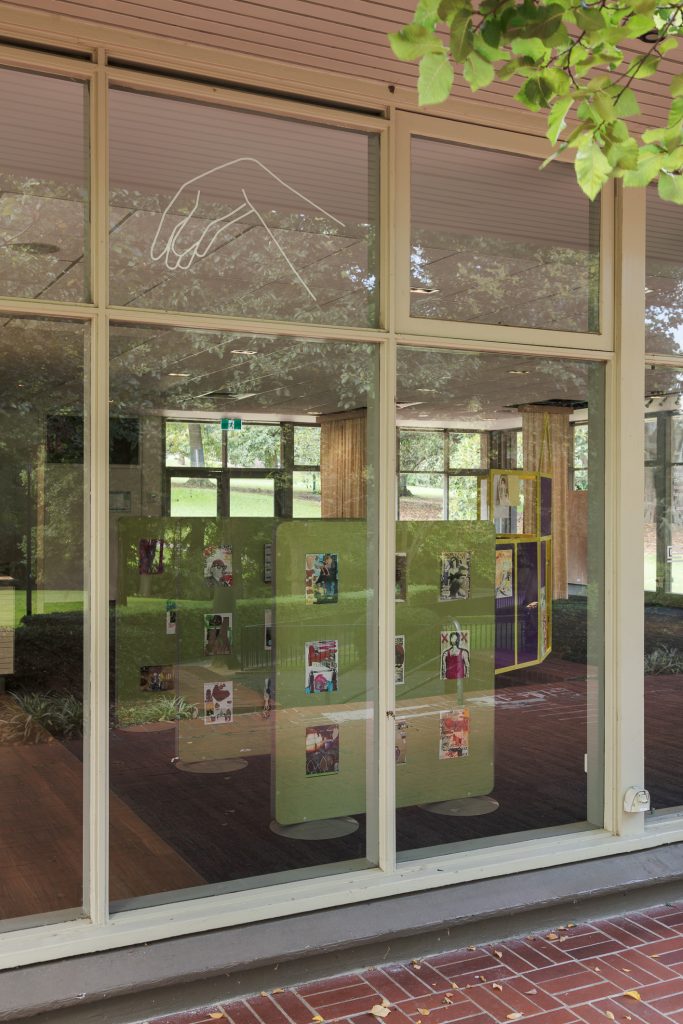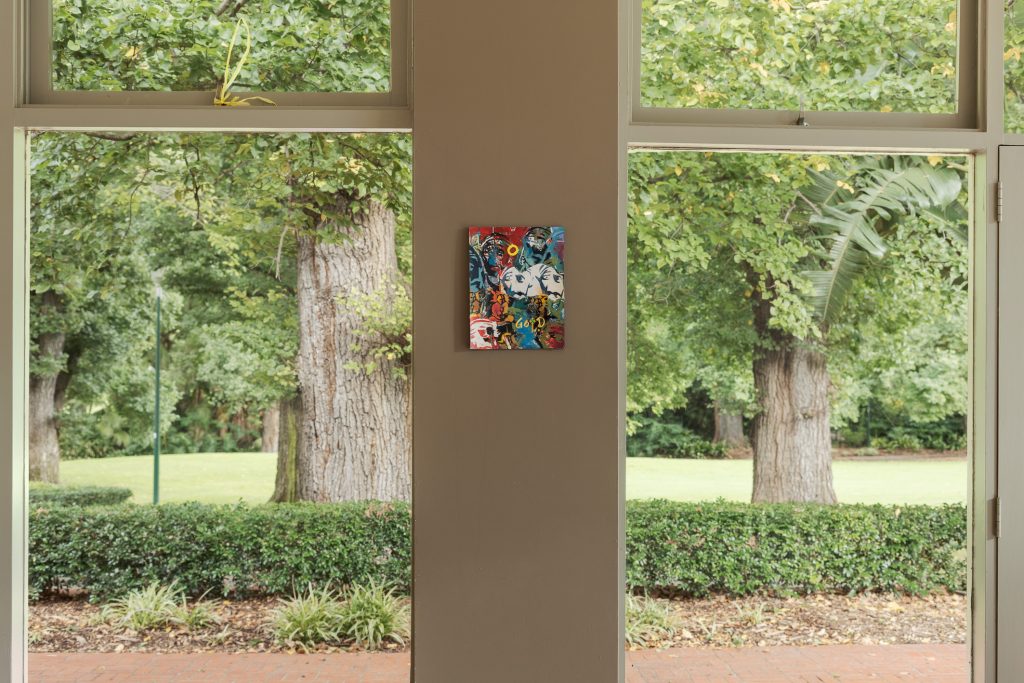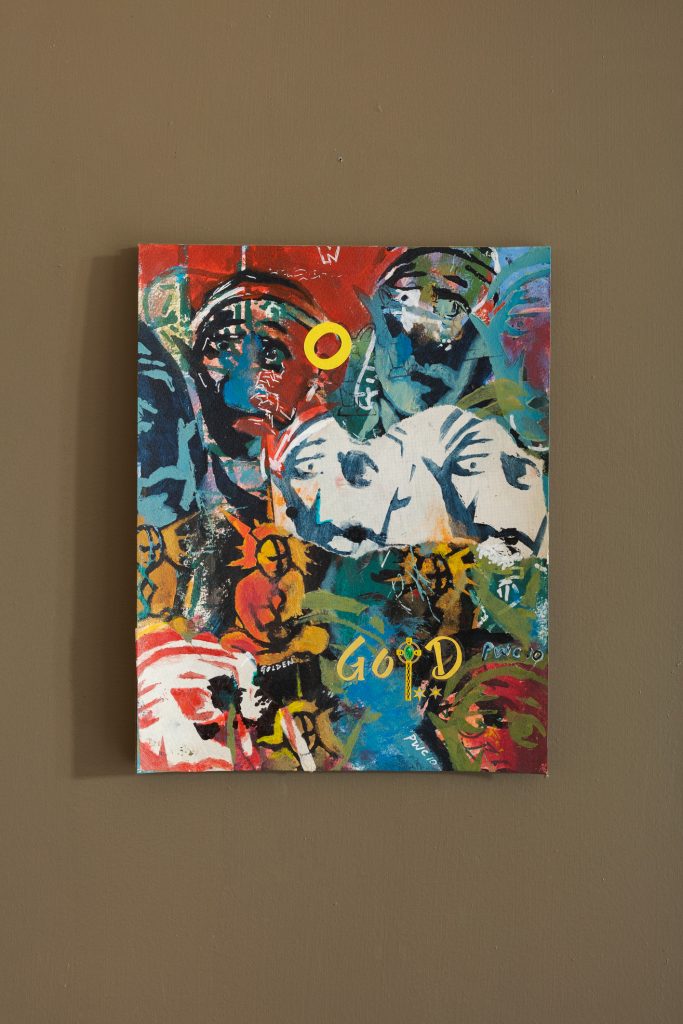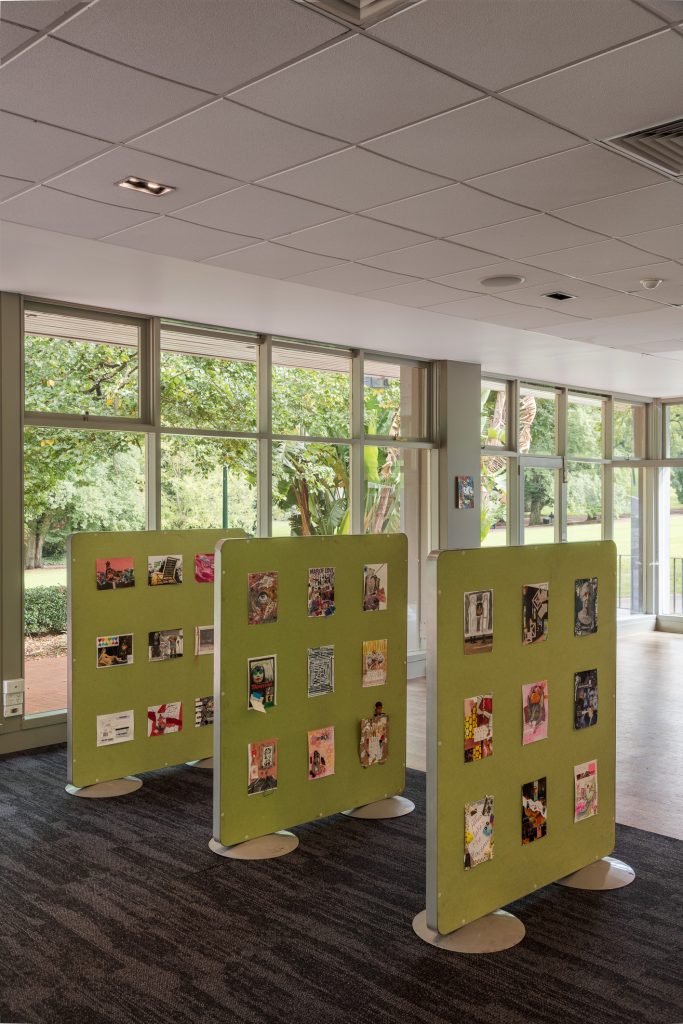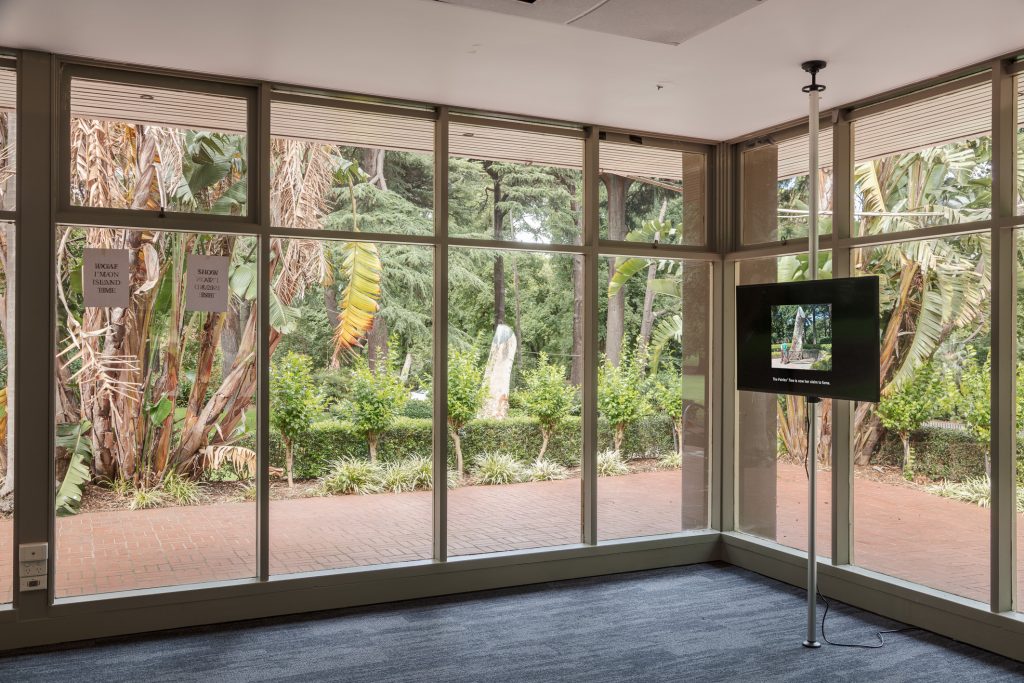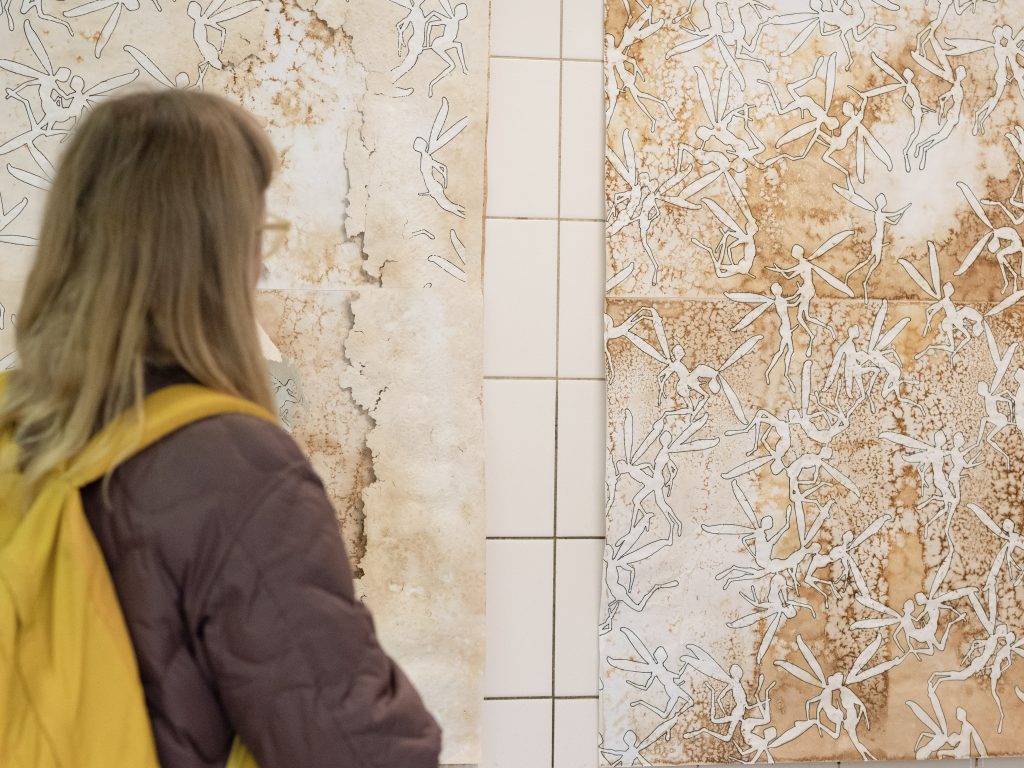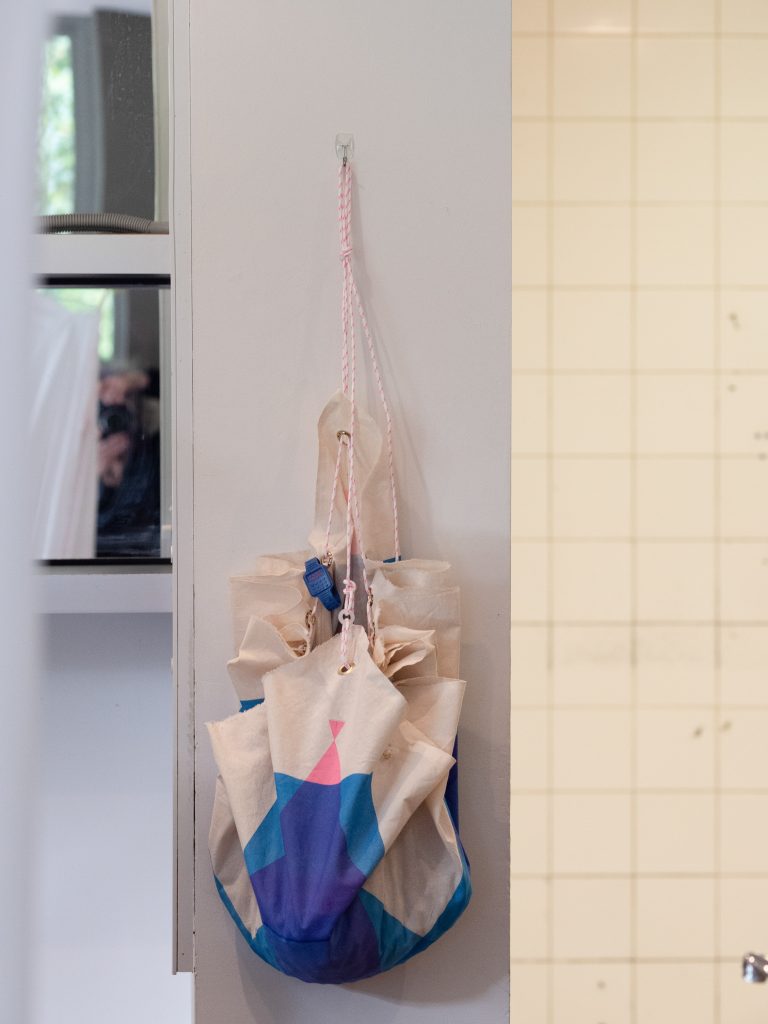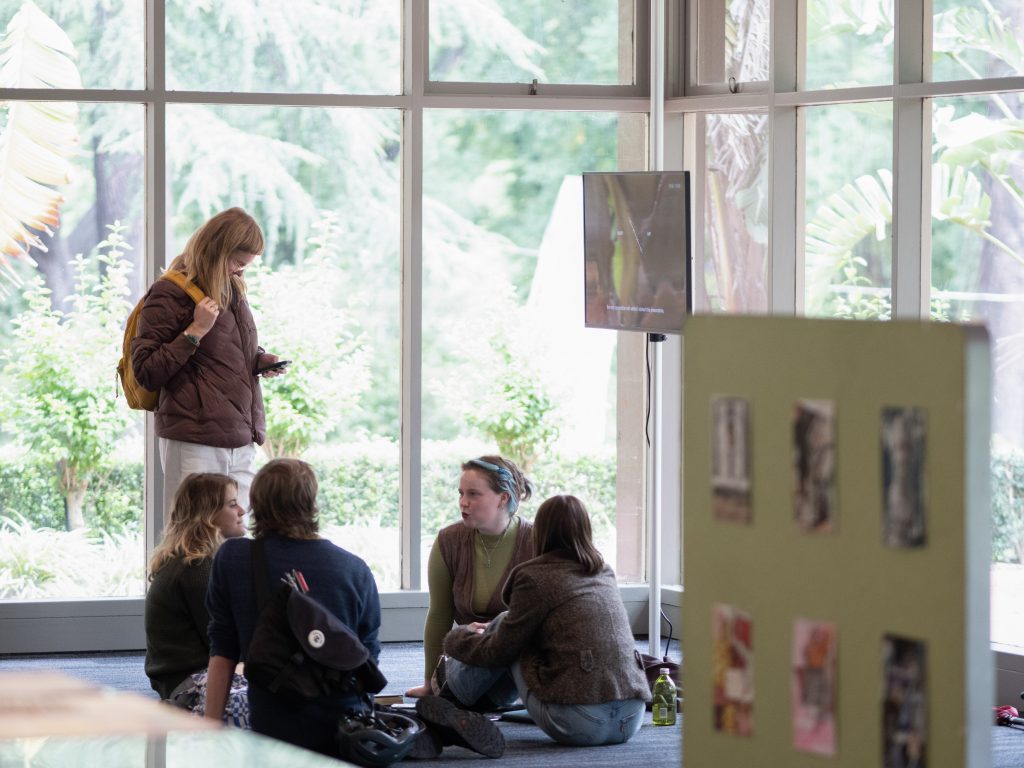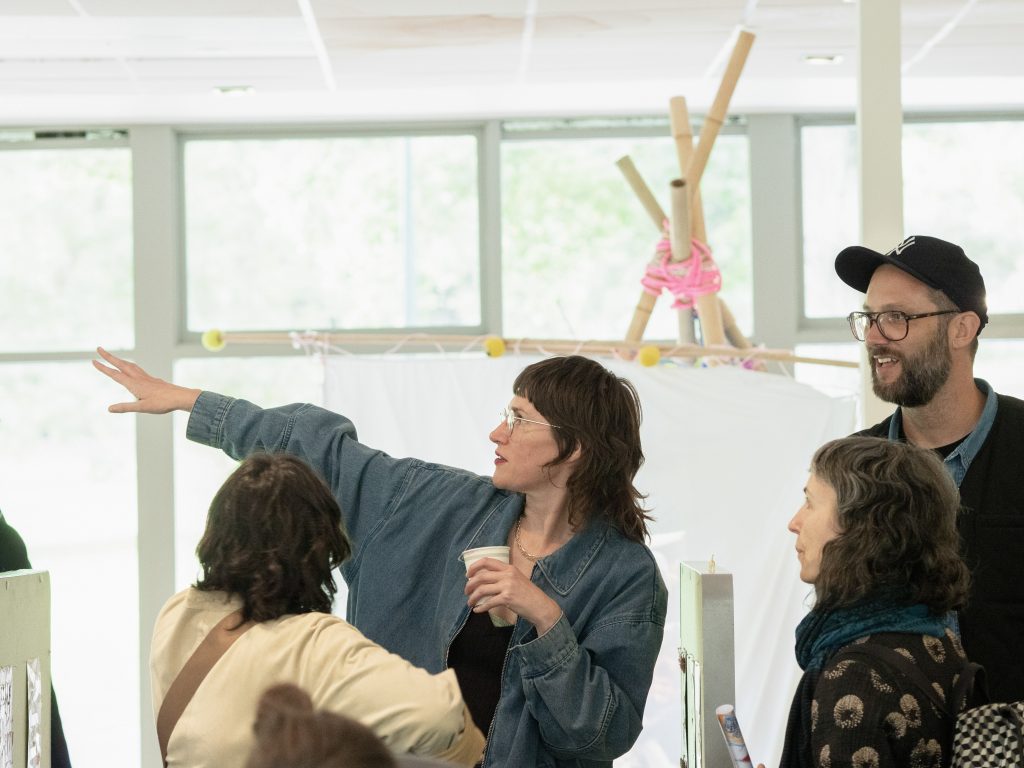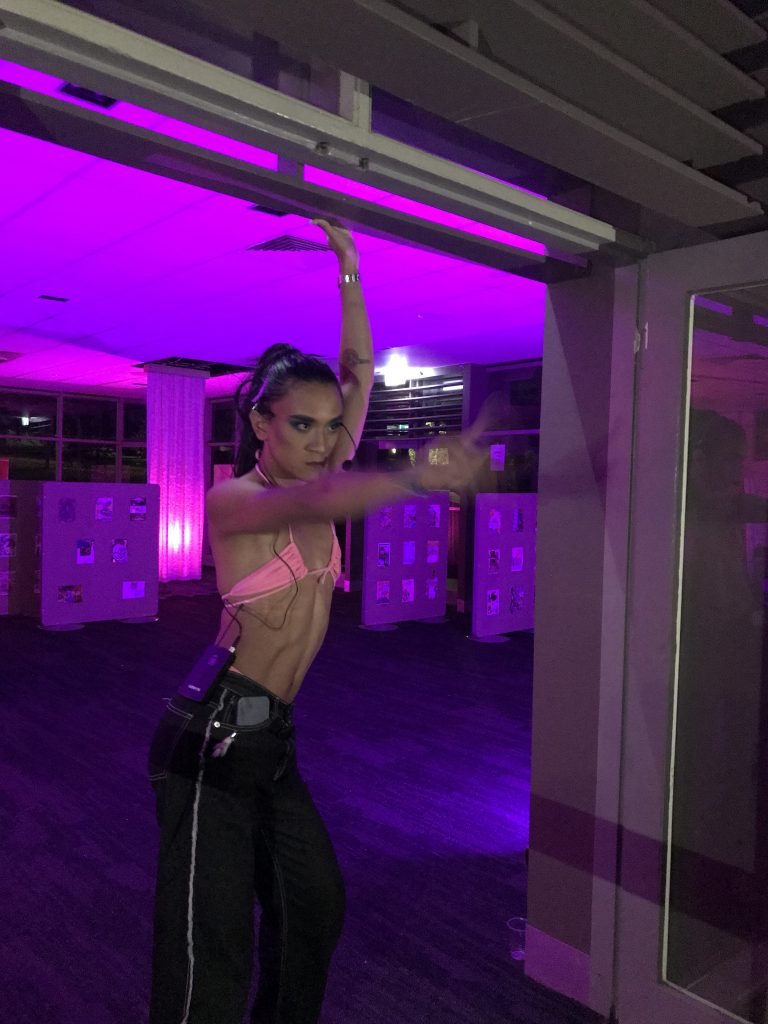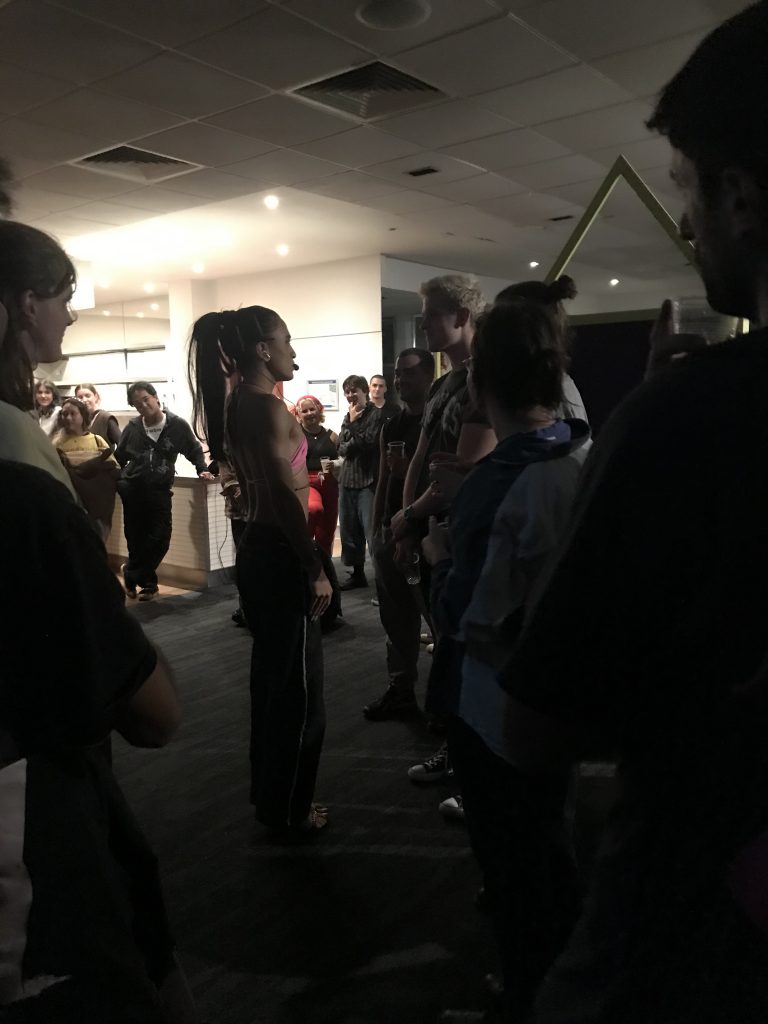 CELESTIAL HUM
Guest curators, Liquid Architecture's MonoPoly September – Mel Deerson and Jacqui Shelton. 2022.
Mono-Poly September was a lesson in hums, vibrations and other forms of celestial (mis)communication, with work from Chi Tran, Aarti Jadu and Subject Δ (Tinh Than), curated by Jacqui Shelton and Mel Deerson.The universe hums inaudibly to itself, calls heaven, calls earth. Hello? Hello? Are you close by? Mm hmmm, mmm hmmmm, mmmmmmm. Turn the fridge on i wanna hear it. Turn the lights on i wanna sing them. Let the car purr. On the other end of the phone, the wind says shhhhhh.According to Pythagorus, the motions of planets in the heavens emit a continuous vibrational hum which is so pervasive, consistent and loud that earthly creatures mistake it for silence, having no point of comparison. What is it to be drenched, unknowing, in a universal song? How to tune into it, or push against it/speak over it, or hum along?
The curation of this evening continued the collaborative research Mel and Jacqui have been working on over 2022 as Room To Create artists in residence at Florence Peel Centre, supported by City of Yarra.
Documentation by Kenneth Siuco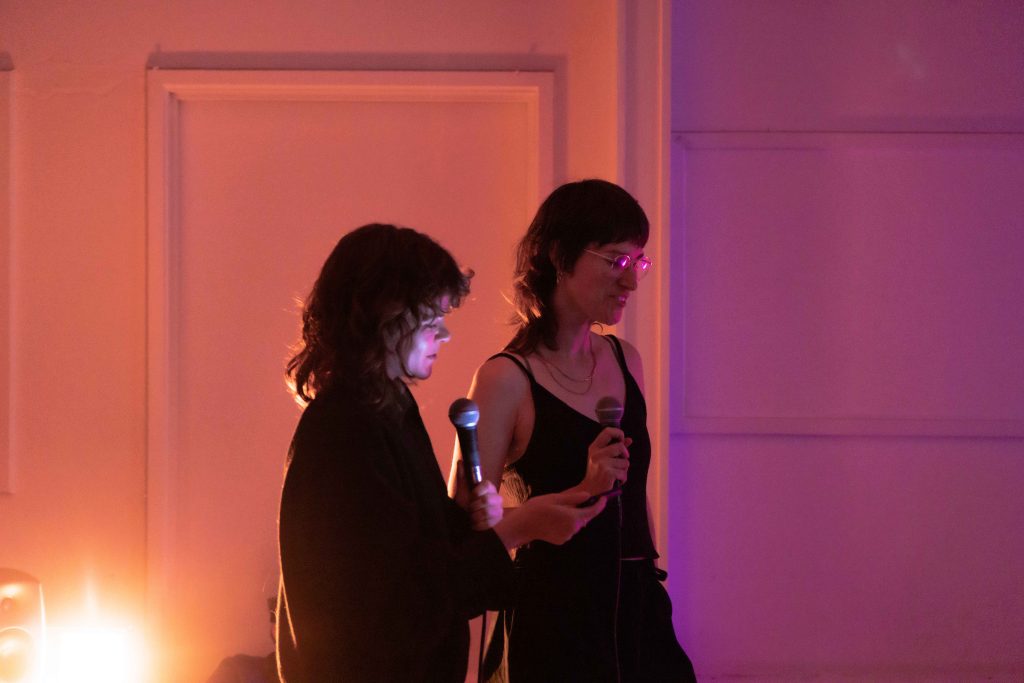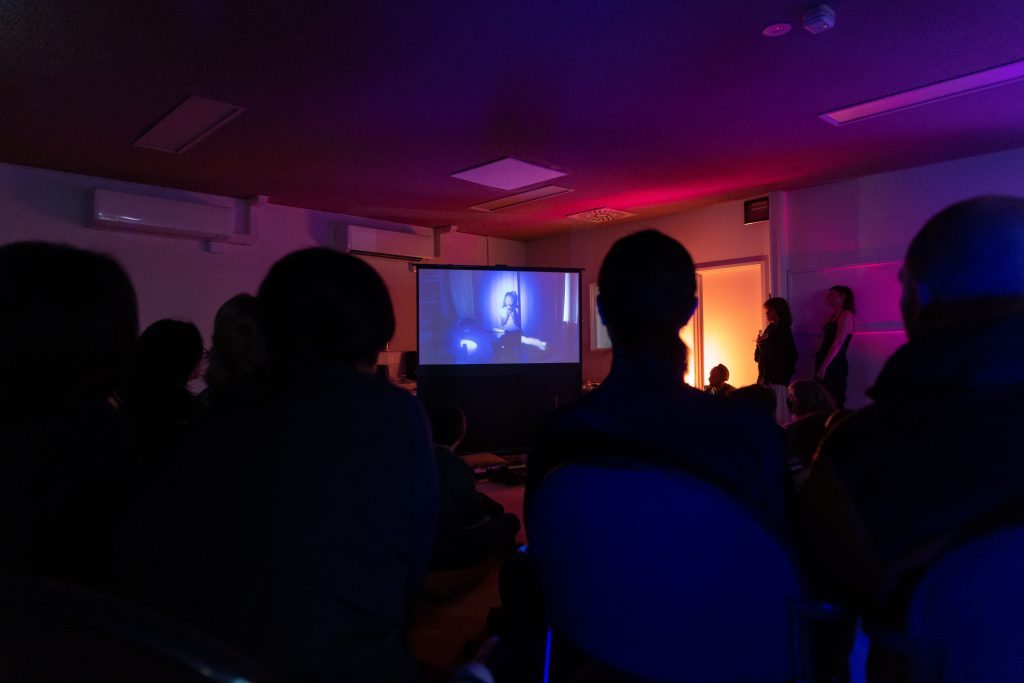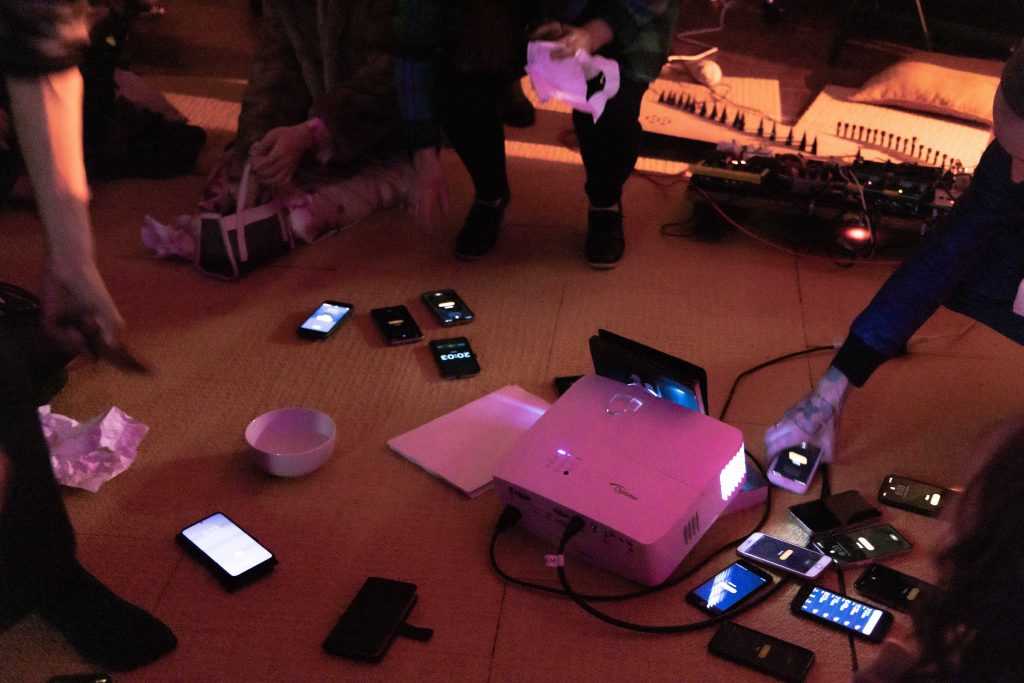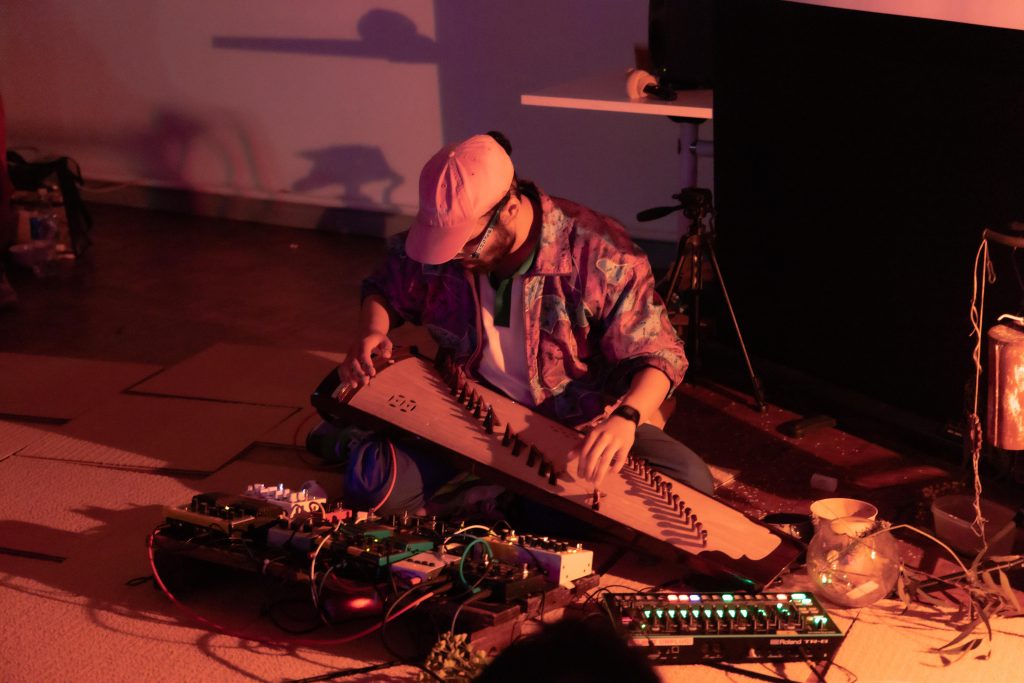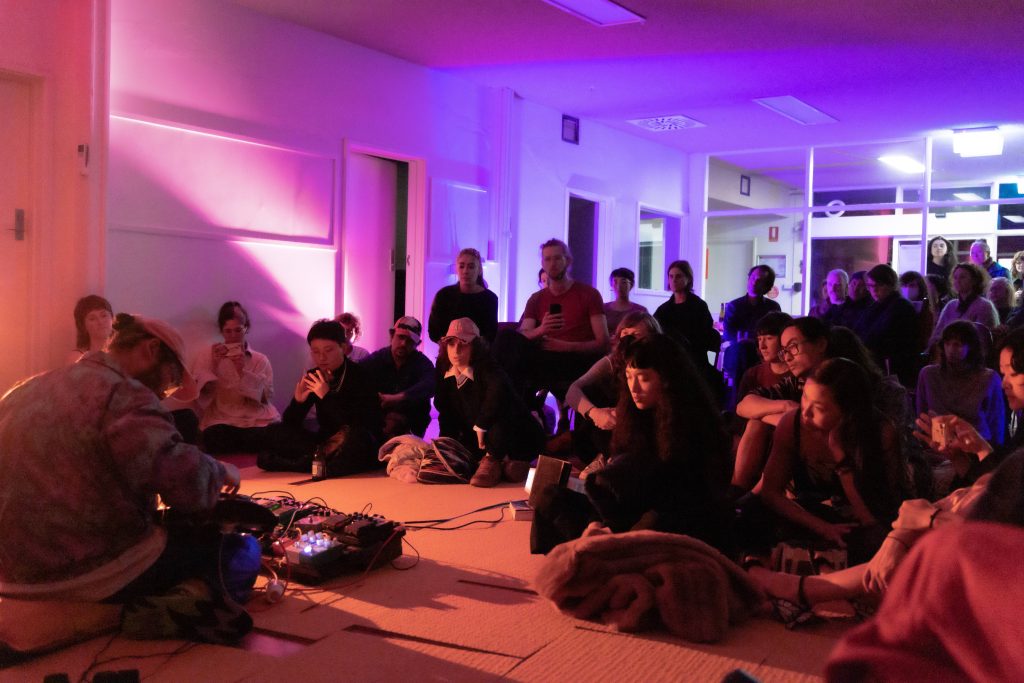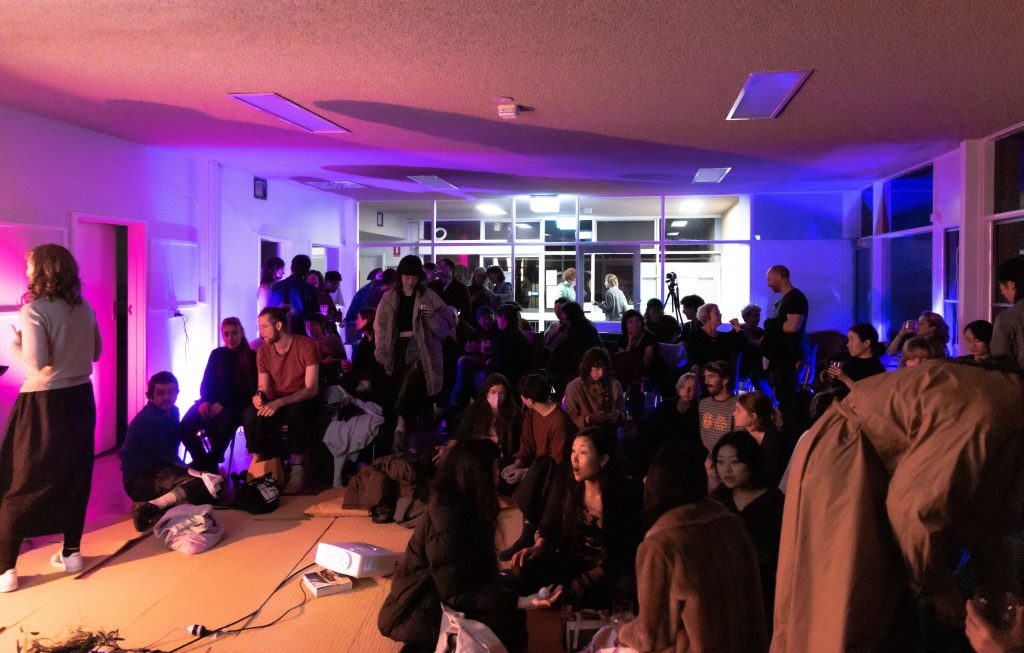 THE QUESTION OF ANGELS
Mel Deerson and Briony Galligan
Platform Arts, Geelong. 2022
We are interested in pulling apart iconic gay images like rainbows
and now we're looking at and working with angels. Angels become like a cipher to talk about queerness and desire, things that are slippery and hard to pin down, and sometimes invisible. In these previous works, we were looking at gay pin-ups and the idea of detachable angel wings. We were testing how wings could be either a costume or an extra organ. At Platform Arts we've been developing this project further. We've been really interested in the works of Greek artist Yannis Tsarouchis who combined figures of the angel with figures of authority like police and military. We've also been researching queer histories in Geelong. We have conducted two workshops as part of this research. One with young LGBTIQA+ people about angels and sensory and embodied experiences, another as a field trip at two significant places for queer histories, the old Courthouse where Platform Arts is located and meeting place for the Geelong Lesbian Group in the 1990s, and St Mary of the Angels Basilica, a site of Gay Liberation protest in 1975 after a gay teacher at the church school lost his job.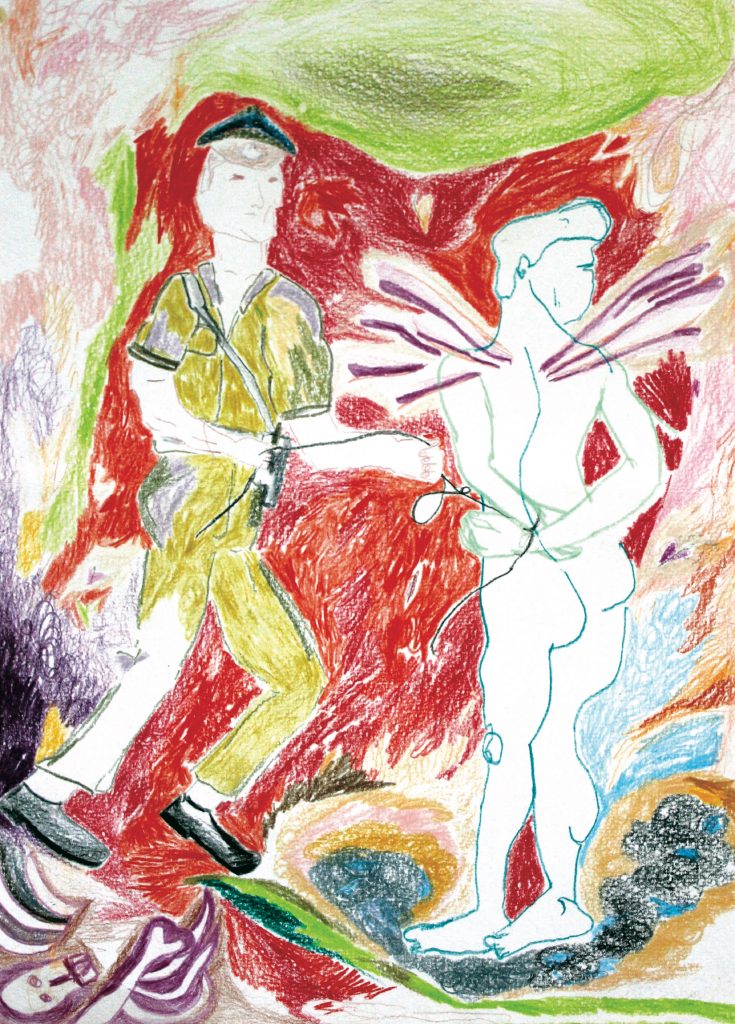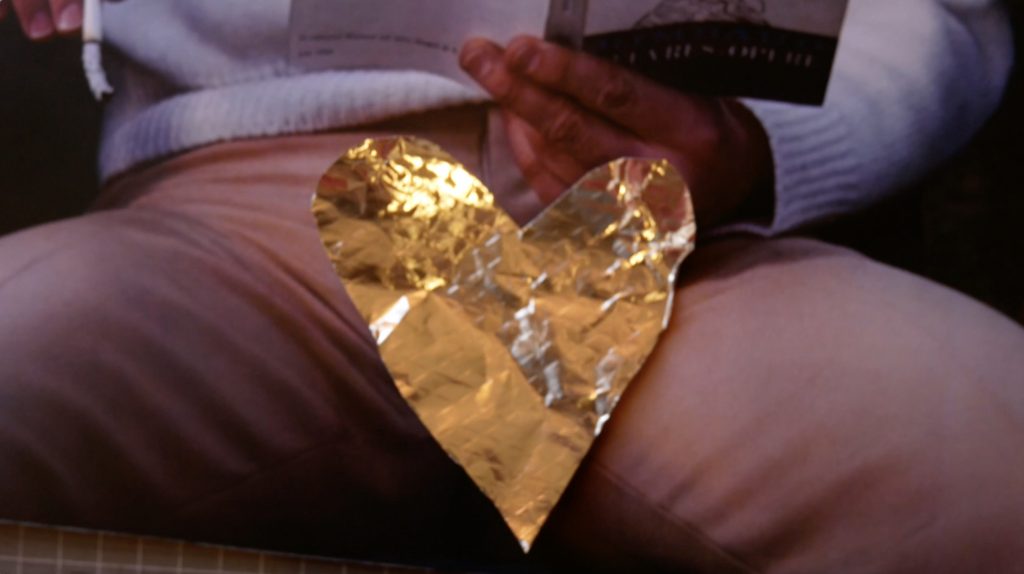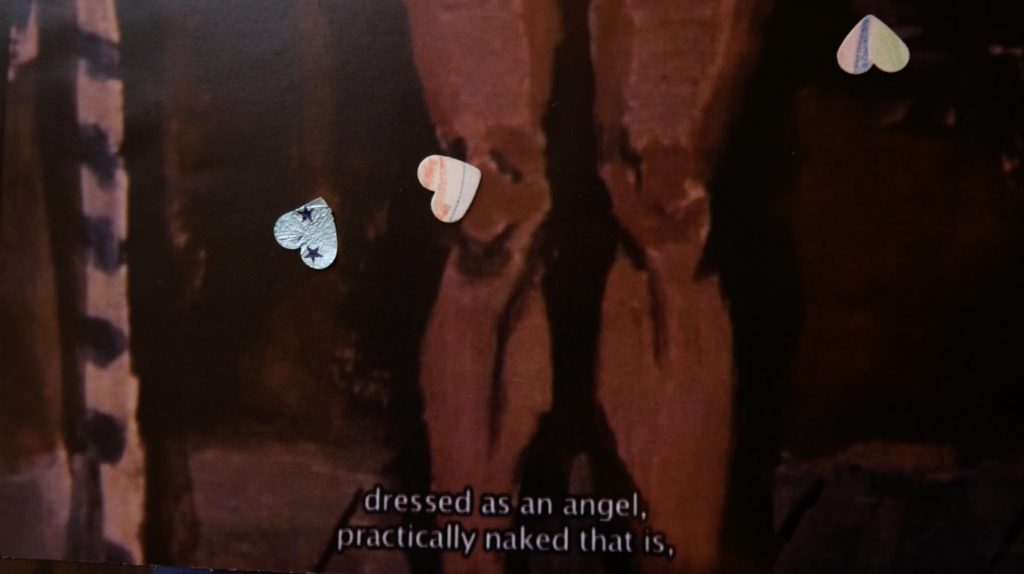 ANGELS IN LOVE WITH THEIR OWN DEAD BODIES
Mel Deerson and Briony Galligan. Iterations at LIFE, Rotterdam and Missing Persons, Melbourne. 2022.
Curtains (acrylic and iridescent paint, pen, hand-dyed fabric, heart buttons, ribbon), costumes and backdrop (calico, canvas, pvc, iridescent and acrylic paint, dye, pen), video (4:39), angel wings (pvc, calico, dye, ribbon, bricks, old feather pillows), sound (11:17 – rain and two voices), performance, text/reader, hand-painted gingerbread biscuits of angels pissing rainbows. Rotterdam iteration included angel-wing pillows (calico, acrylic and iridescent paint) and angel music (Here Comes the Custard by Bonnie Cummings and Mel Deerson).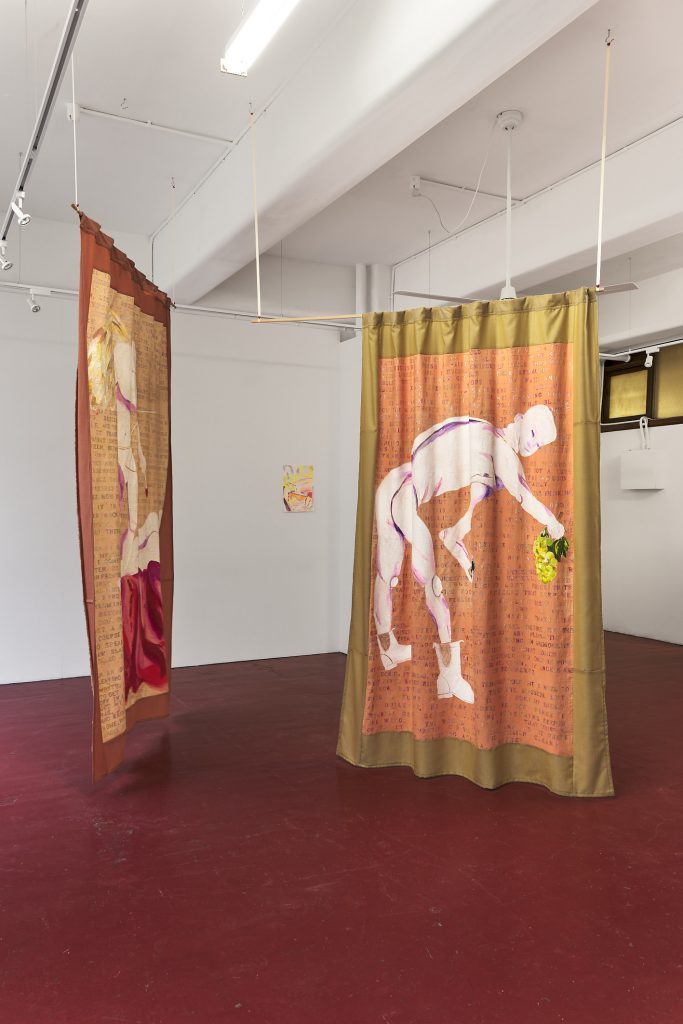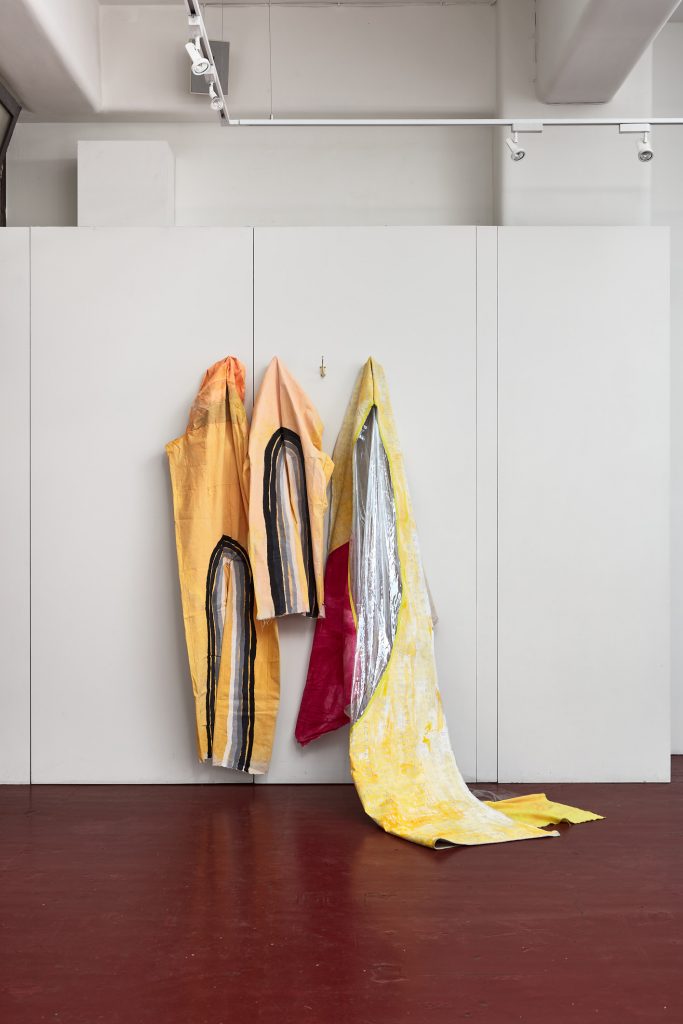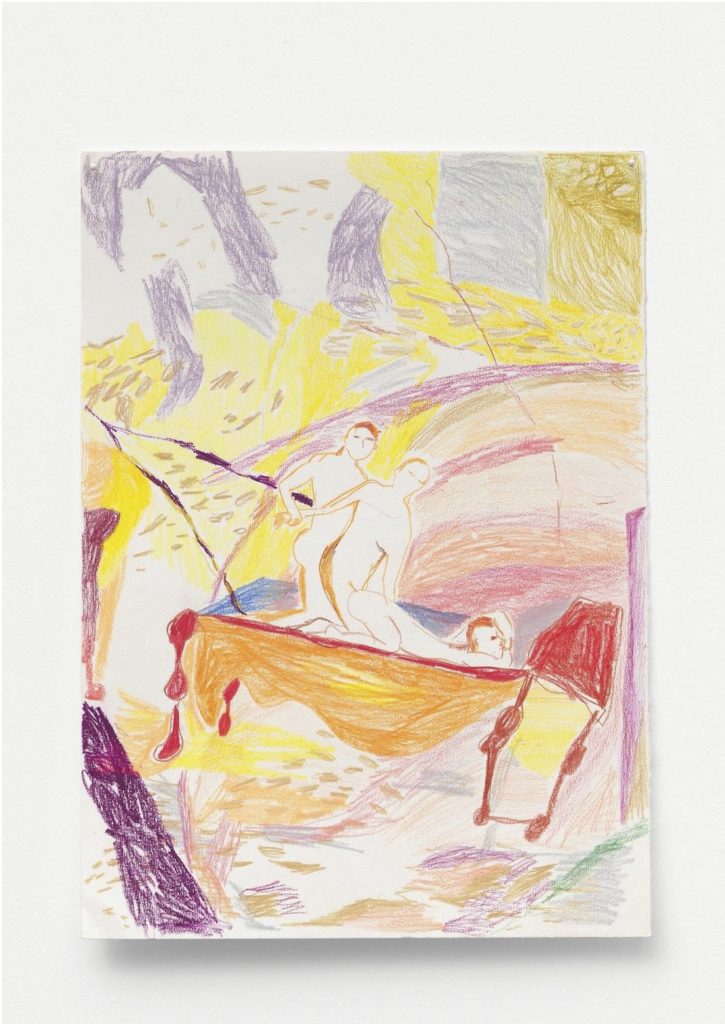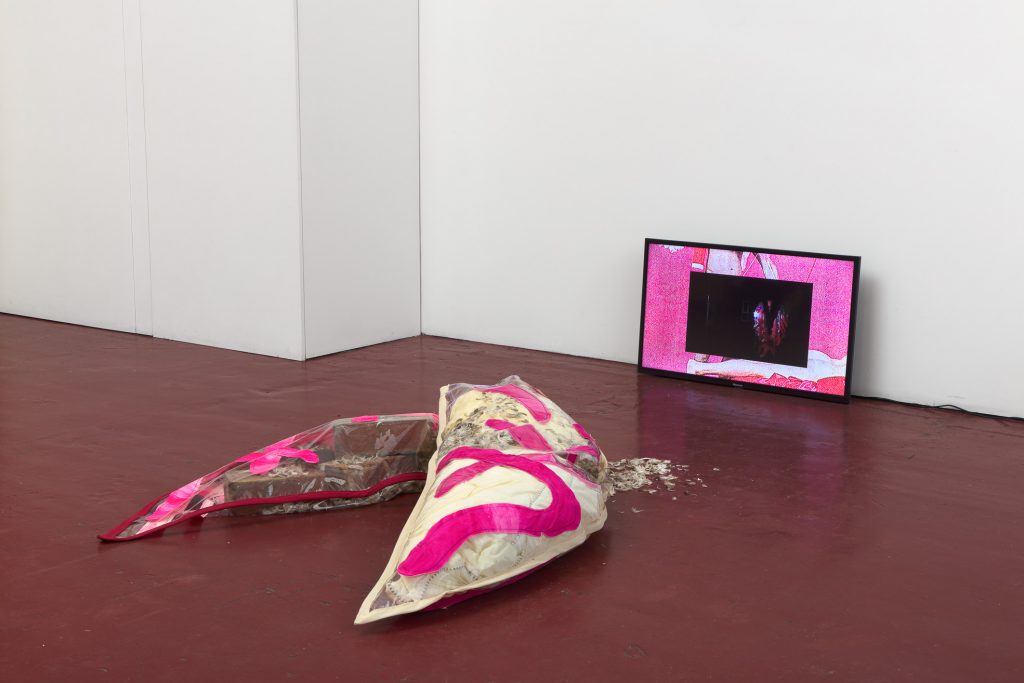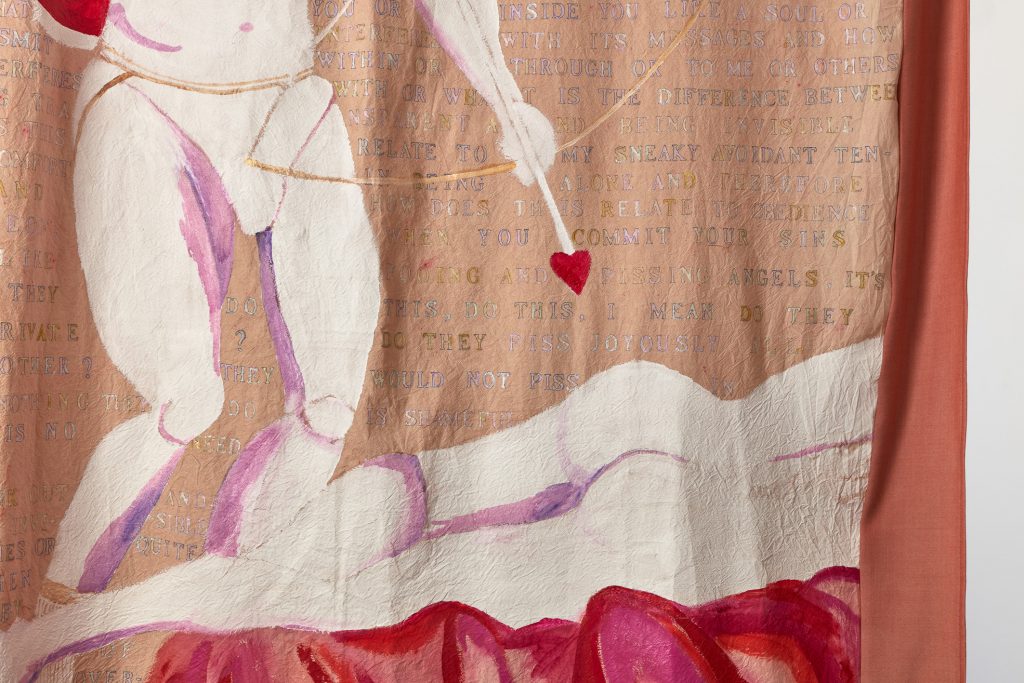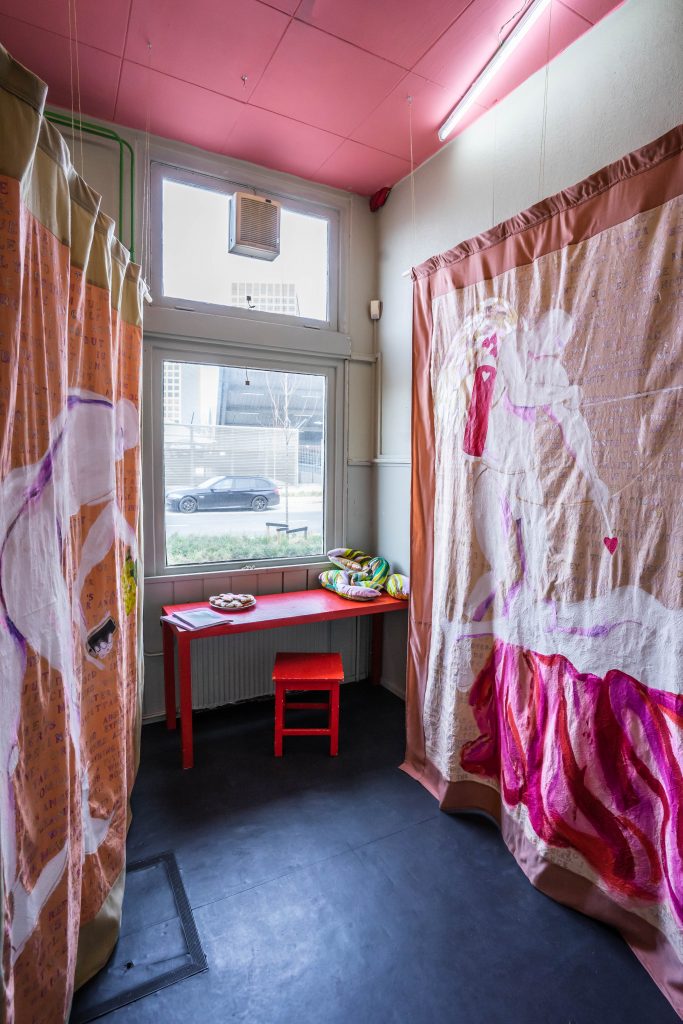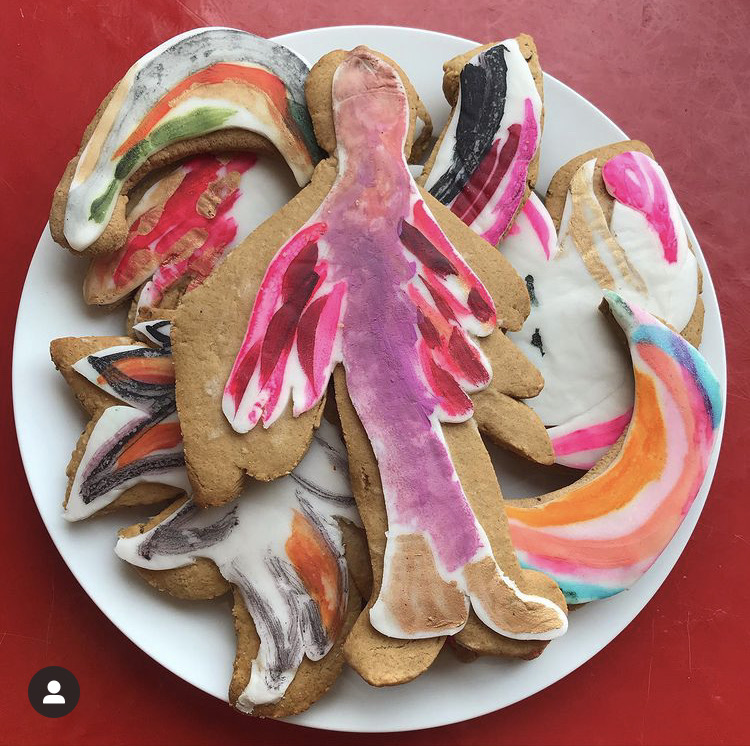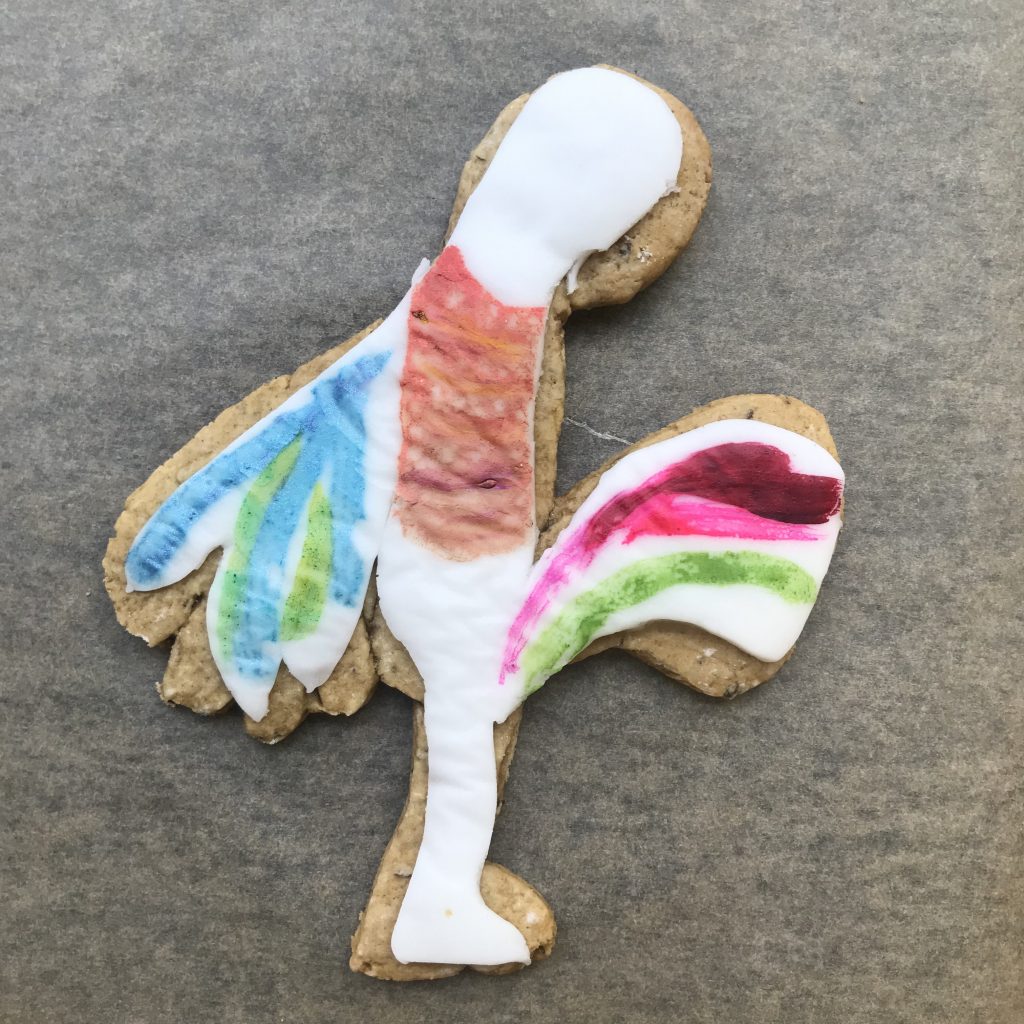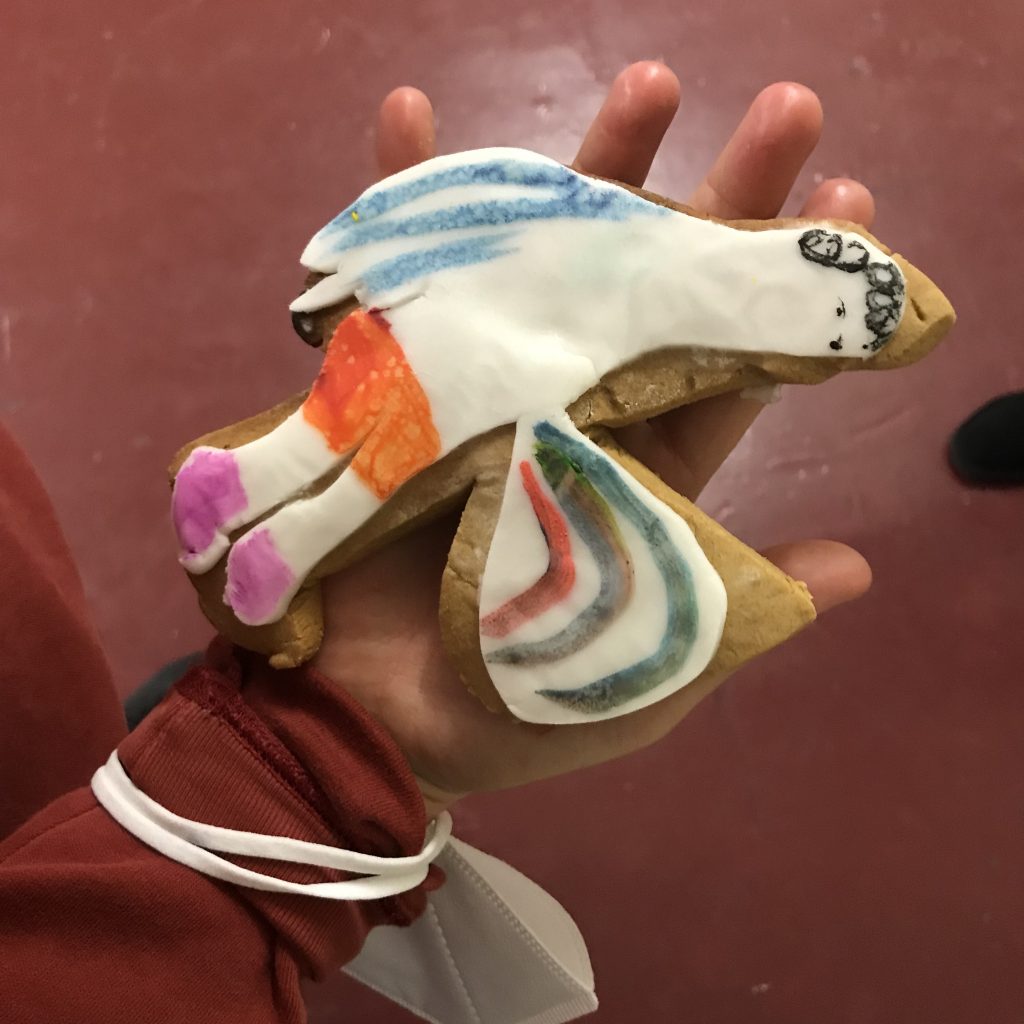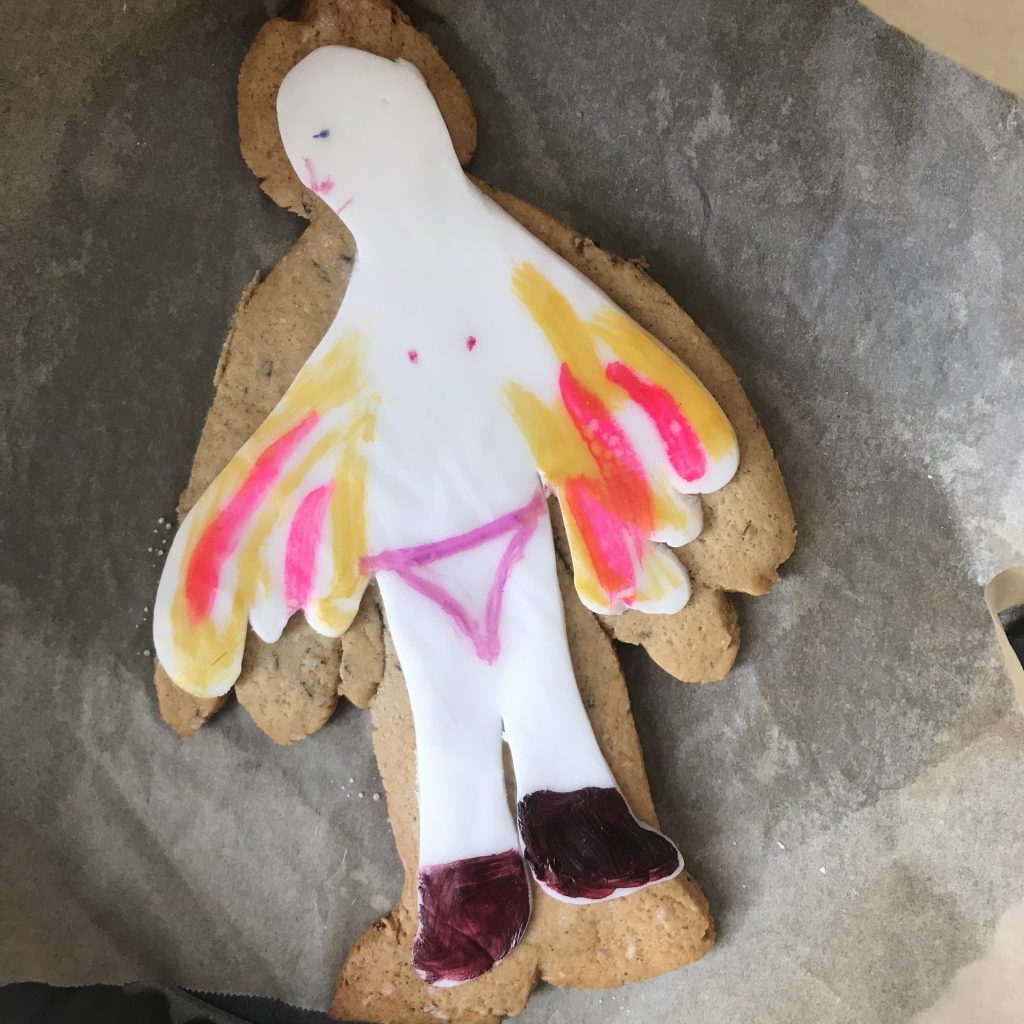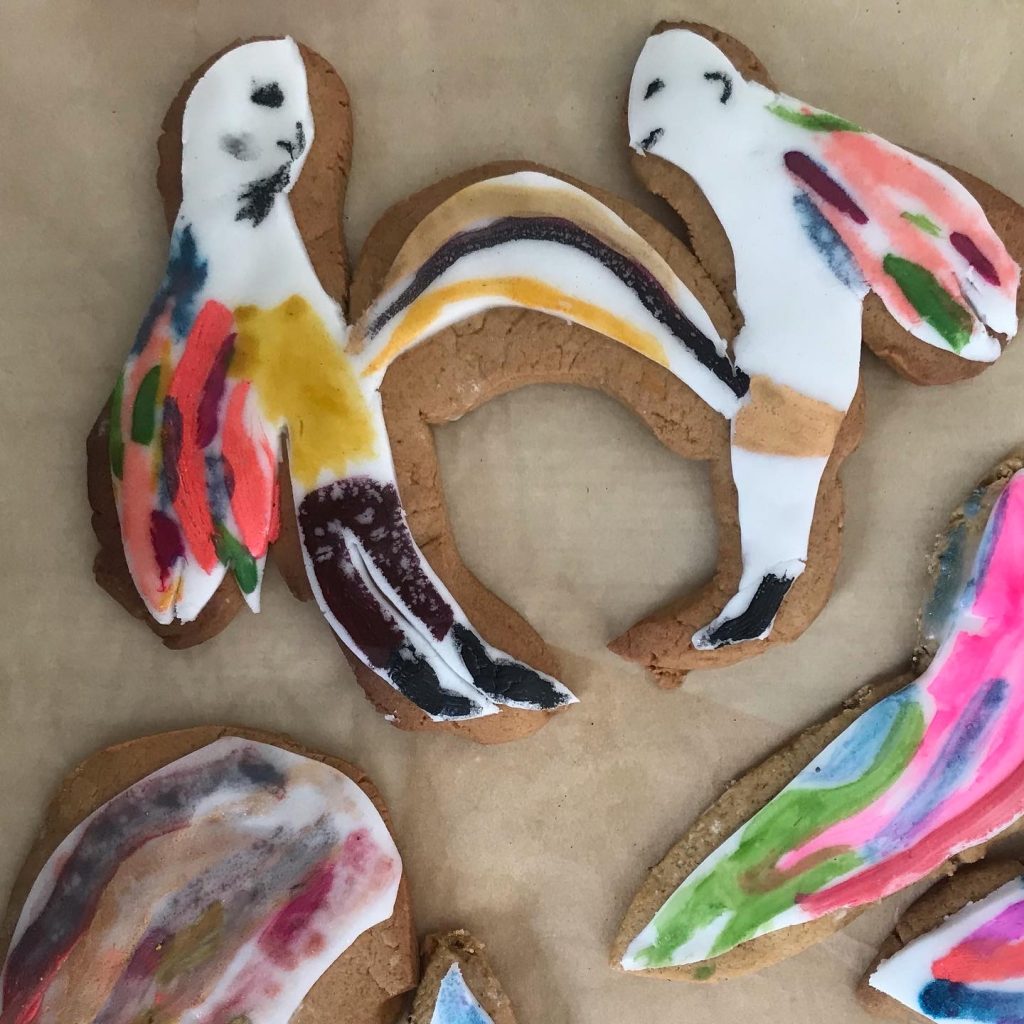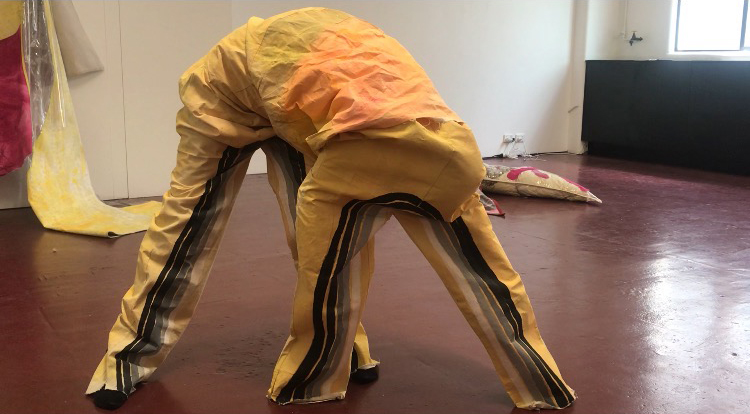 ANGEL READER
Mel Deerson and Briony Galligan. An evolving reader of writing and collected texts on angels. 2022. Sold by Discipline.
https://drive.google.com/file/d/1VPSNi6D3db2x2msOWt33ZdBAK0CWd8lj/view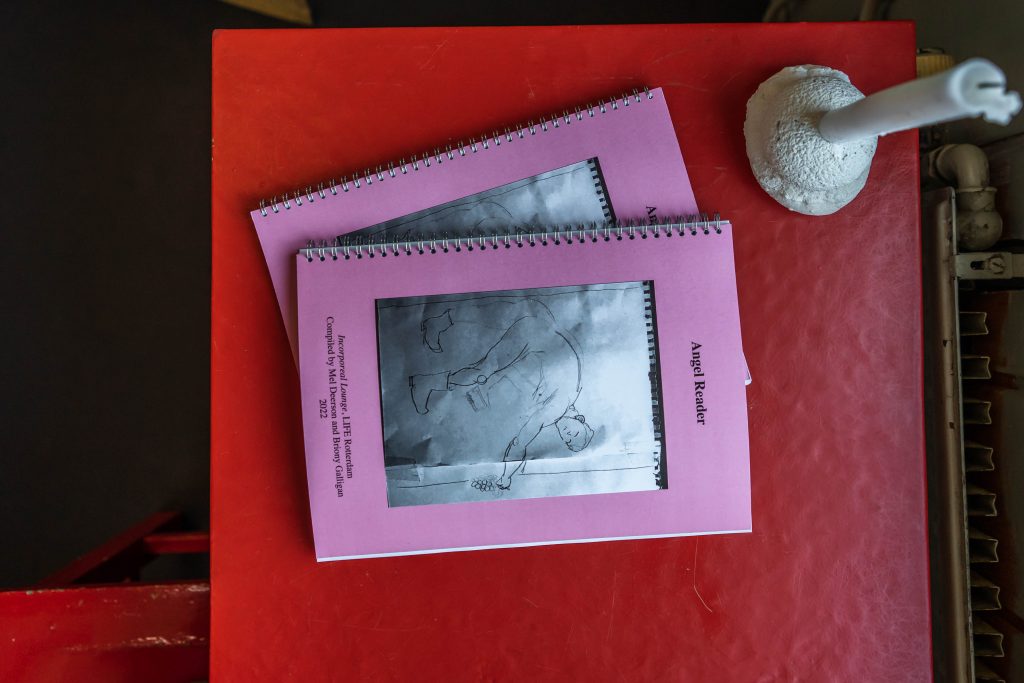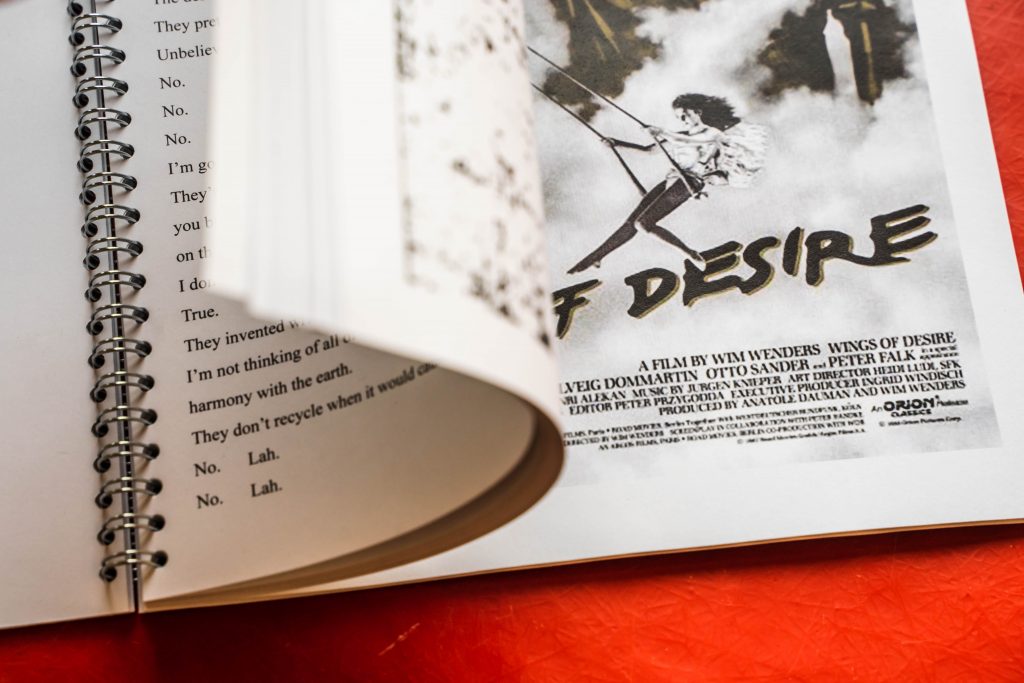 BLESS THIS MESS and B Side, by Mal and Boney
Collaboration with Bonnie Cummings.

Released as part of the MESS Recovery Residencies program in 2021-2022, delivered in partnership with Multicultural Arts Victoria and Liquid Architecture. All tracks are self-produced by the artists. The program and this compilation were made possible with the support of the Victorian Government through Creative Victoria. LP artwork by Angie Penna-Li.
EACH SOUND WAS A RUNG
https://mlmusic11.bandcamp.com/album/each-sound-was-a-rung
Music release by ML (Mel Deerson). 2022. Hildegard von Bingen meets witchbaby meets metal. Made to play in my therapy sessions. Mixed by Bonnie Cummings.
Launched at Liquid Architecture's Mono Poly March event, Melbourne.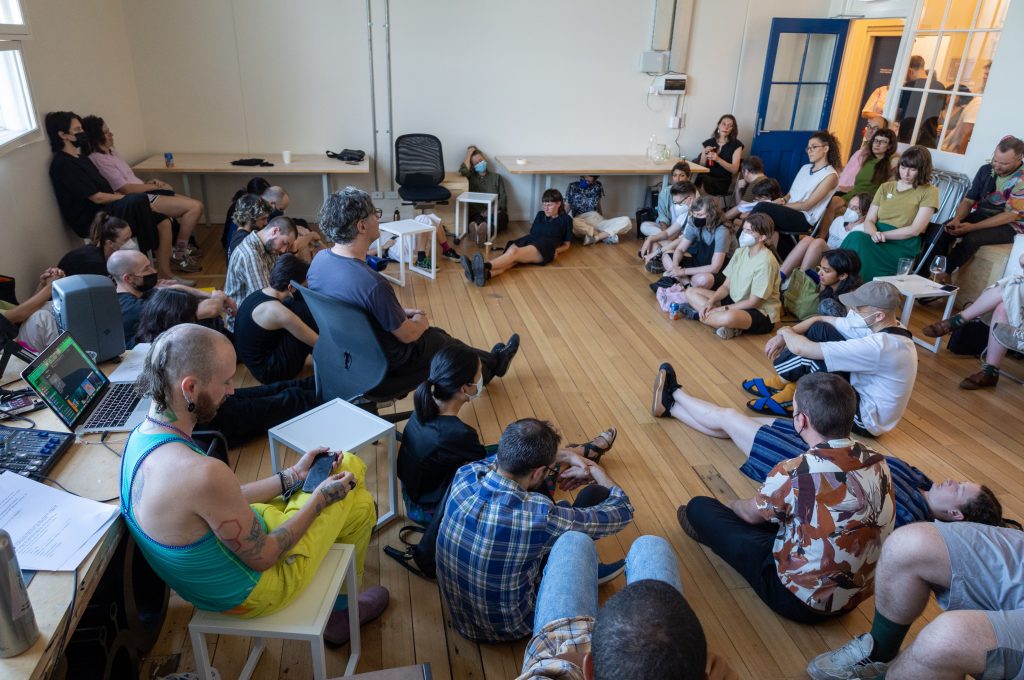 HERE COMES THE CUSTARD by Mal and Boney
https://malandboney.bandcamp.com/album/here-comes-the-custard

Music release by Mal and Boney (Mel Deerson and Bonnie Cummings). 2022.
A collection of noises made while fighting for control of a shared synthesiser.
Outtakes recorded during our Recovery Residency jointly facilitated by Liquid Architecture, Melbourne Electronic Sound Studio (MESS), and Multicultural Arts Victoria.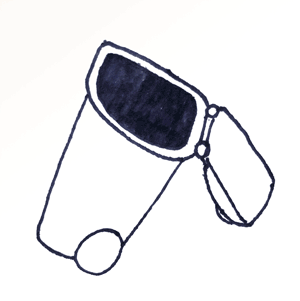 BLUE ROSE
Lecture and text/audio work for Monash University Museum of Art's 'Queer readings of the collection' project. A response to Roy de Maistre's painting 'Christ divested of his purple robes'. 2022.
https://www.monash.edu/muma/collection/queer-readings-of-the-collection/queer-readings-of-the-collection/roy-de-maistre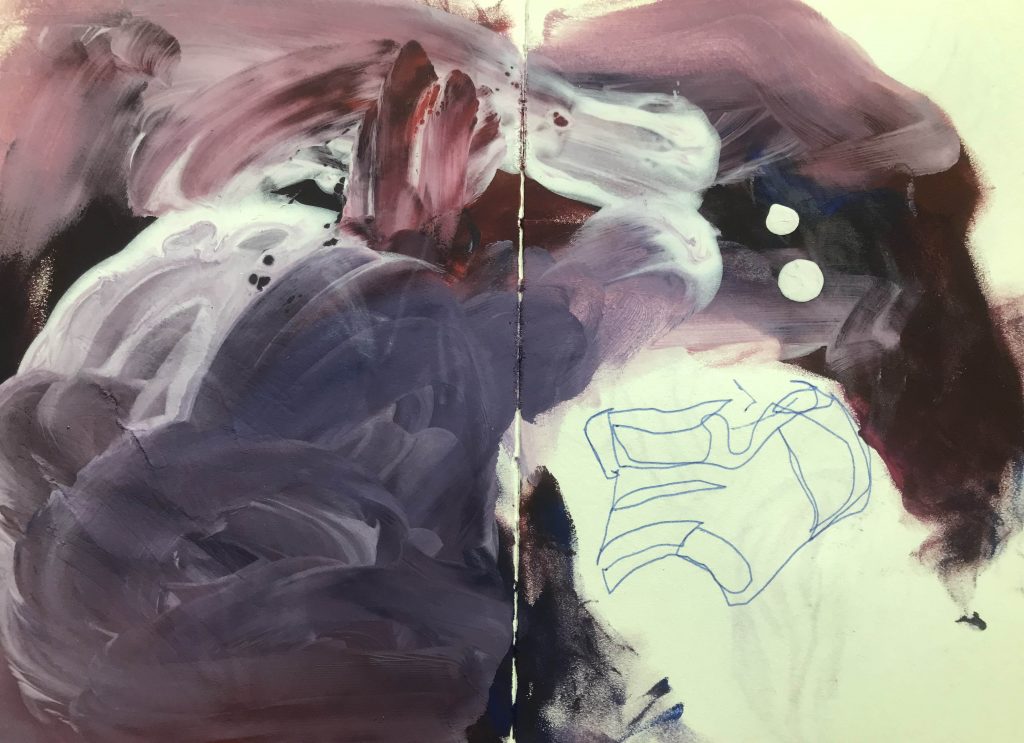 PINK
Broken hearts and endless backdrops. Videography Ella Sowinska. Exhibited at recess.net, 2021. Accompanying essay by Ben Bannan.
EACH WORLD A LOVER
Installation and performance. Double-sided drawing/backdrop (calamine lotion, pencil, soap, pastel, olive oil, rosehip oil), my boots, foot-reliquaries made of olive oil soap, stolen rosemary. 2021.
Exhibited at Working At Heights.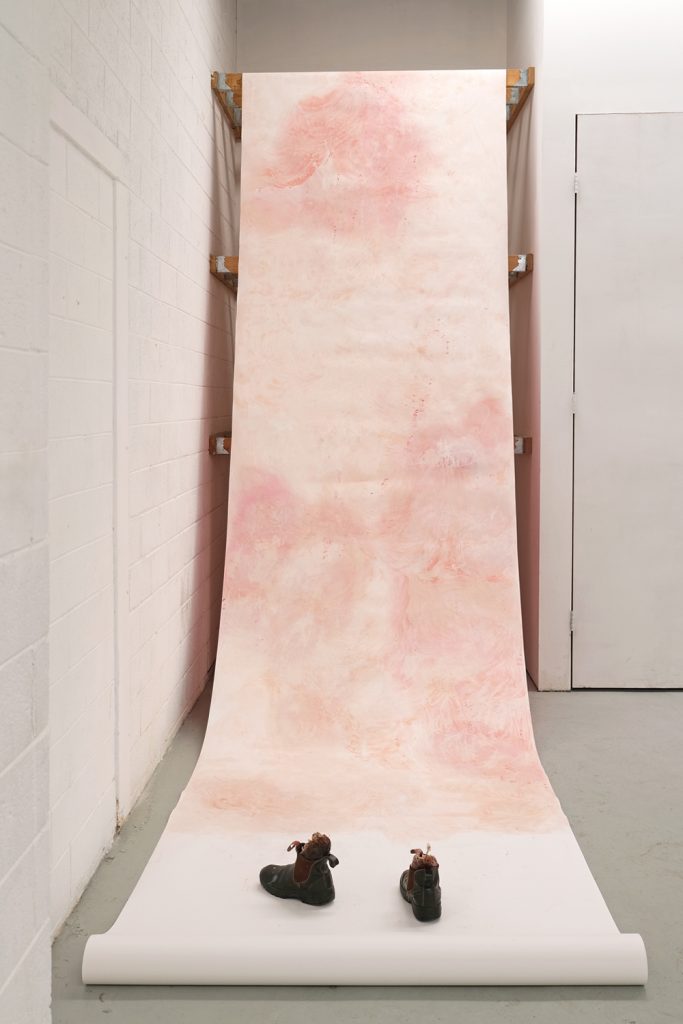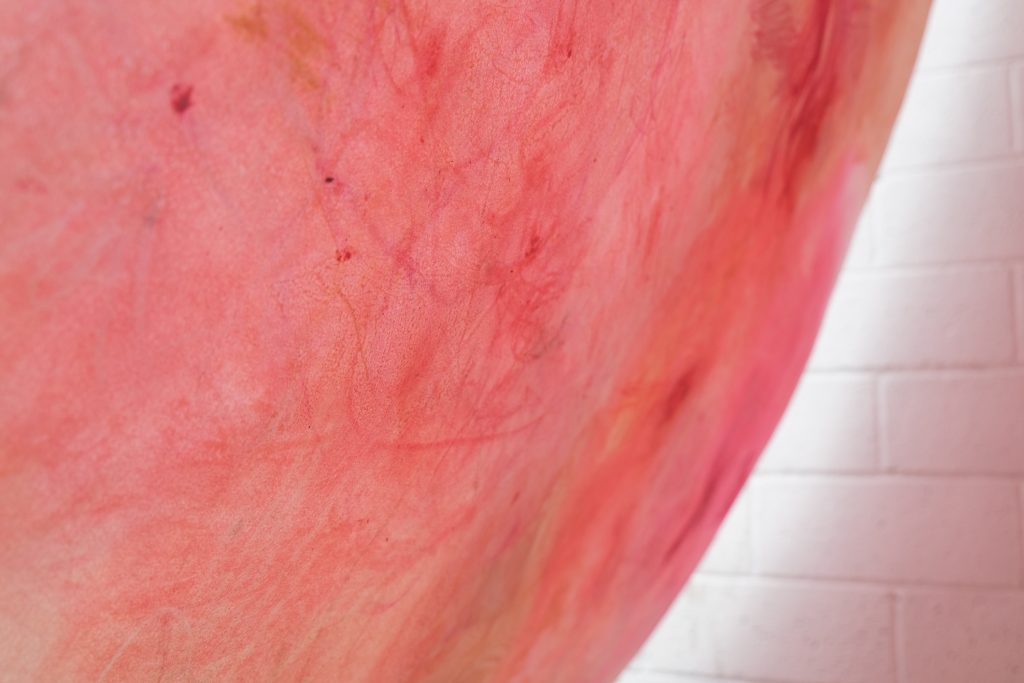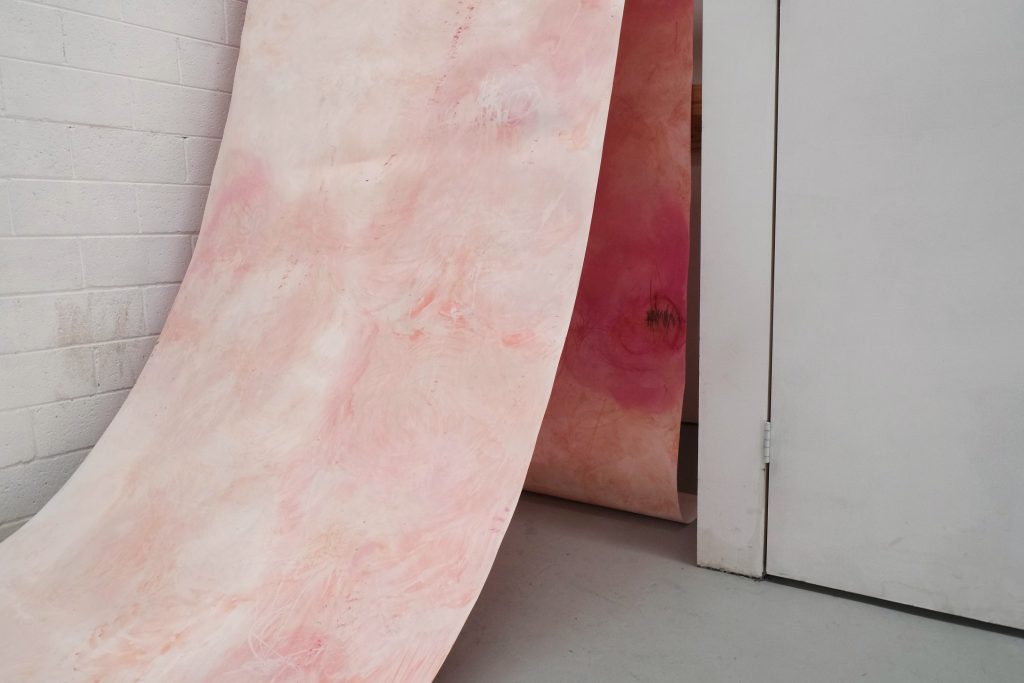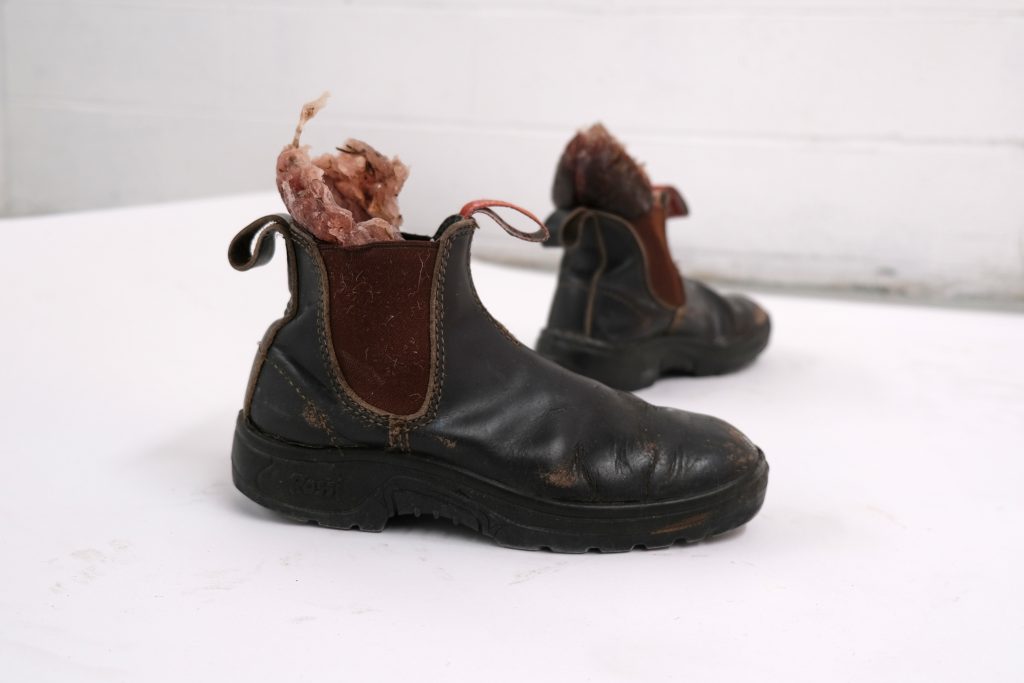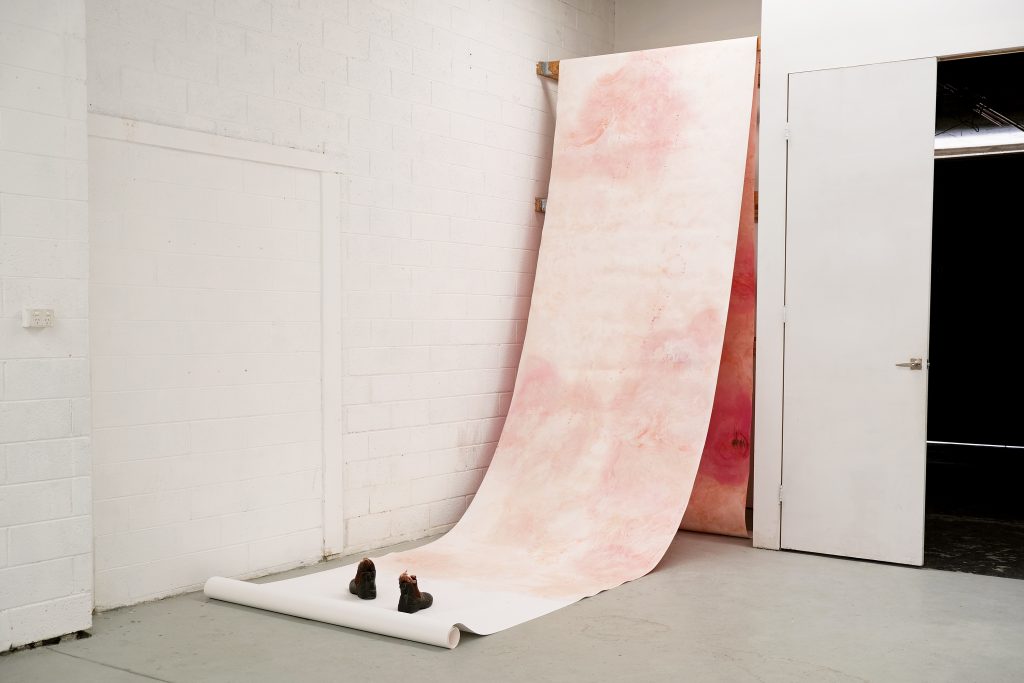 RAINBOW MAKER
An exhibition on childhood, reading and authority.
Publication and exhibition at Bargoonga Nganjin Library. 2021.
Large-scale coin-rubbing drawings, coloured pencil on paper; screen prints with coloured pencil, charcoal, graphite; shelf; publication with chalk-print cover (edition of 80). Supposed by Test Sites, Australia Council and City of Melbourne.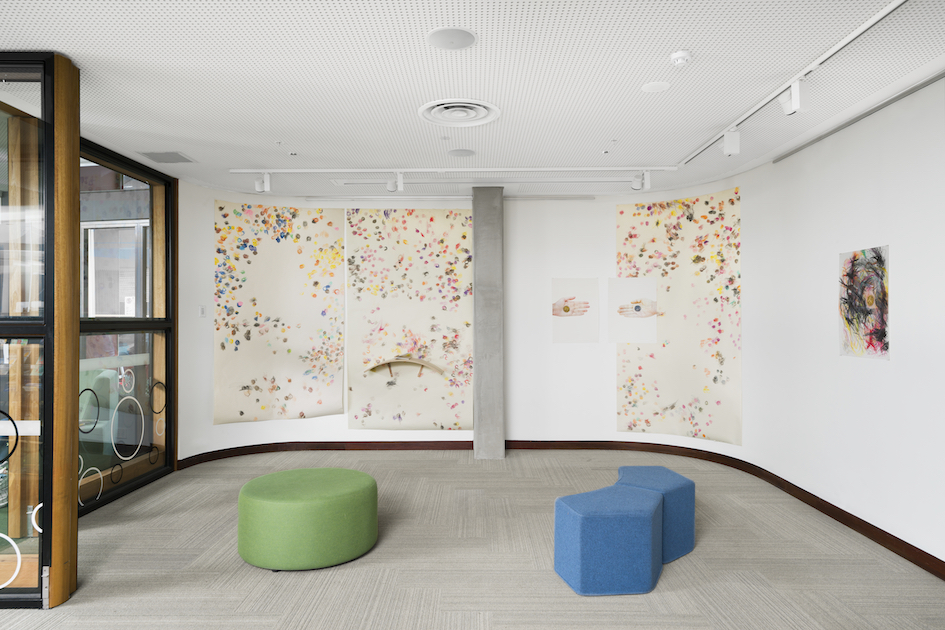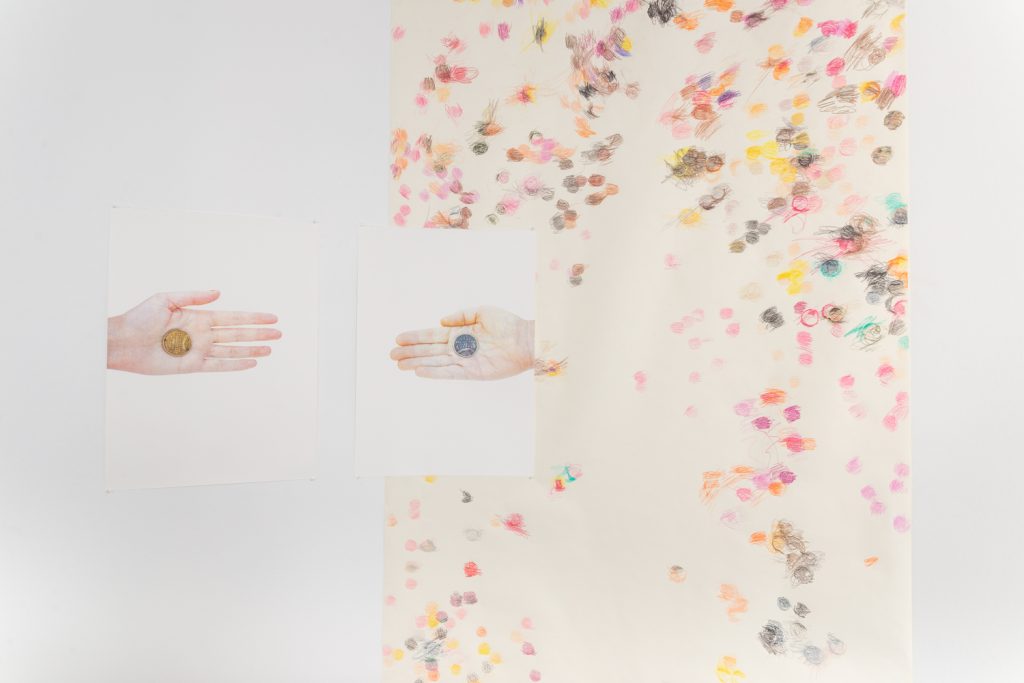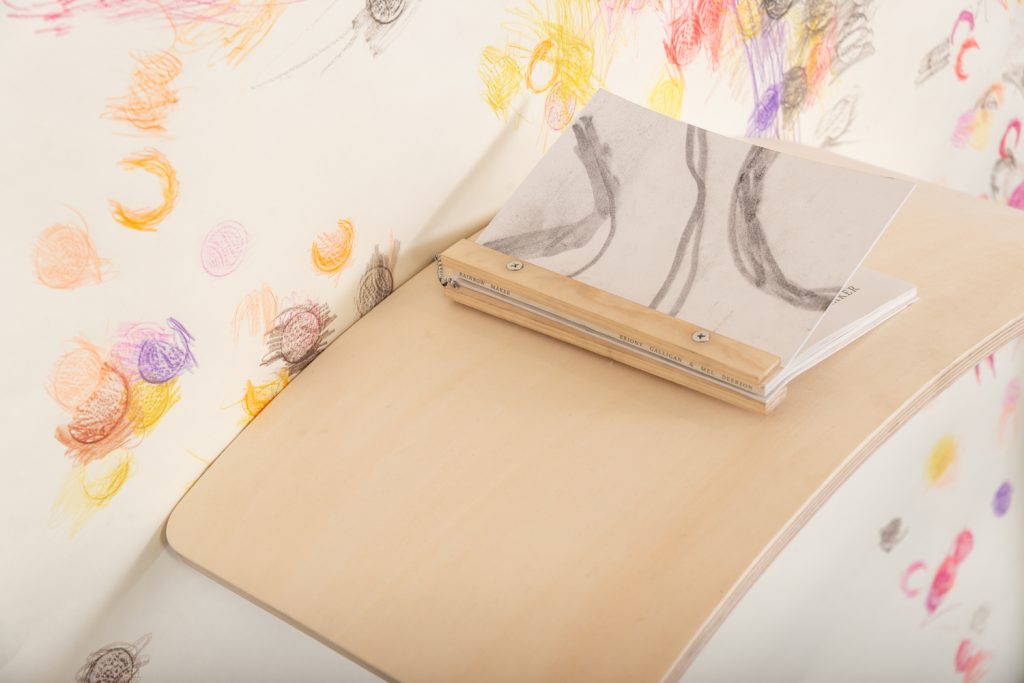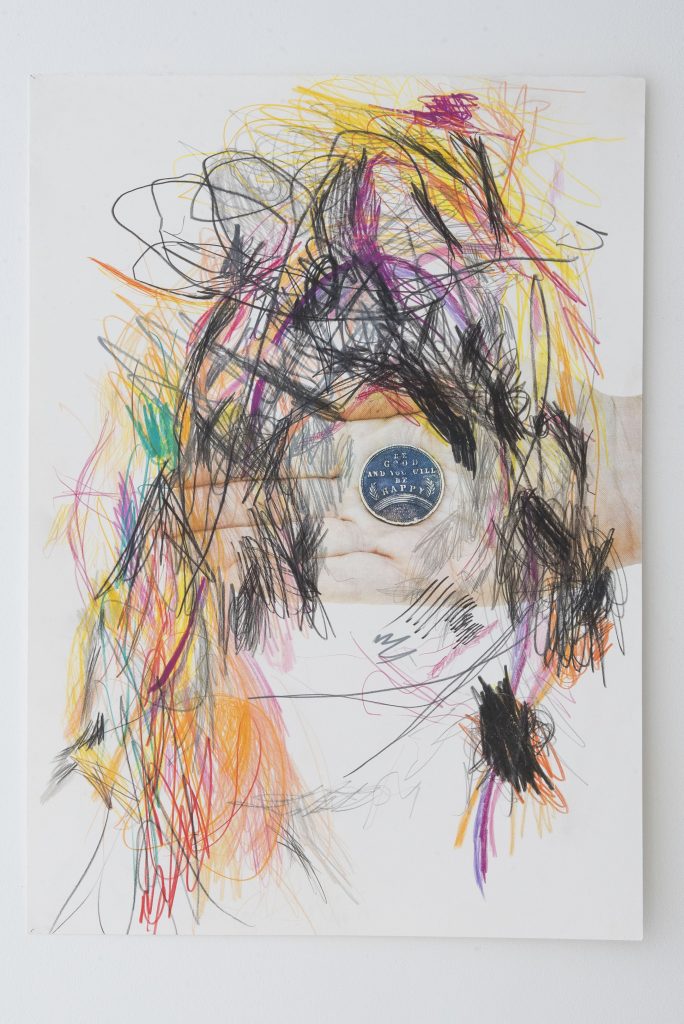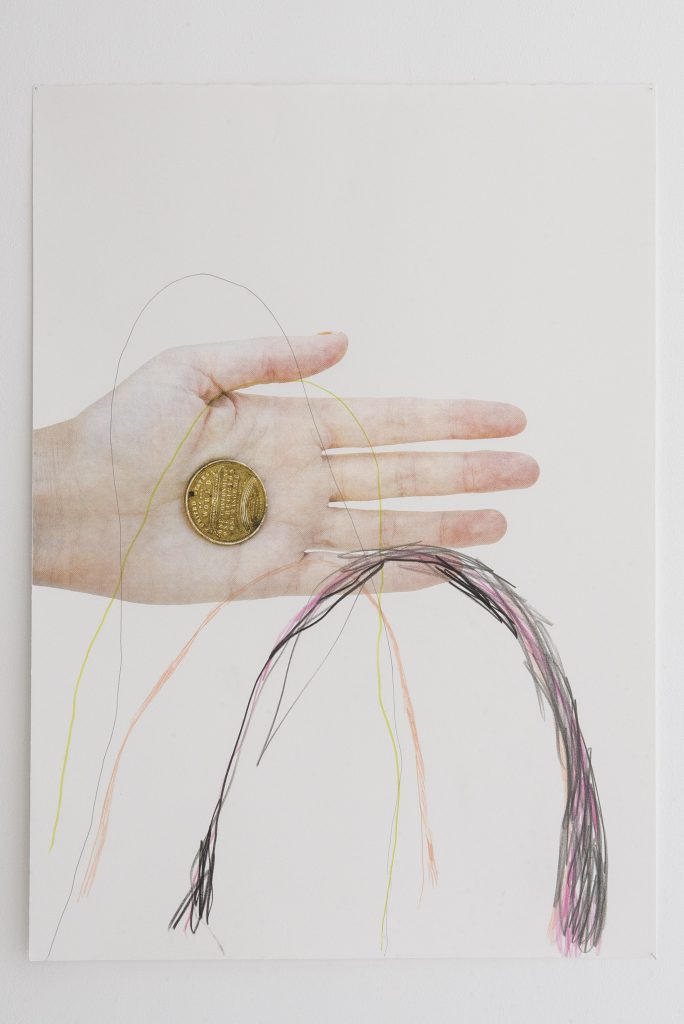 THE MOON, A PERVERT / TENDER IN THEIR SEVERAL GUISES
T-shirts, fabric marker, ink. 2021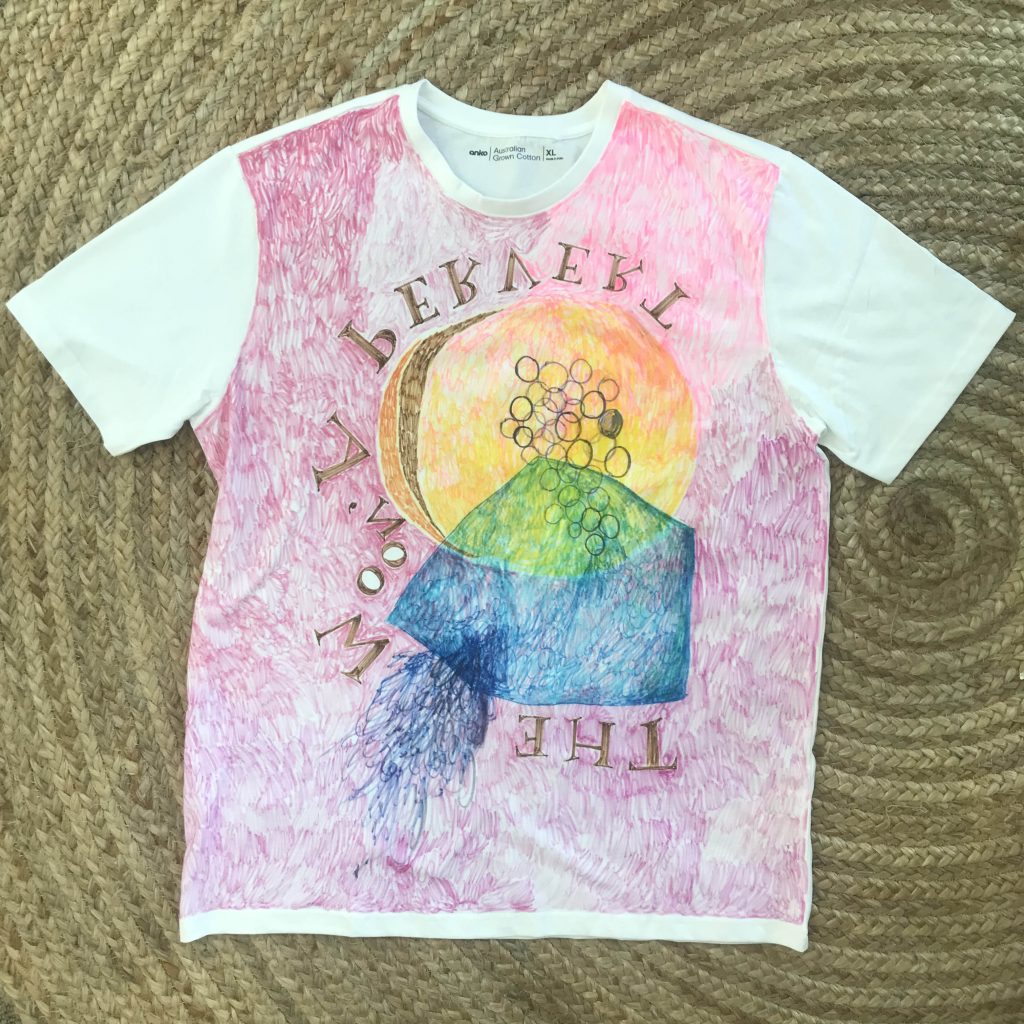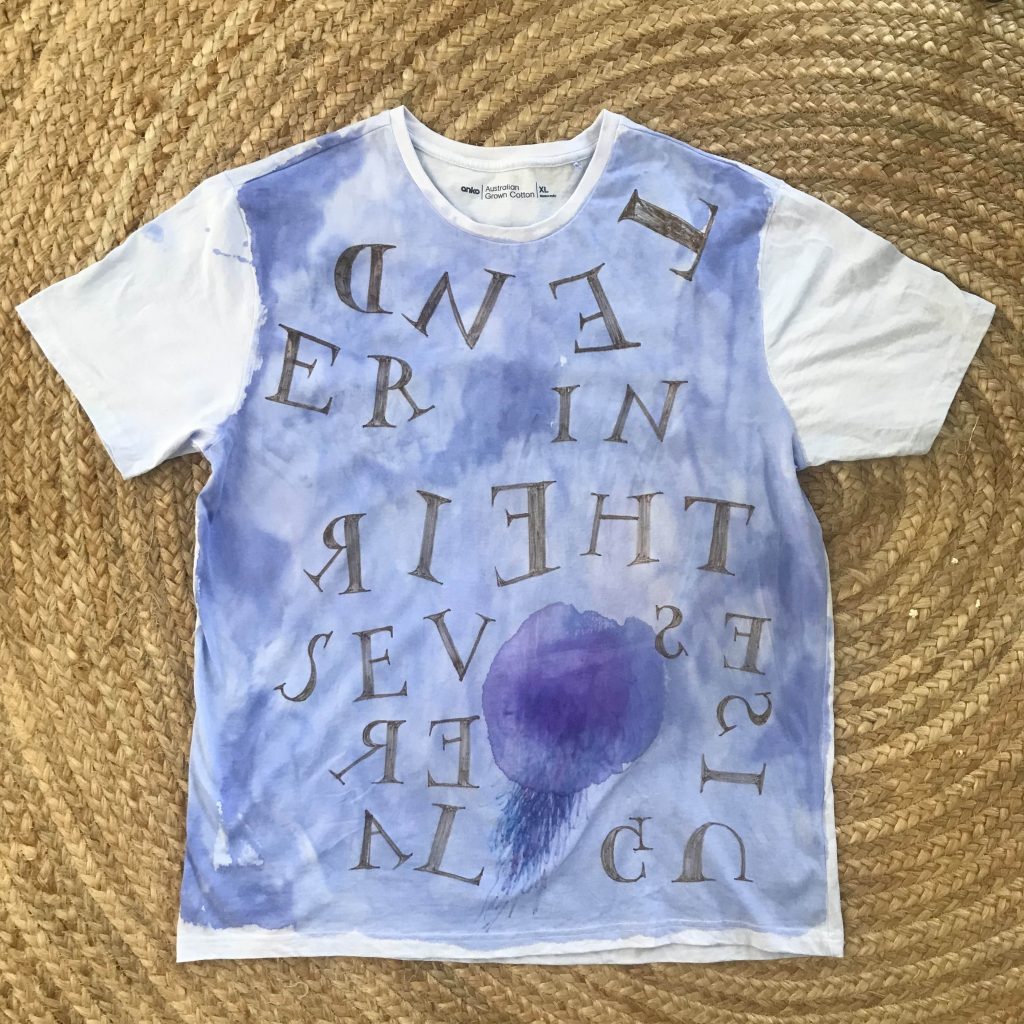 DO SPIRITS RETURN / HELL LADDER
Print on t-shirts/windcheaters
https://seventhgallery.bigcartel.com/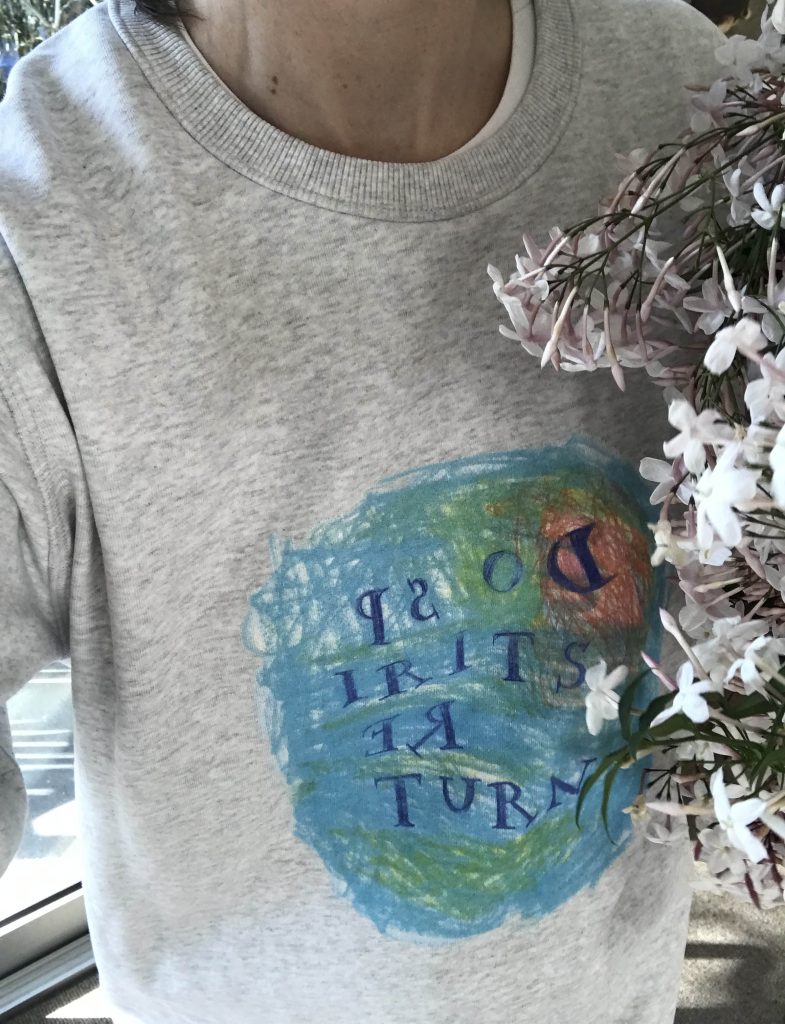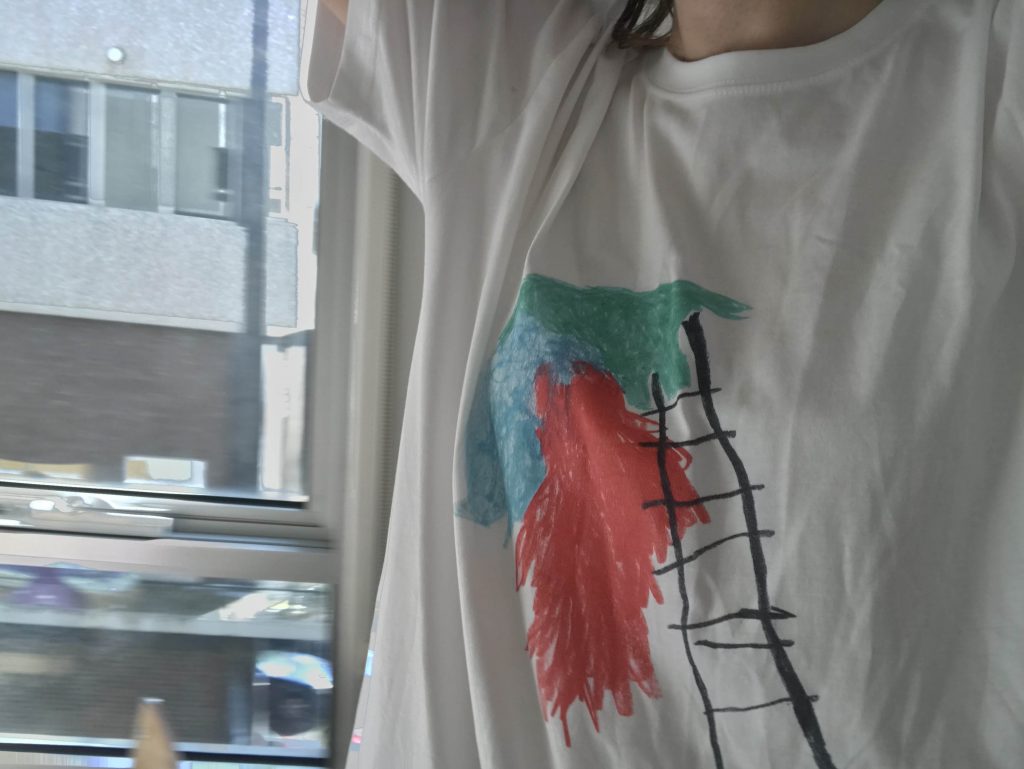 THE MOON, A PERVERT
An evolving website of work and research
https://meldeerson.cargo.site/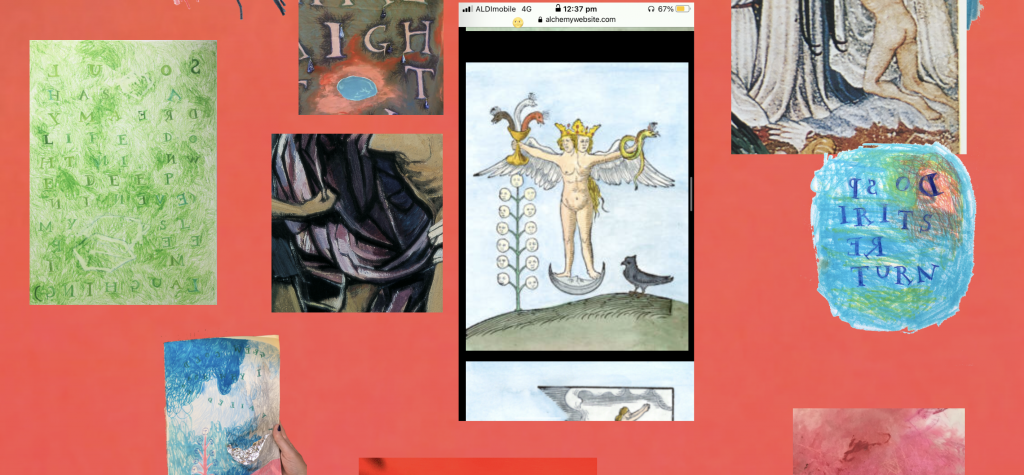 A MODEST ILLUMINATION
Spoken, sound and drawing response to an apocalypse scene in the Missal of St. Eulalia, c. 1400. Commissioned for 'Live from the field' project, Kings Artist Run. 2020.
http://www.kingsartistrun.org.au/live-from-the-field-afterword/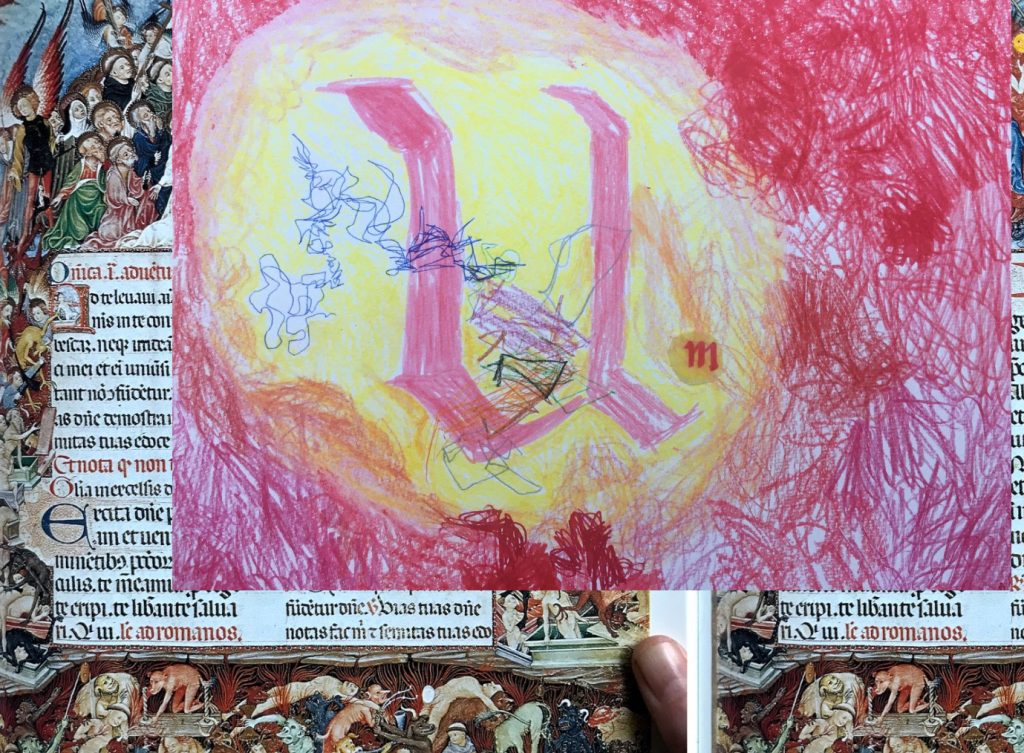 BITTERSWEET
A lecture within a lecture. Shown as part of a performance lecture for the Australian Archaeology Society. 2019. Originally made as part of the Australian Archaeology residency in Athens, 2017.
WINDOWS AND A DOOR
Ink and pencil on paper, glass, food dye, glue, acrylic and blackboard paint on polyester double bed sheet, printed velvet edging. 2019.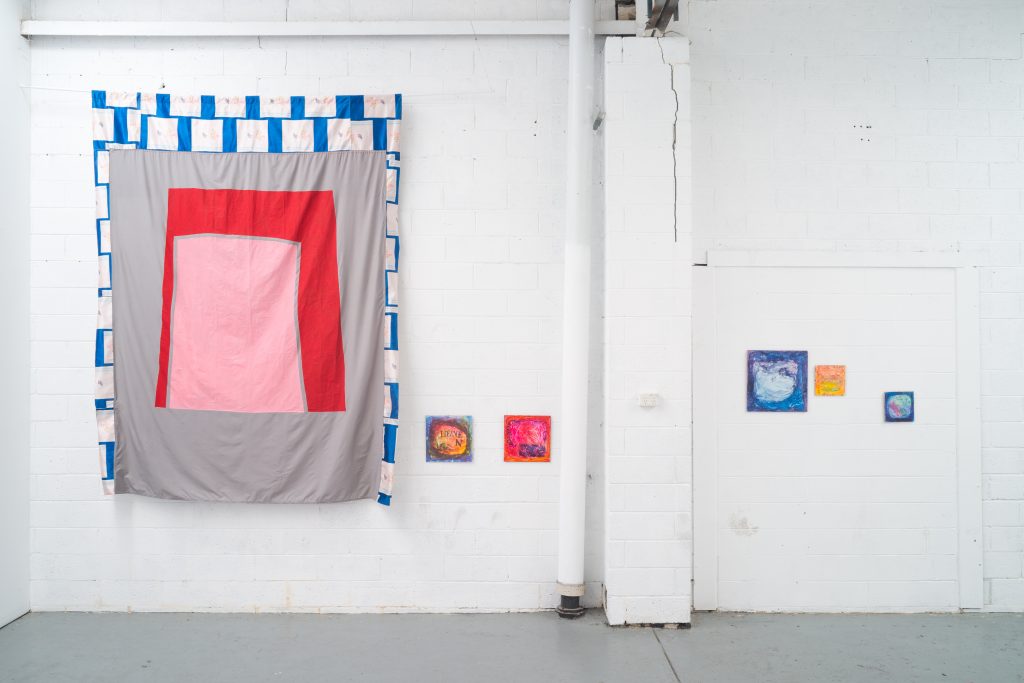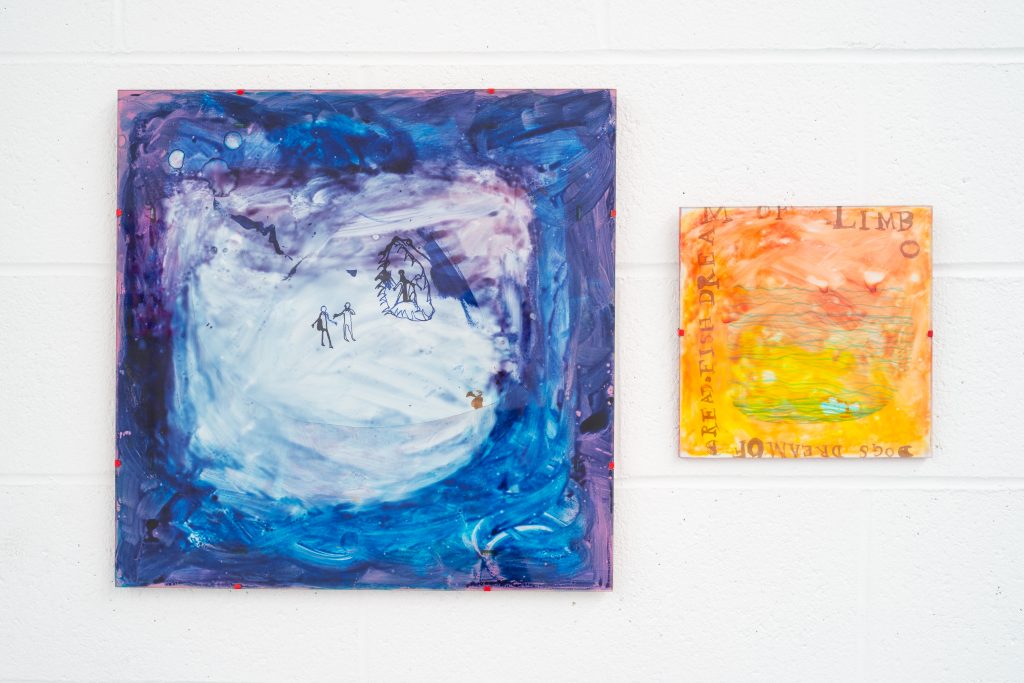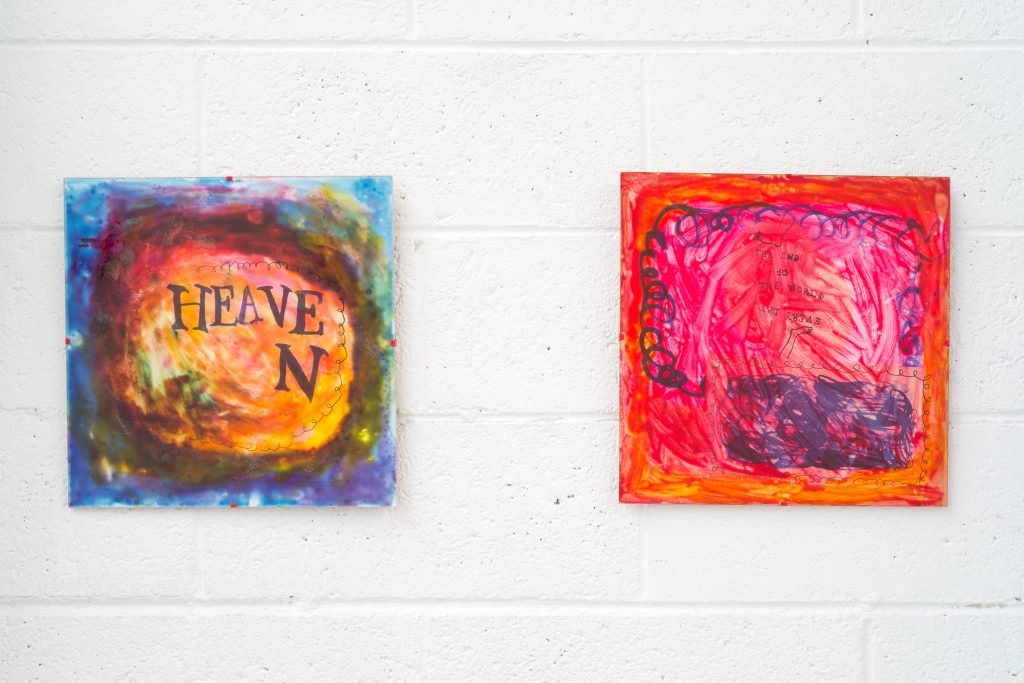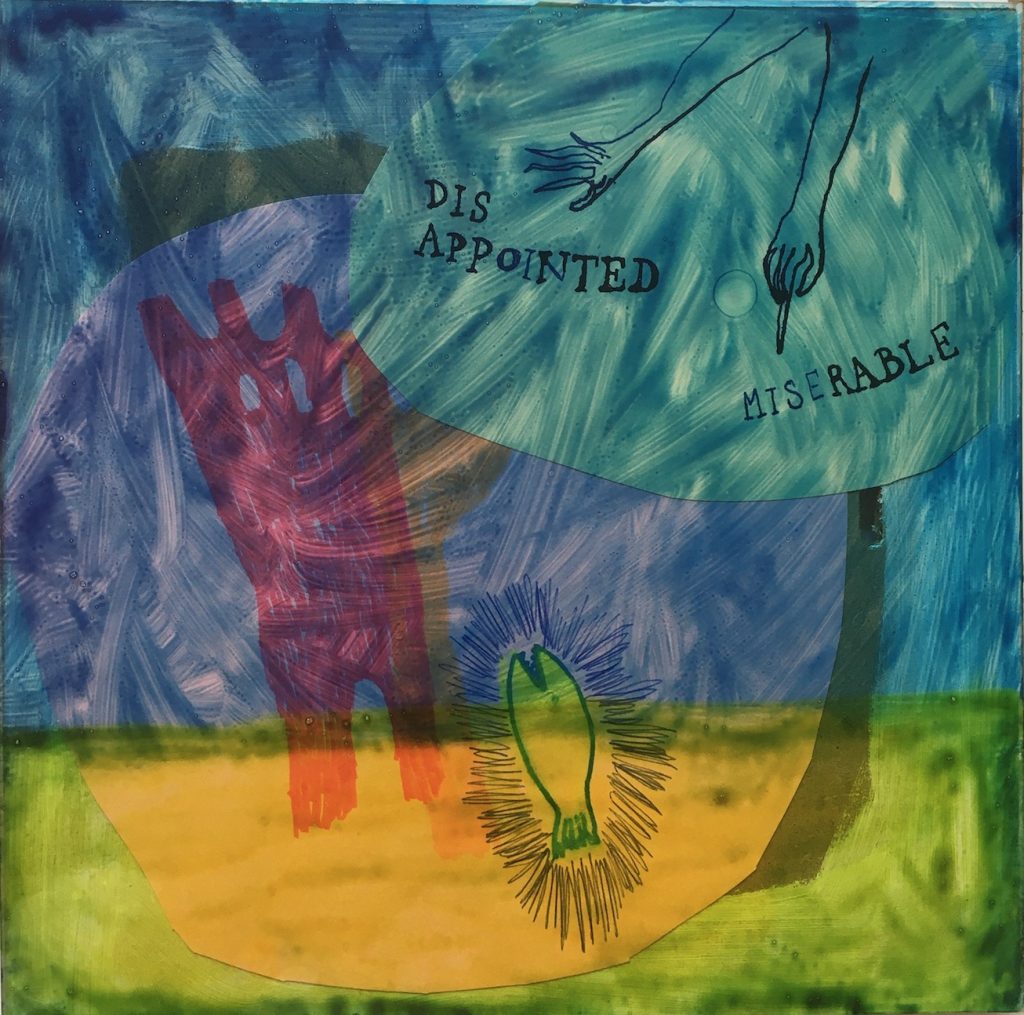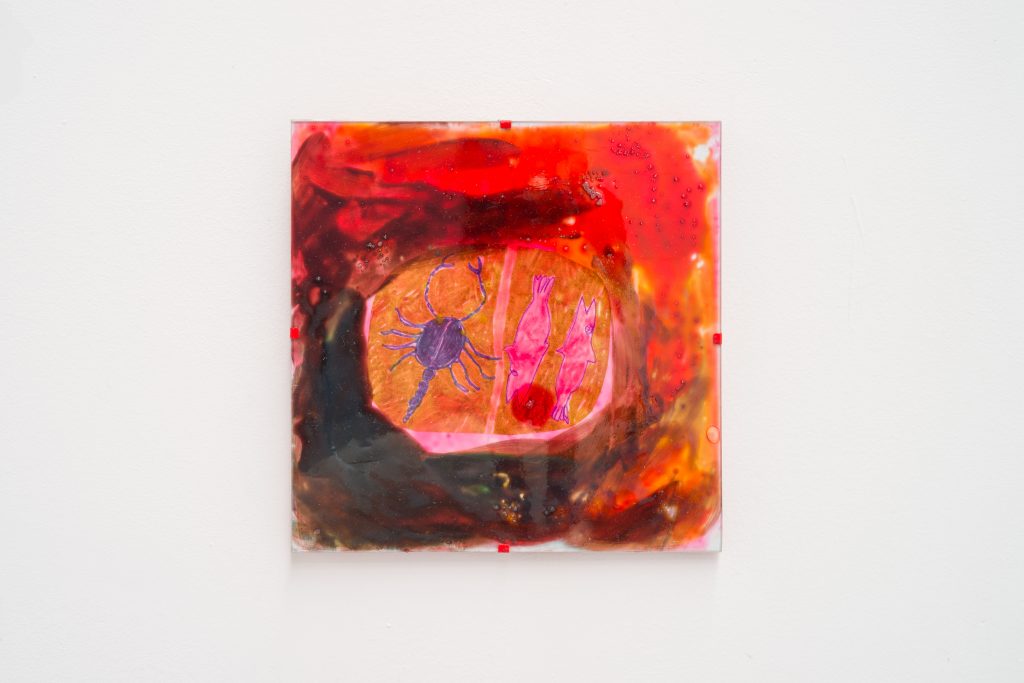 HEAVE-N
76 pictures on paper. Pencil, ink, watercolour, gouache on paper and tracing paper. Exhibition at TCB Art Inc, 2019.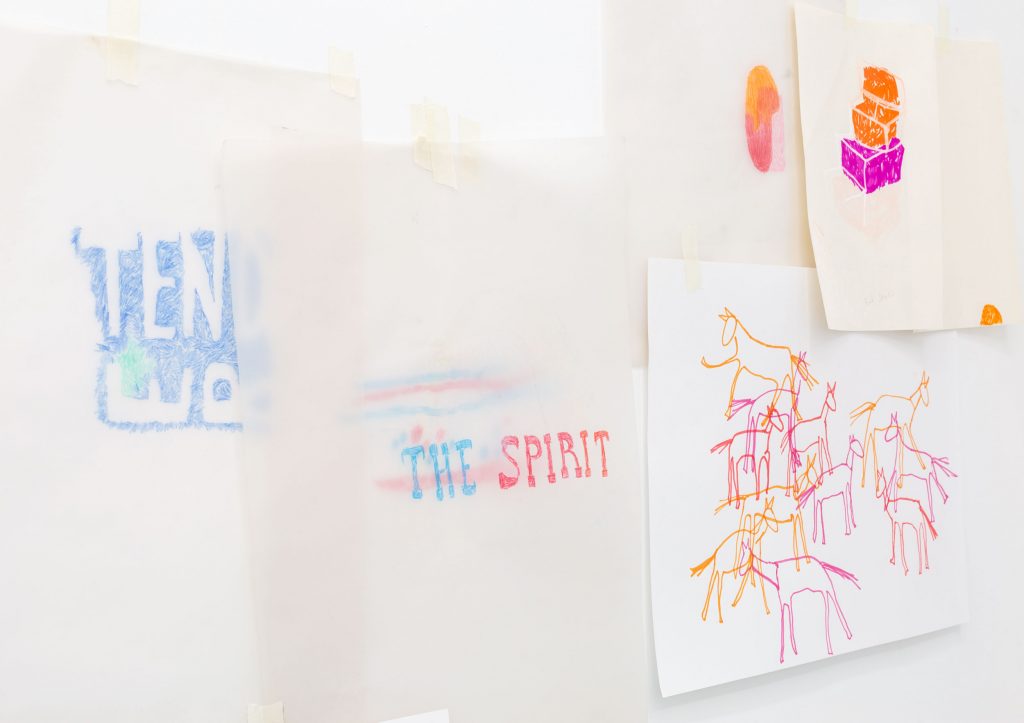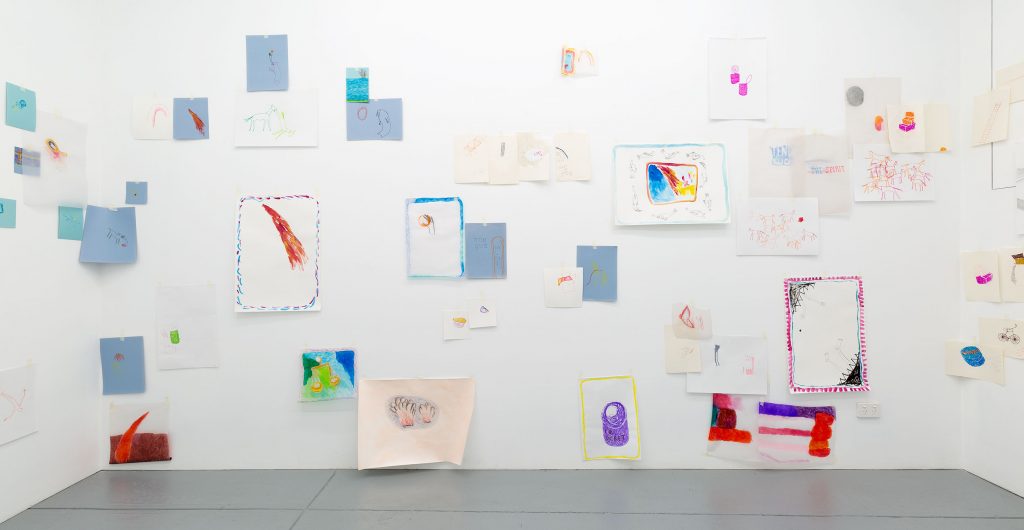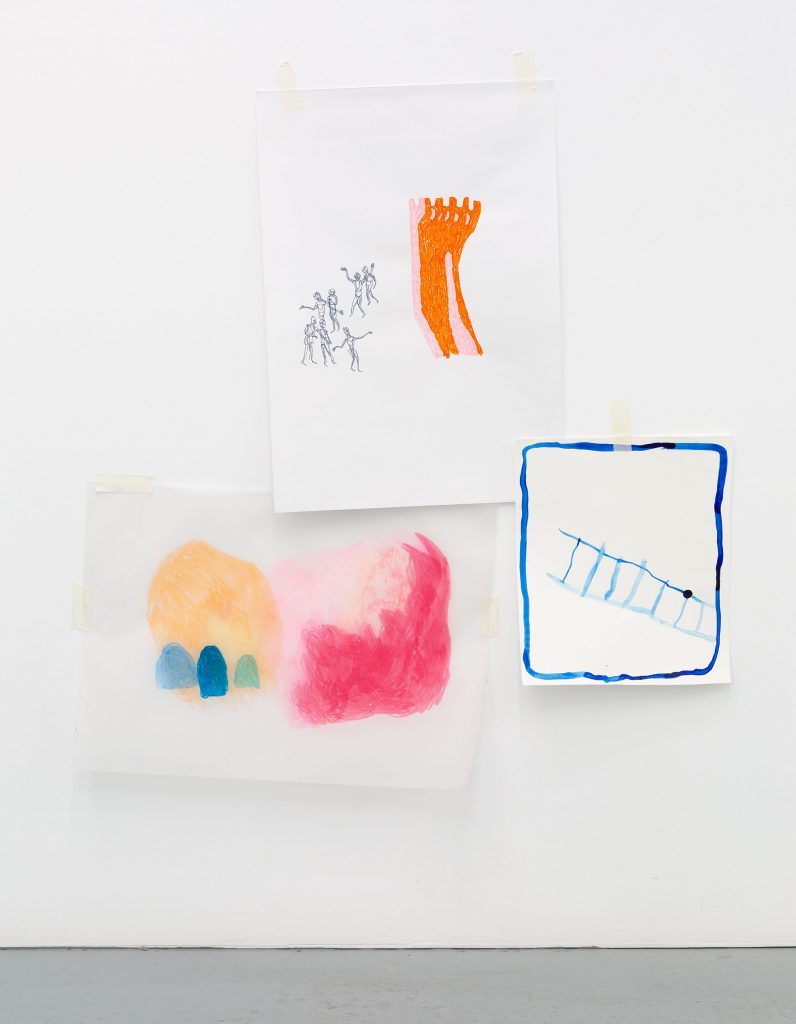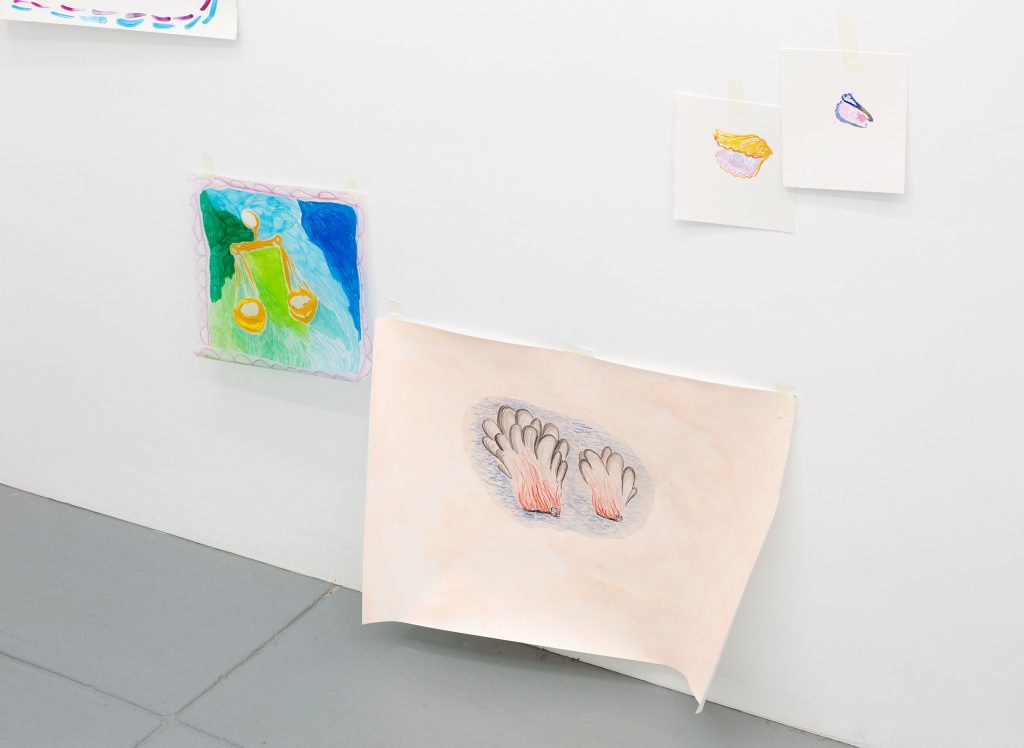 HELL-O LIMB-O

With Briony Galligan
Two friends travel through Dante's Hell. Performance, lecture, curtain, video and drawings, gif. Presented in various incarnations including at Ventriloquy curated by Joel Stern at Gertrude Contemporary, and at the AAANZ conference. 2019.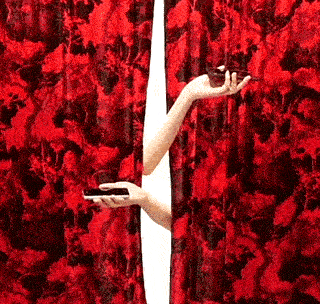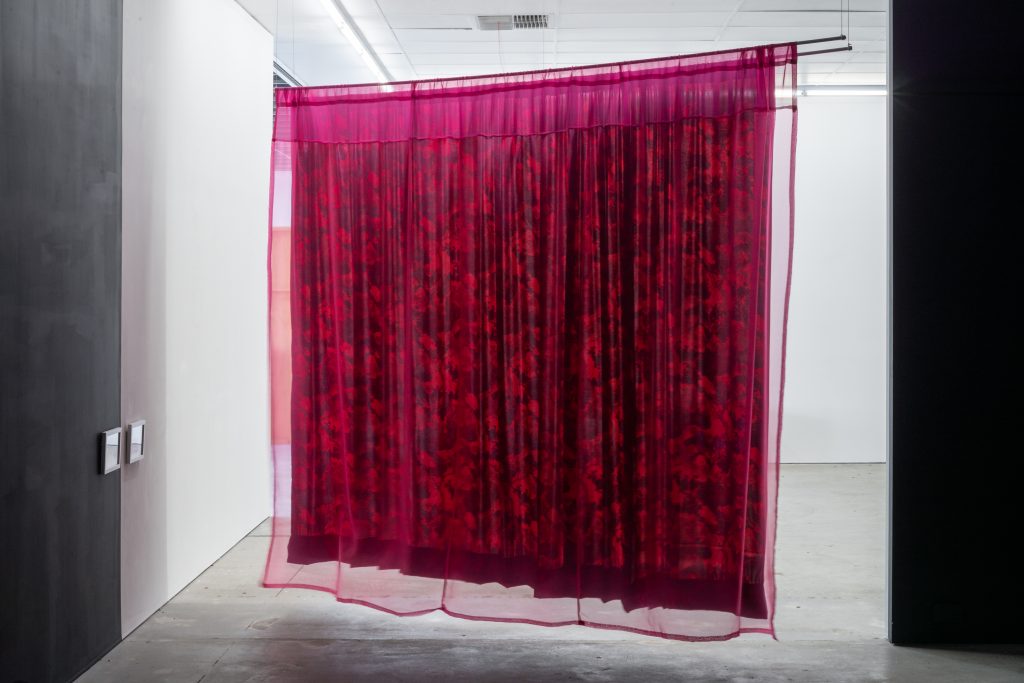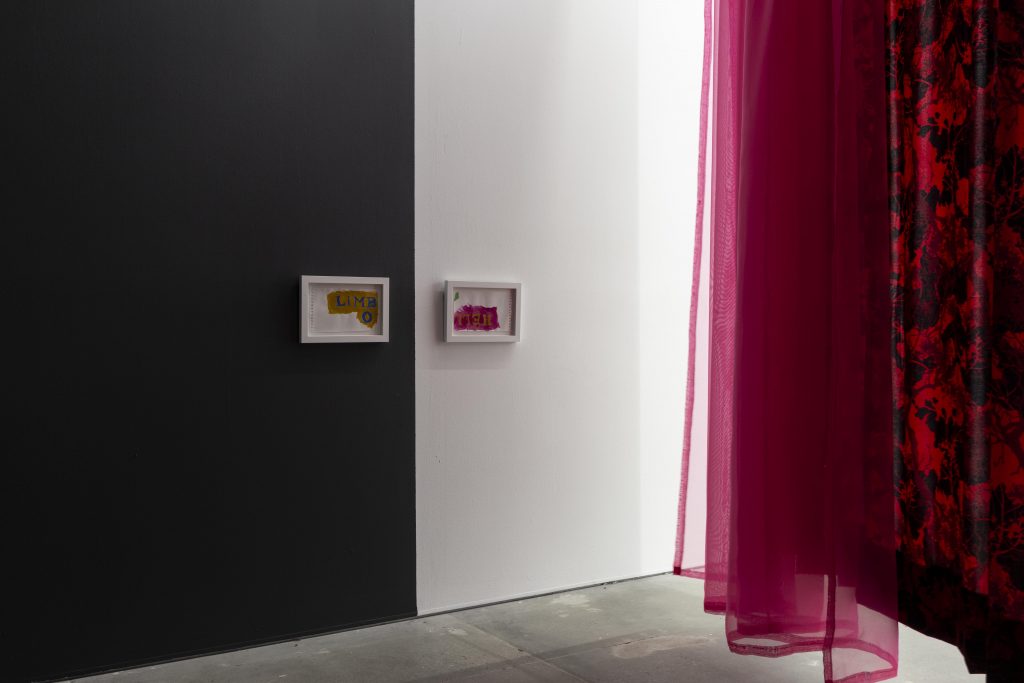 A NIGHT IN HELL
Performance night. Hand-painted medieval hellmouth backdrop, performances (vampire songs by Diego Ramirez, hot hellish beats by Lucreccia Quintanilla, devilish standup by Kalinda Vary). My contribution: a lecture on hell, a defunct local theme park called Wobbies World, and the law. At Kings ARI, 2019.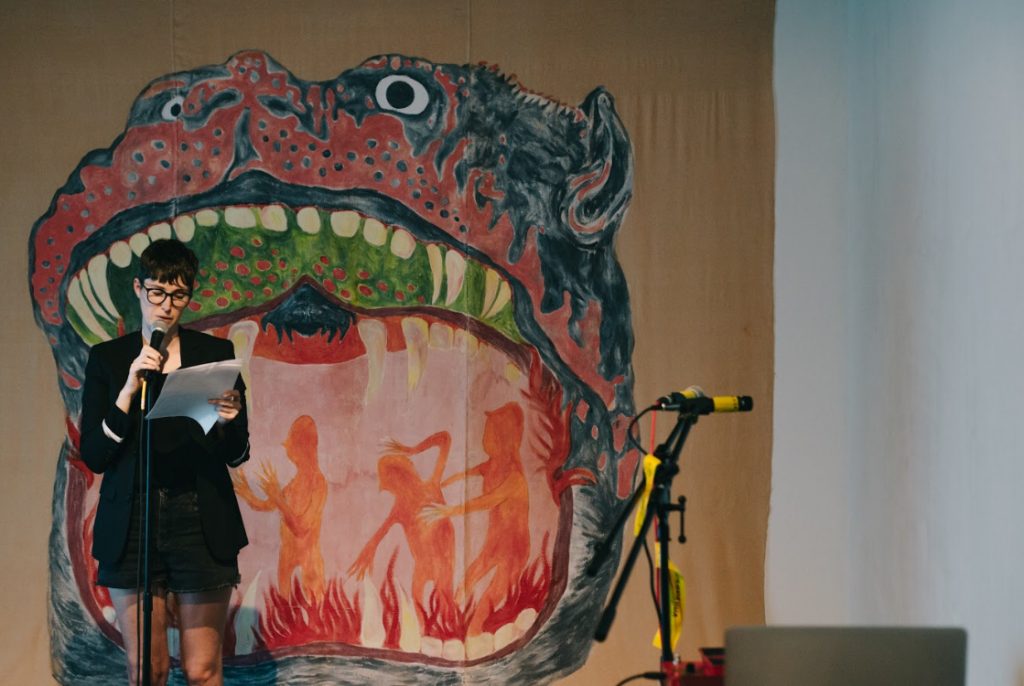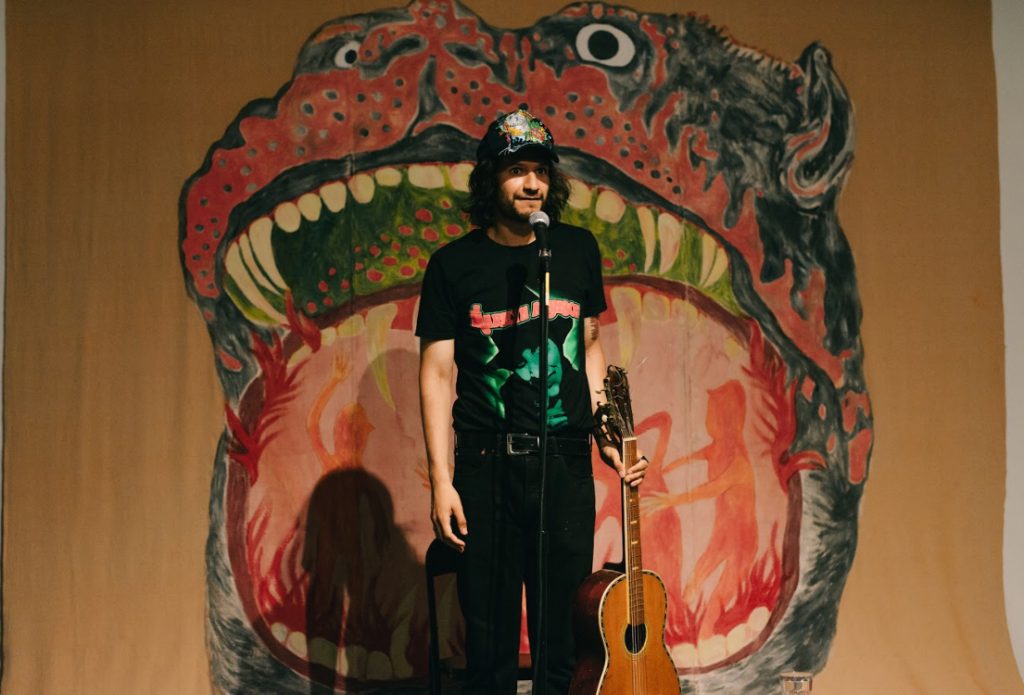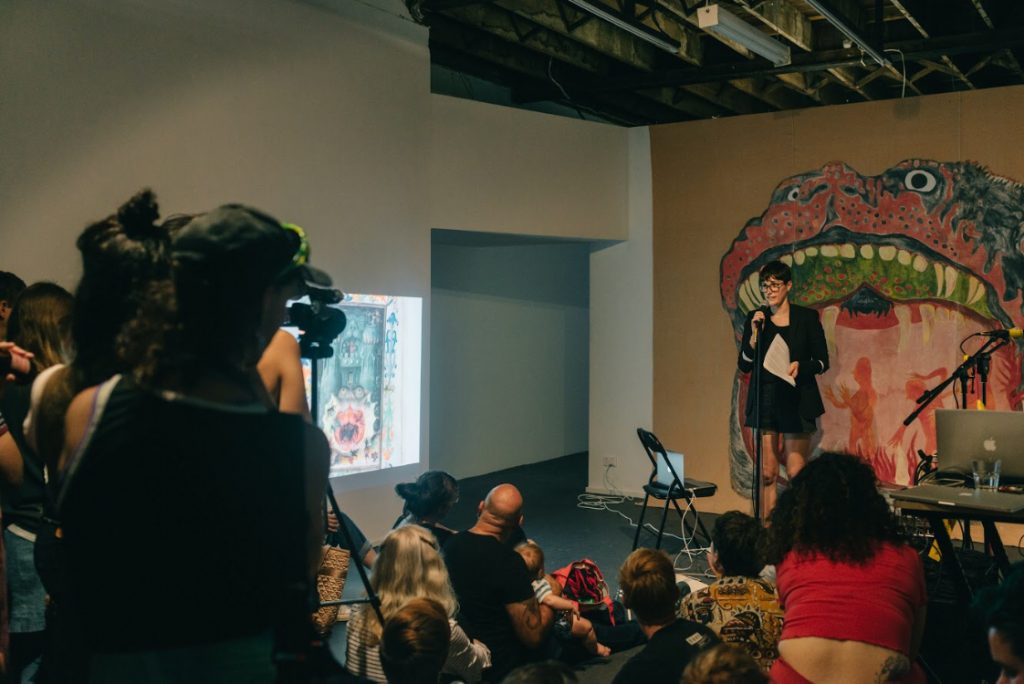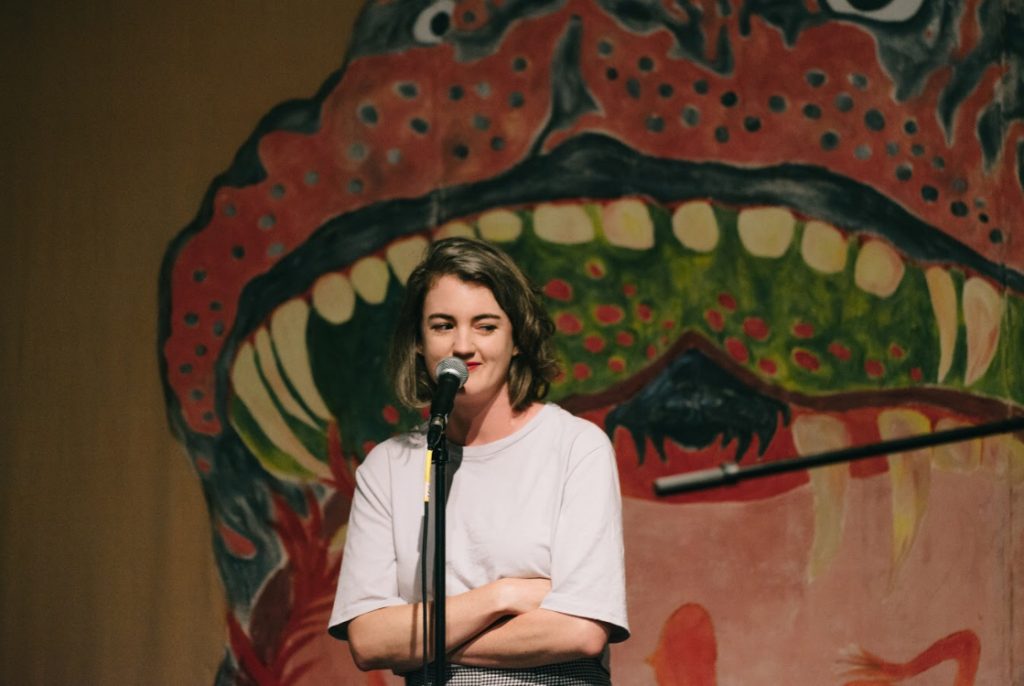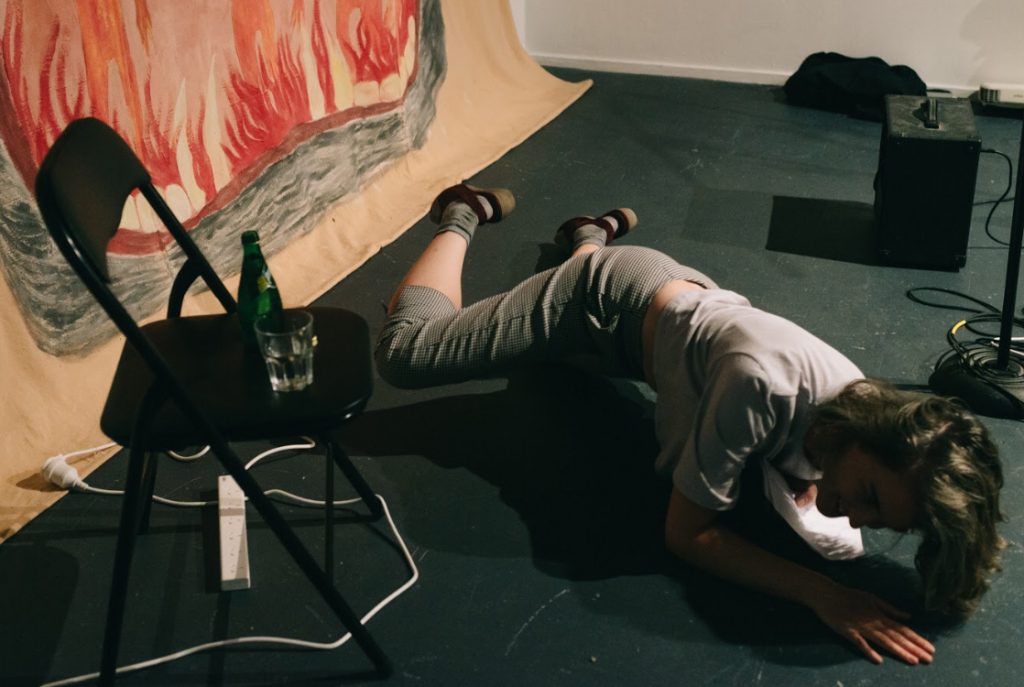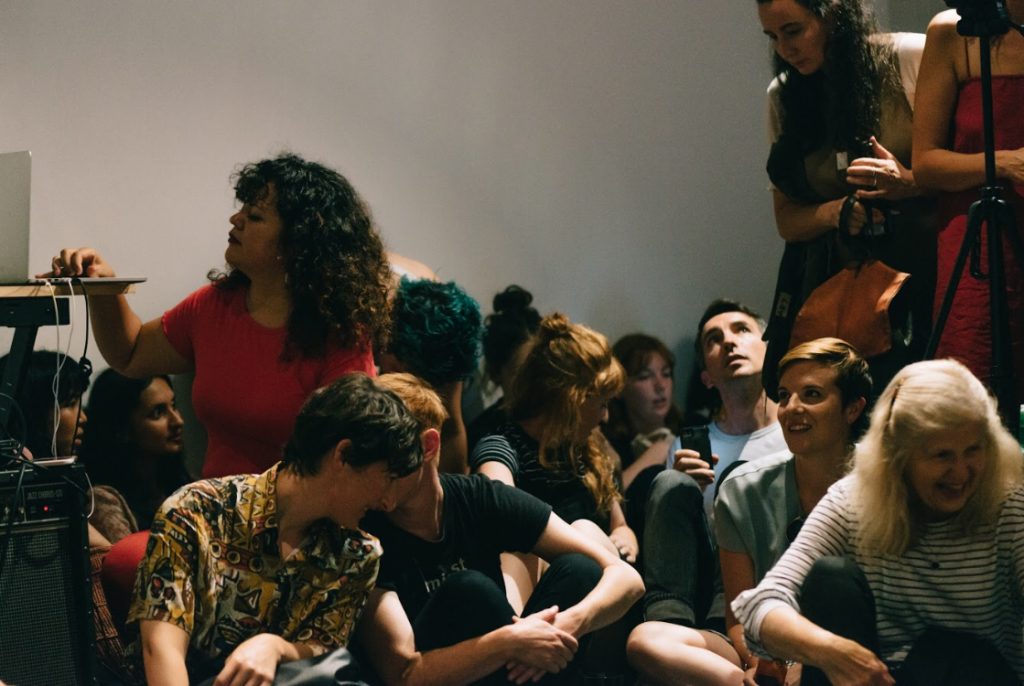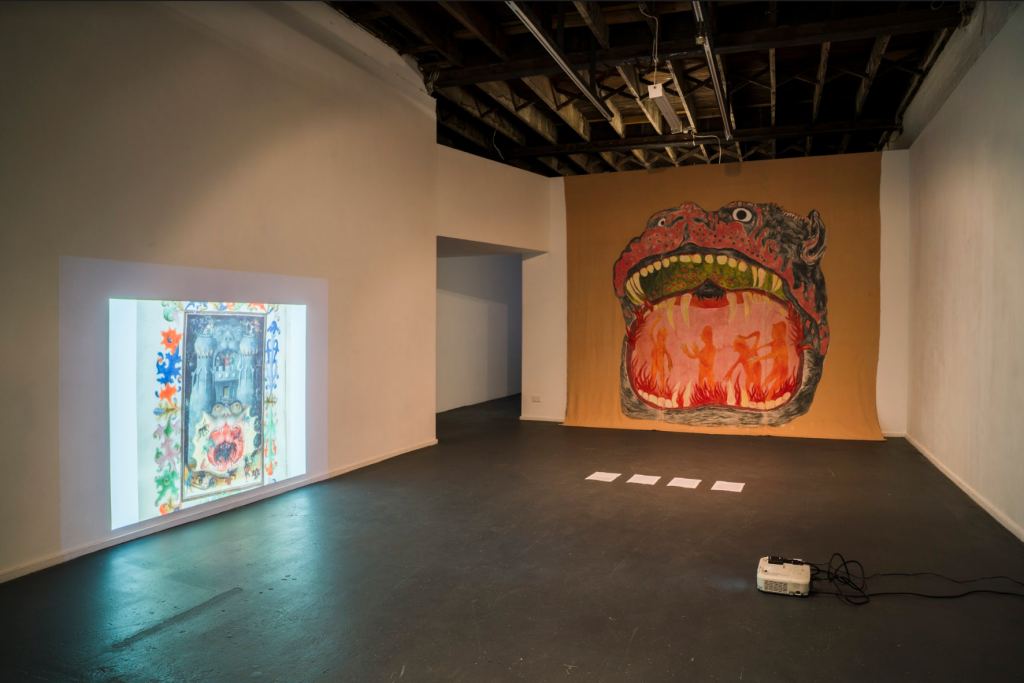 GIVE ME THE LITTLE BOOK
A response to Albrecht Durer's 'St John eating the book of the Apocalypse' (1497). Performance, wall-drawing, stained glass window (food dye, glue), video (0:05). 7UP gallery. 2018.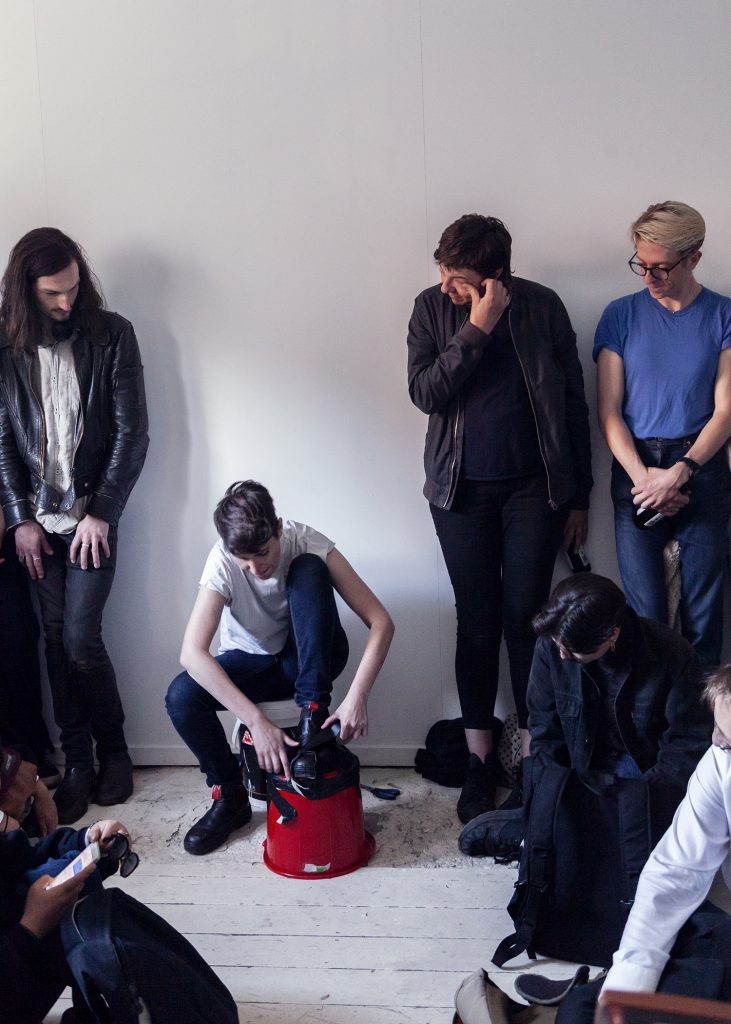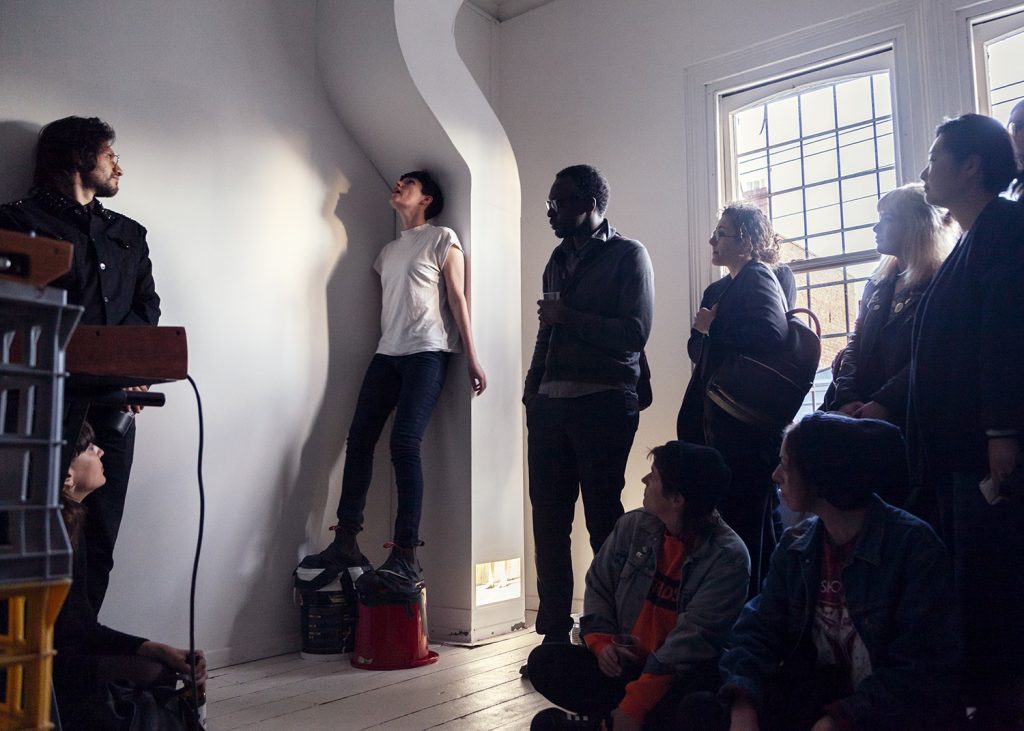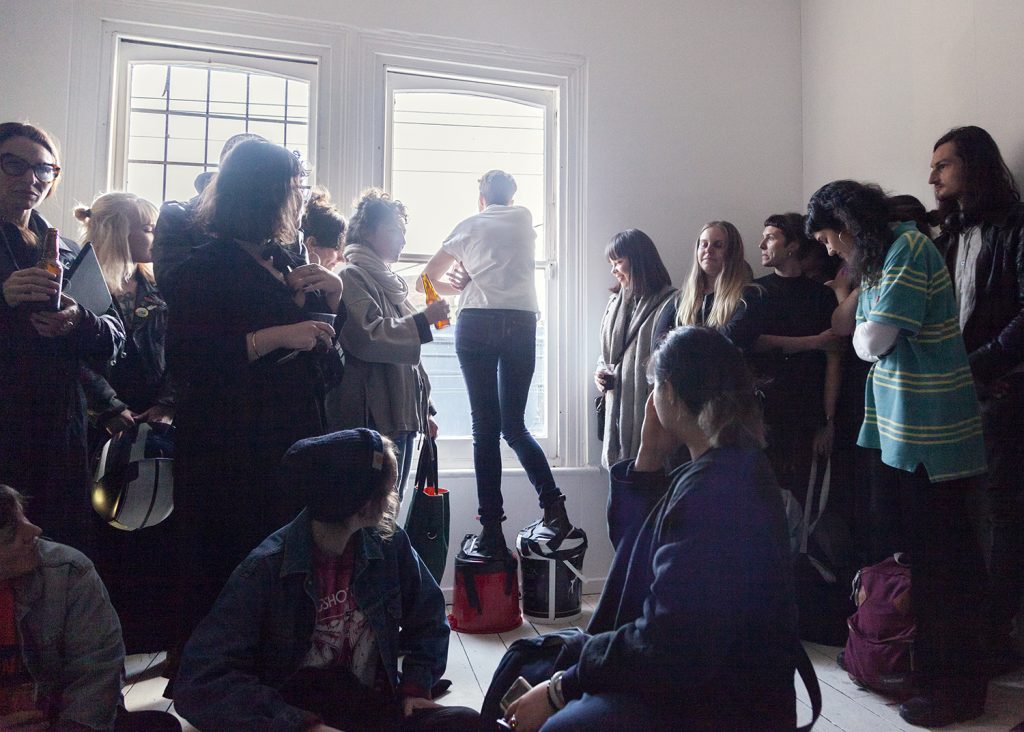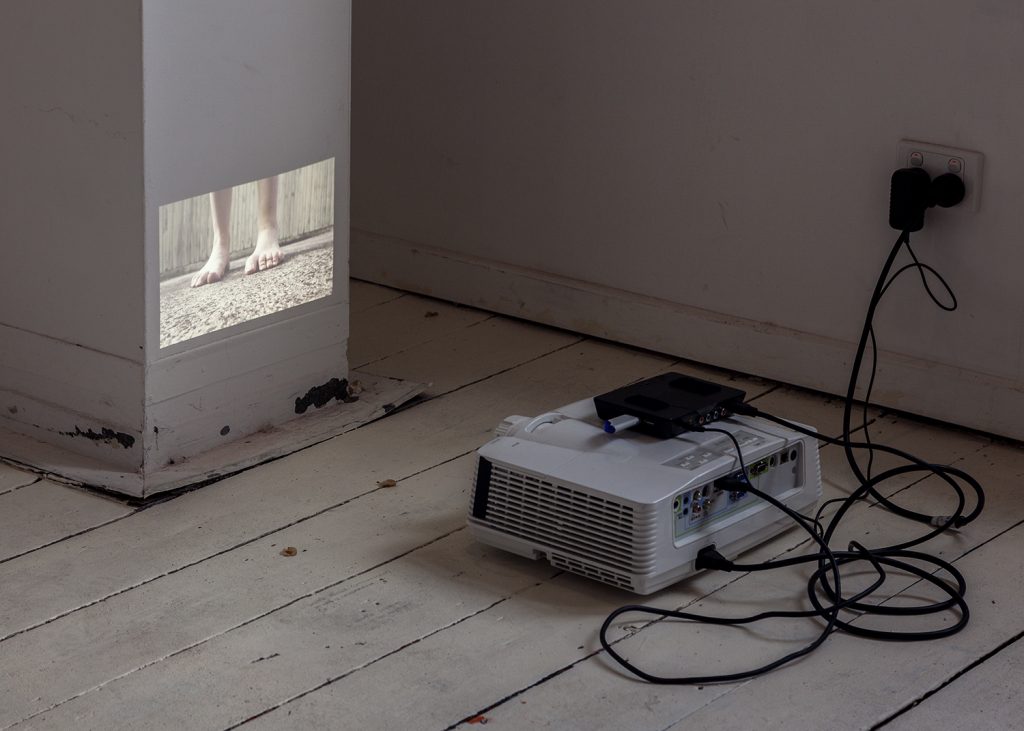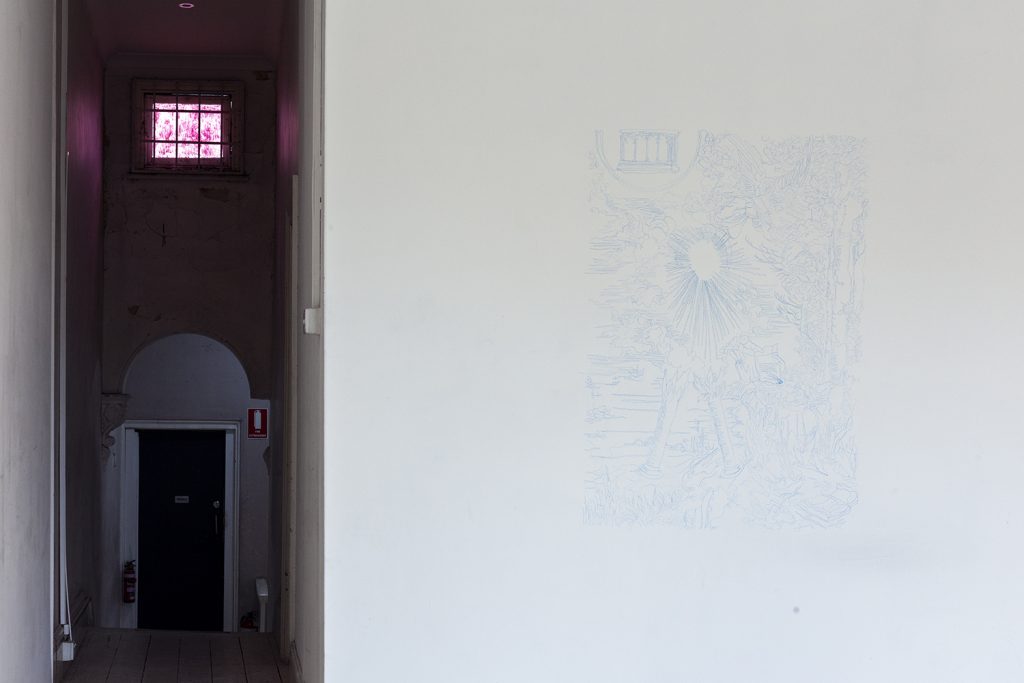 A-Z AN AEROBICS LESSON
Performance and abecedarian text response to Belle Bassin's work 'In your place an empty space,' TarraWarra Biennial 2018.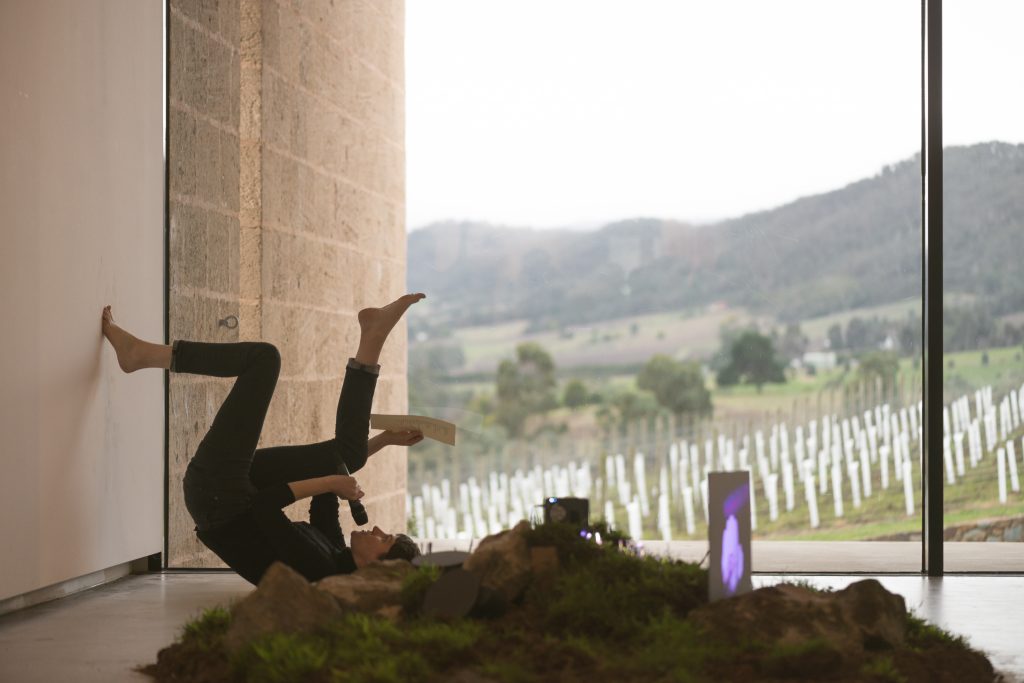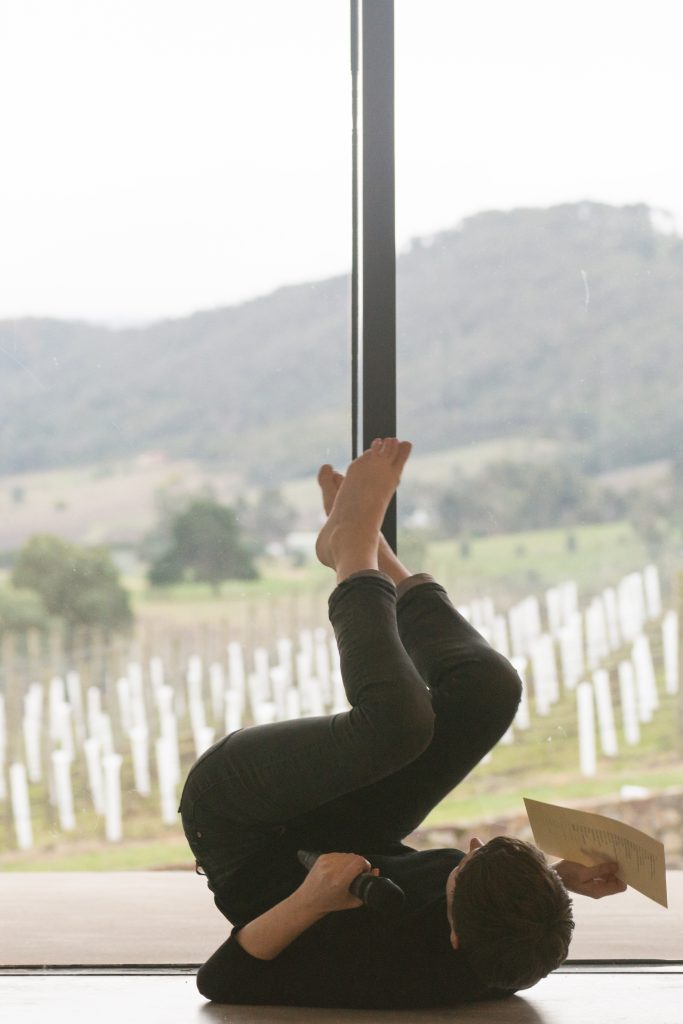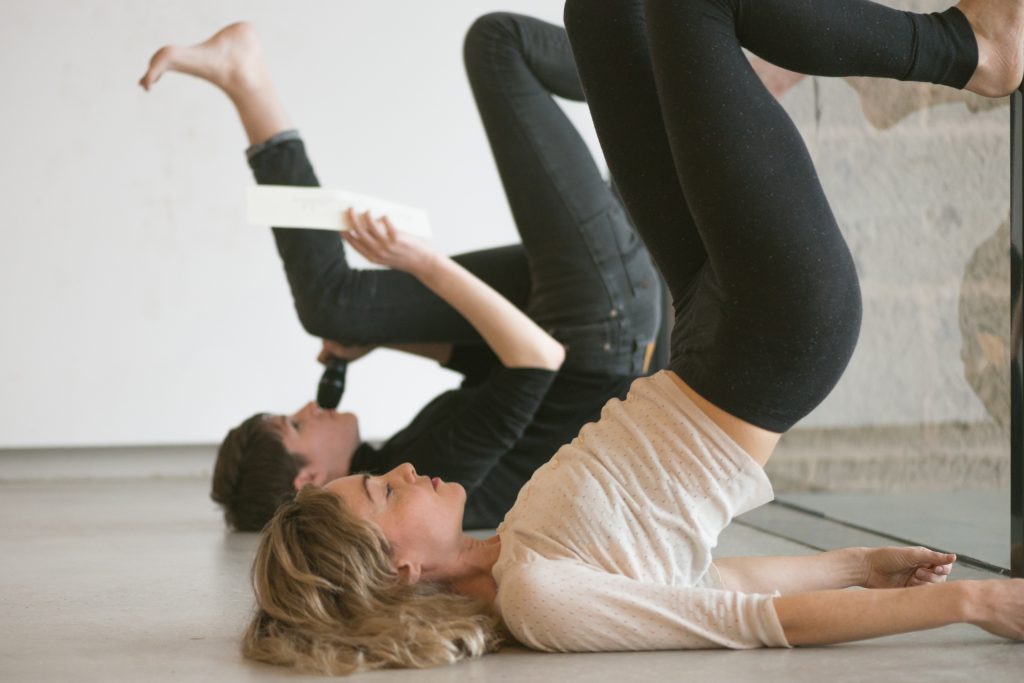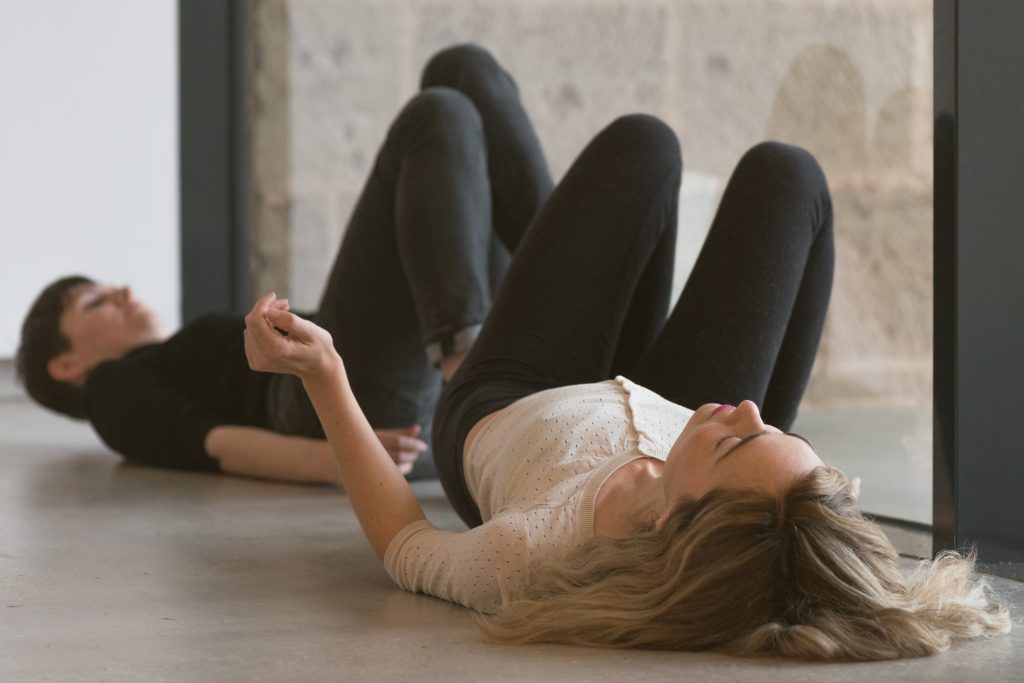 A-Z, an aerobics lesson
Bend the bones. Become
Calcite
Dolomite
Etc. Extend your
Fingers, find their
Geometry, geography and
History.
Inhale,
Jiggle your jugular
Knock your knees
Lock lips, lounge
Metamorphically.
Note the
Orbit of the
Pupils, the pumping of the pulse, the
Quake and
Rumble of the
Stomach, its
Tripey topography
Undulate the
Veins
Widen your
X axis, expand your
Y axis,
Zigzag.

And again. Angle the ankles
Breathe
Circularly
Dig deep
Exhale, excavate the
Figure,
Groan geologically
Harmonise your holes
Identify your inner intestine. Improvise.
Jangle the jaw and
Knuckles
Lower the liver
Mm my mouth is full of
Nothing. Note the
Orientation of the
Pancreas.
Quickly
Ruffle the
Skin.
Take time out.
Upend the
Viscera.
Wobble your
X axis, extend your
Y axis,
Zigzag.
SOME SCENES INLAID NOT IN WOOD BUT IN SPEECH
with Briony Galligan
Performance (30 minutes), costumes, curtains, props, script, drawing, painted backdrop. Responding to the theatre space, which was once a Cyclone fence factory and then a lingerie factory – for Melbourne Art Theatre, curated by John Nixon. 2018.
Tension is important. Straining is important. Take a strong grip and pull. Repeat until everything begins to lift off the ground. Continue until it is as taut as possible and tie off.
An architectural reading of beauty would mean I could think of your face as a fence. Your ears the iron poles. Your cheeks coils of galvanised wire, tied into ringlocks crossing your nose. If your face is a fence, there must be something inside of the fence. And somewhere, there should be a gate.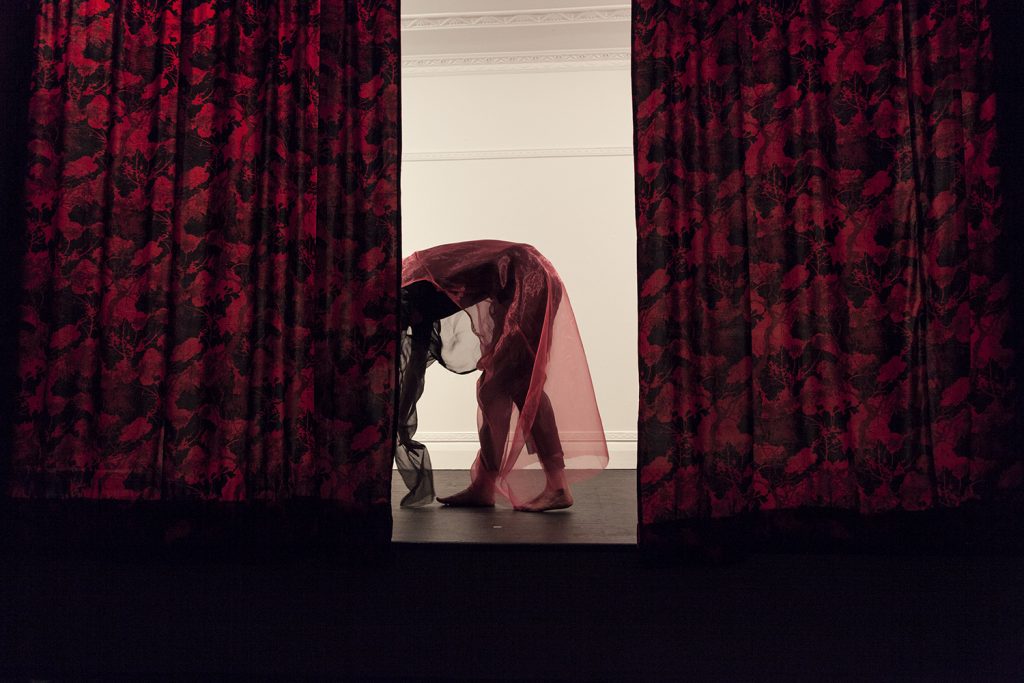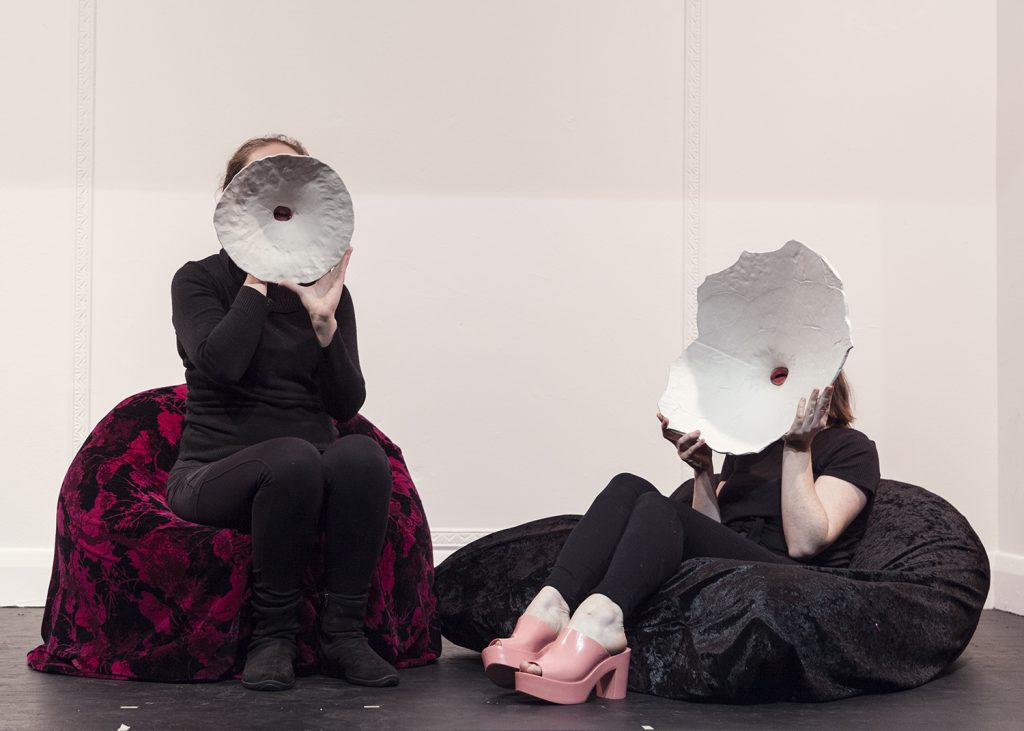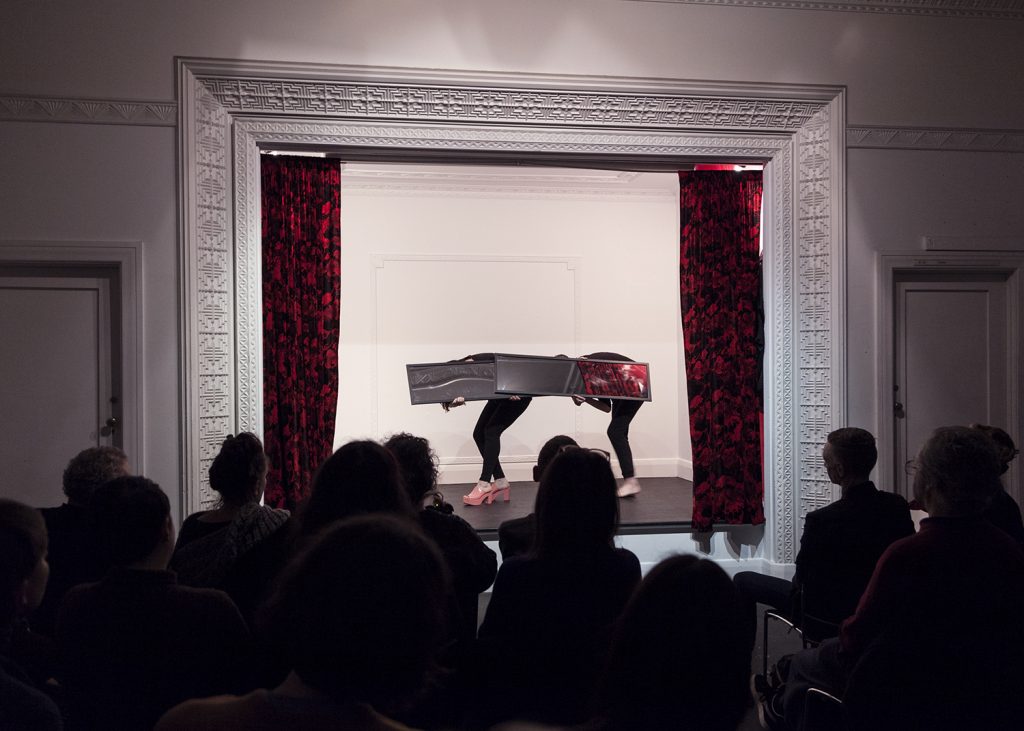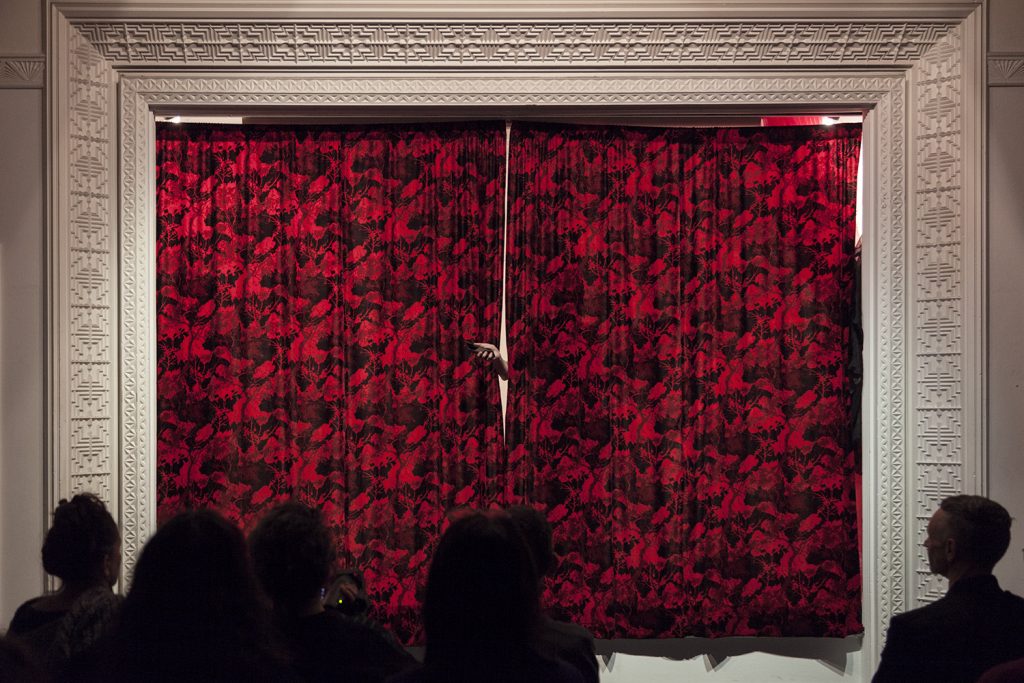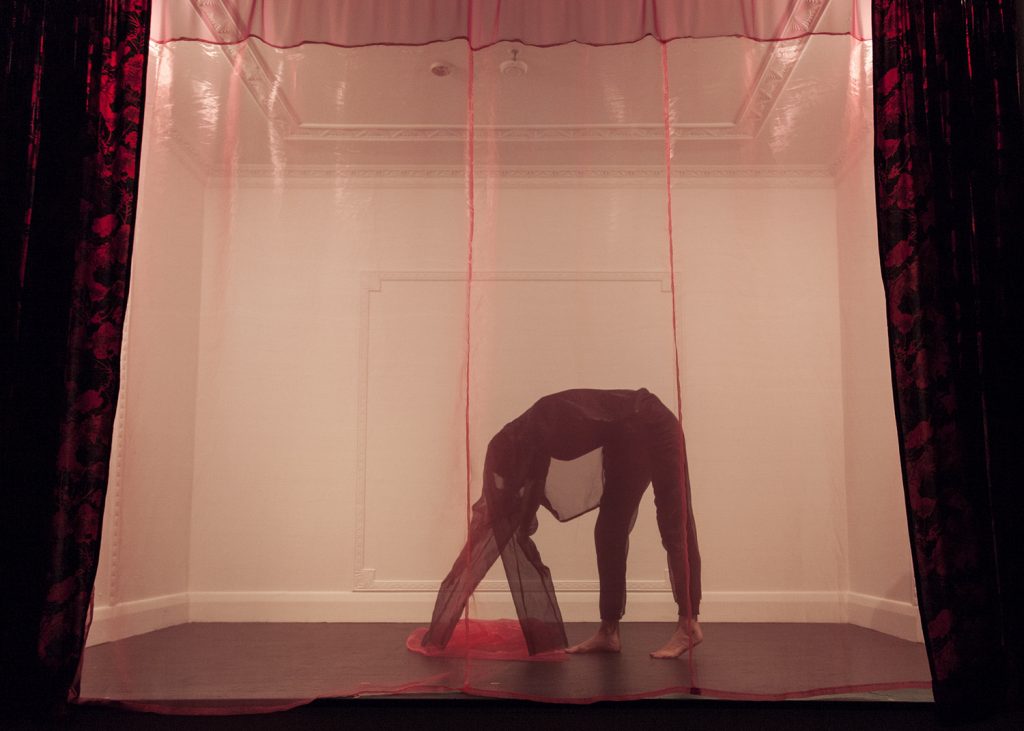 CYCLONE BEAUTY AND PROTECTION
With Briony Galligan, at Gossard theatre.
Dyed and painted canvas backdrop, curtains, script. Link to text: https://drive.google.com/file/d/1nvCWVcpB1AnhoJXEKX9NR7Io9aBHIJfl/view?usp=sharing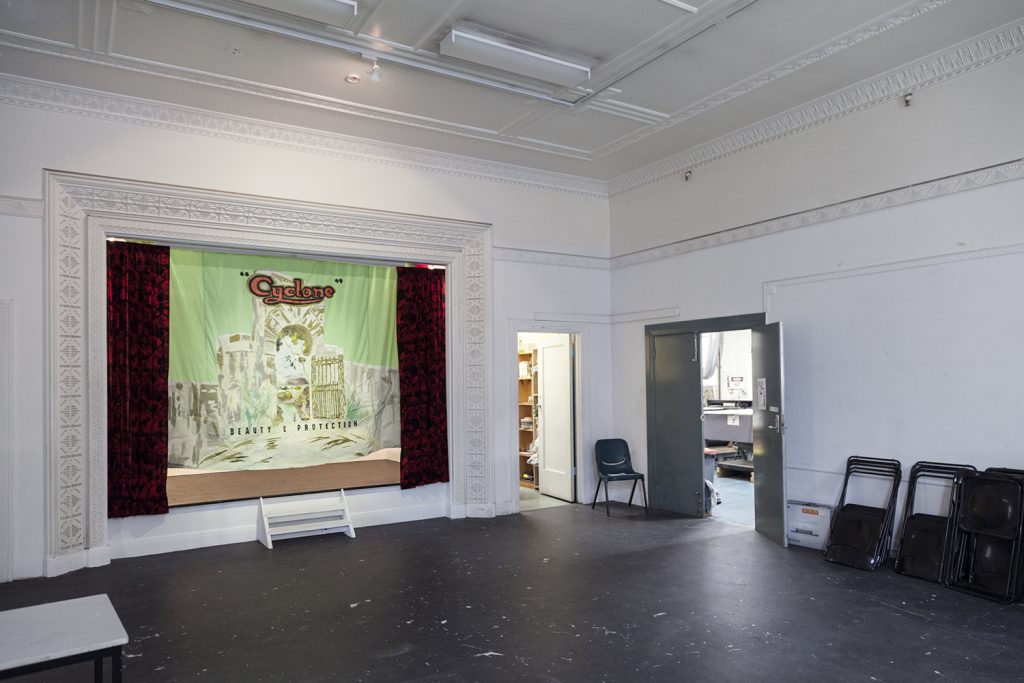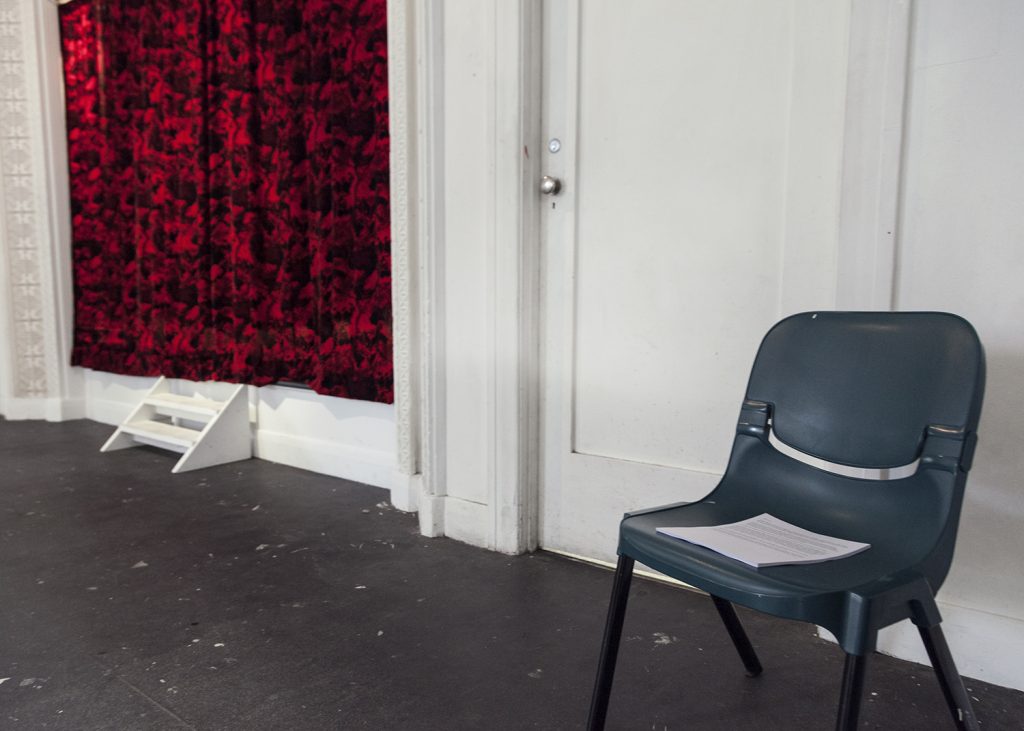 STILL LIFE WITH PUNCHES
Two videos, publication. Shown 2018 (Spring 1884 In Boom exhibition), 2015 (First Draft Gallery), 2014 (Trocadero art space)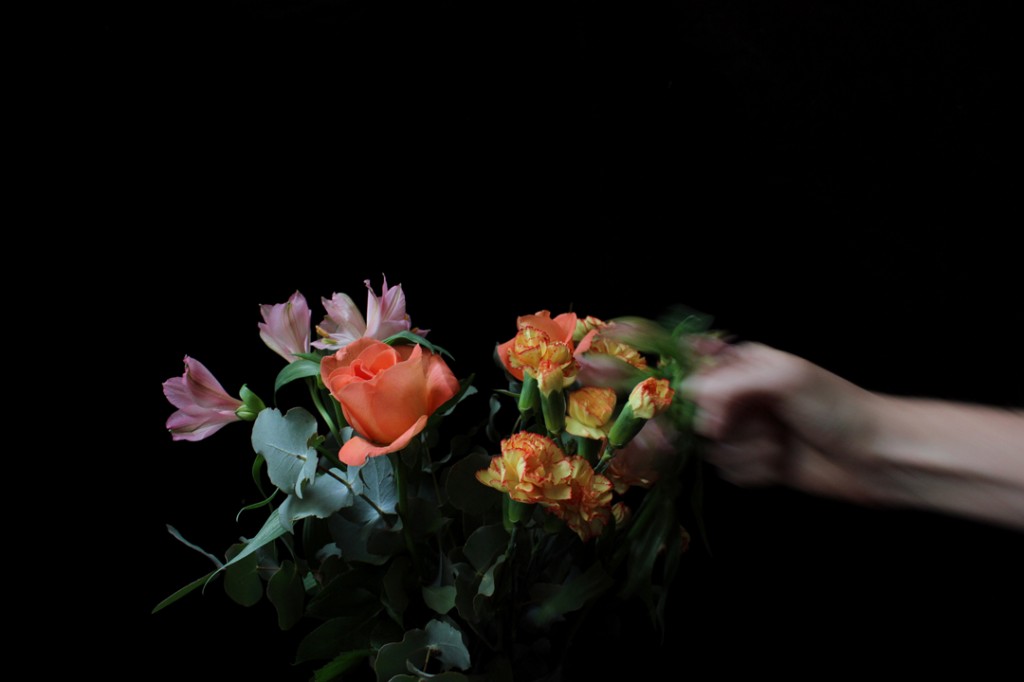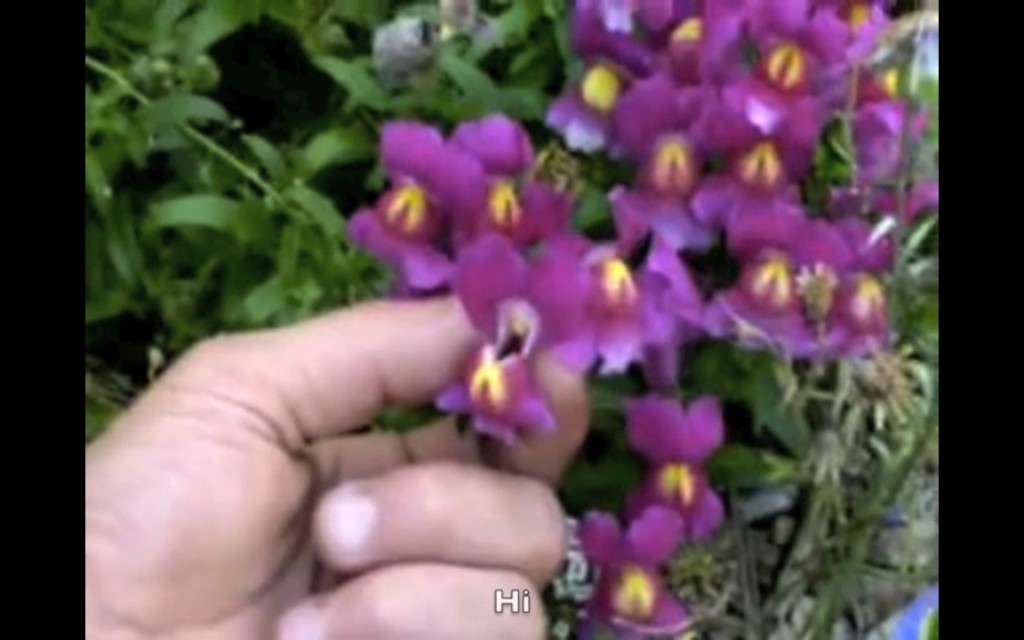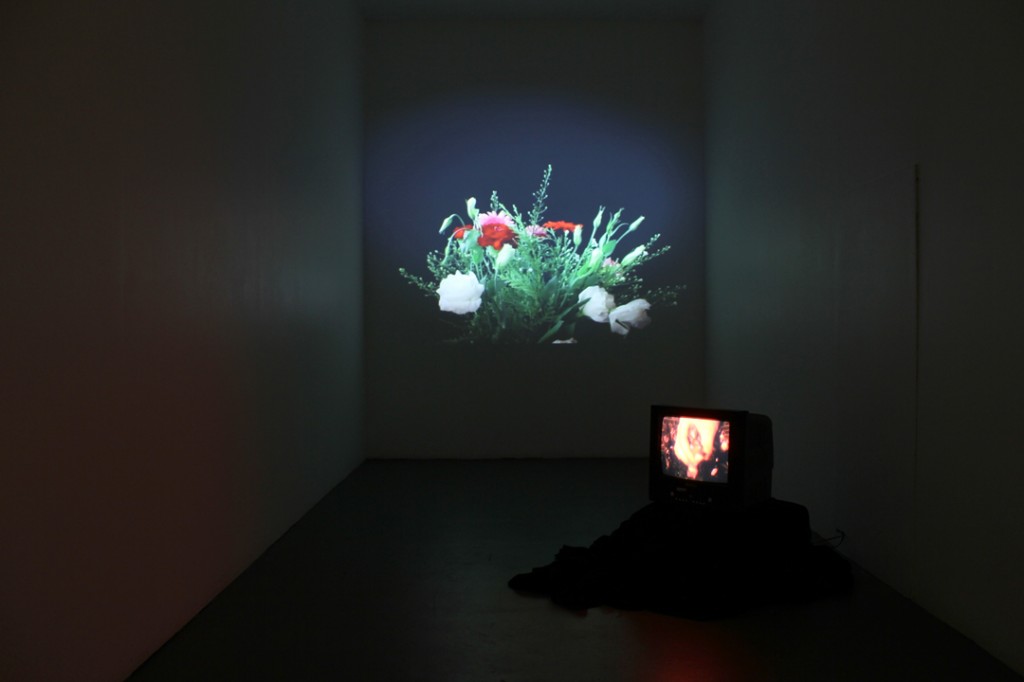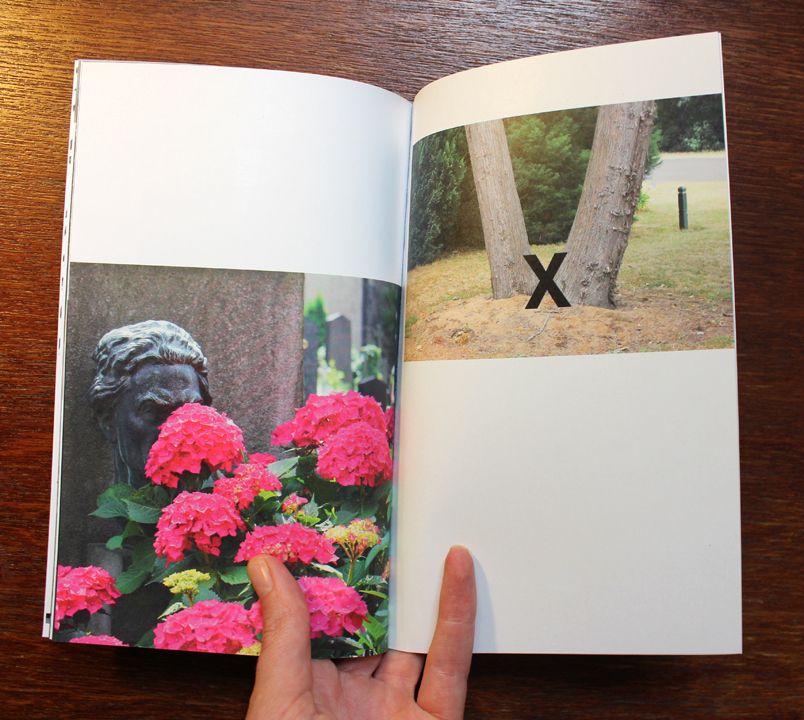 YEAR OF THE FLOODS
Outcome of residency at the Living Museum of the West, responding to their archive. Poems, prints, collaborative publication and blinds with George Criddle. 2017.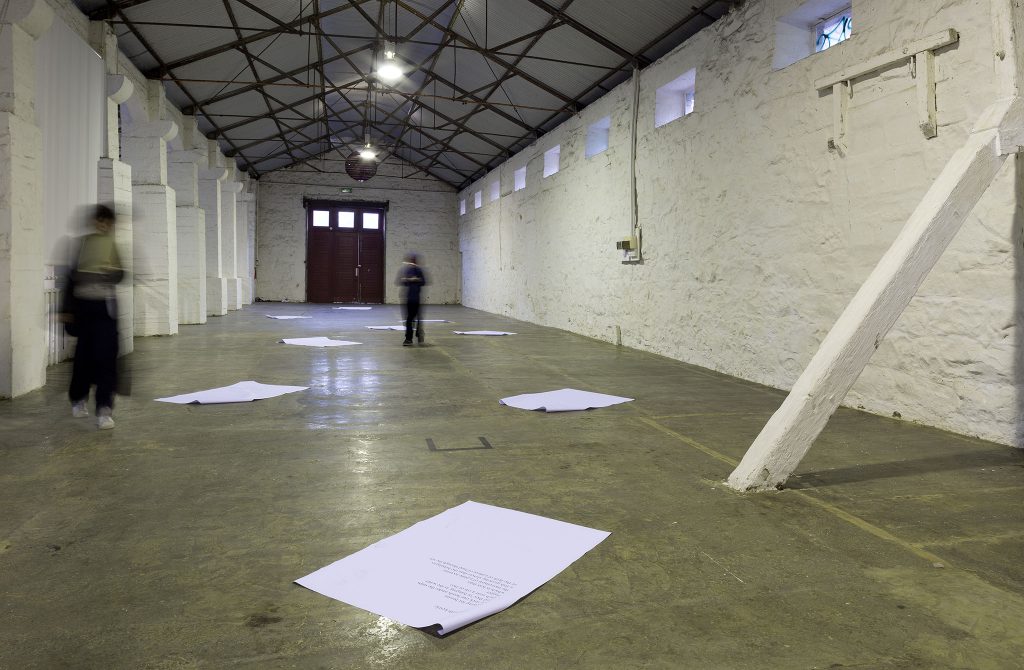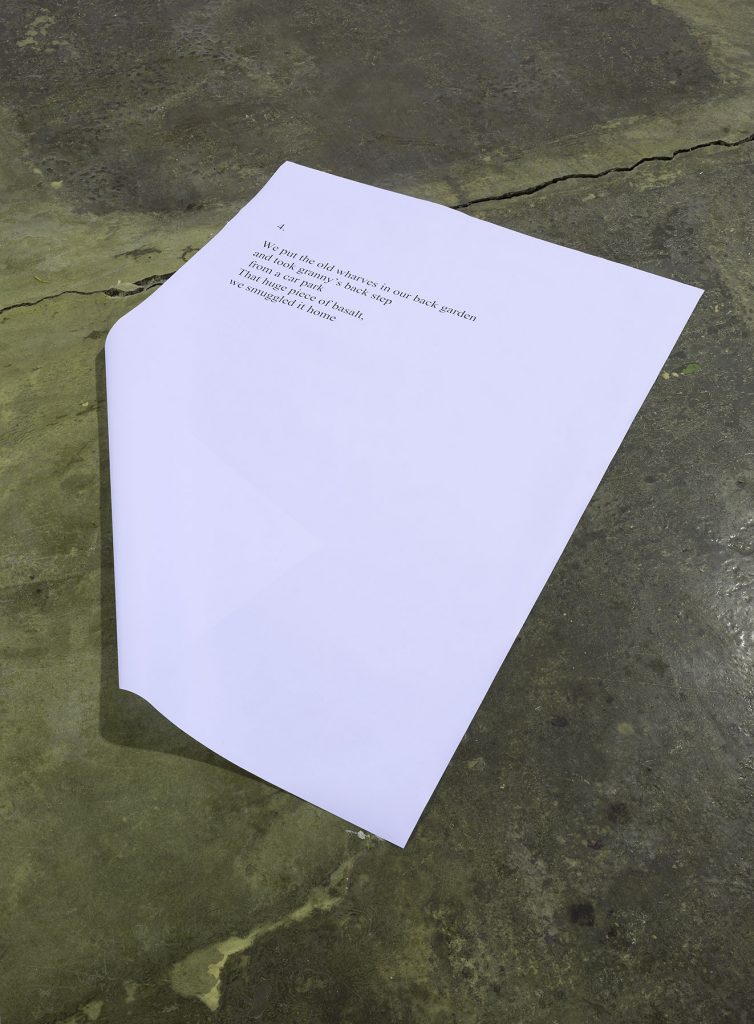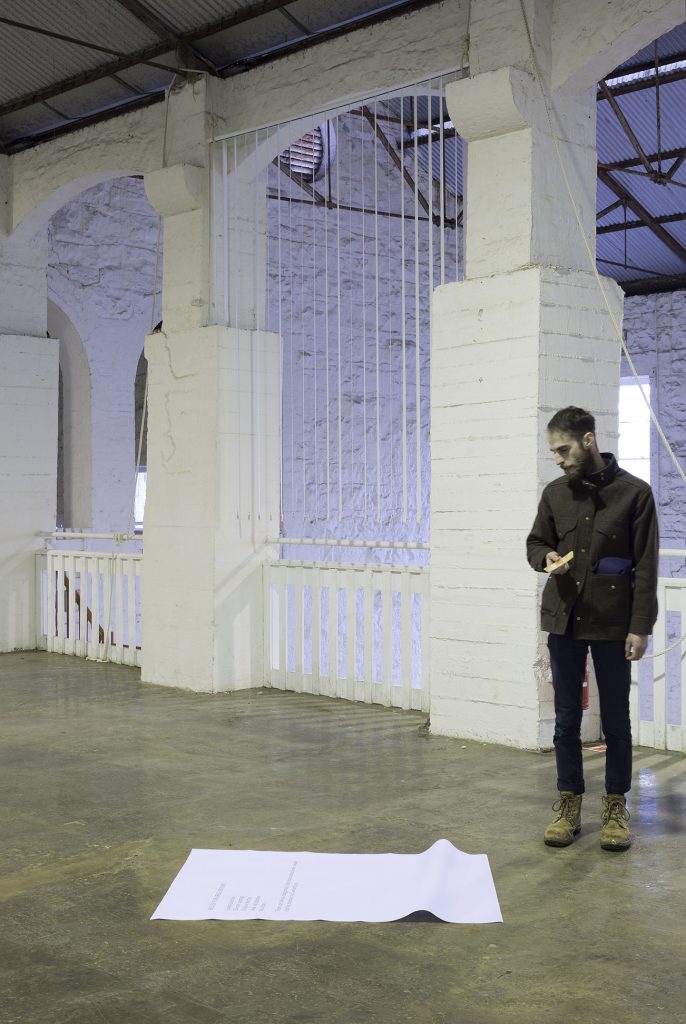 THE ISLAND, A CONVERSATION
Video, textile (canvas, charcoal), gif. Video of performance given for Bogong Sound Festival. 2017. Performance: Bogong Centre for Sound Culture. Exhibition: West Space, Melbourne.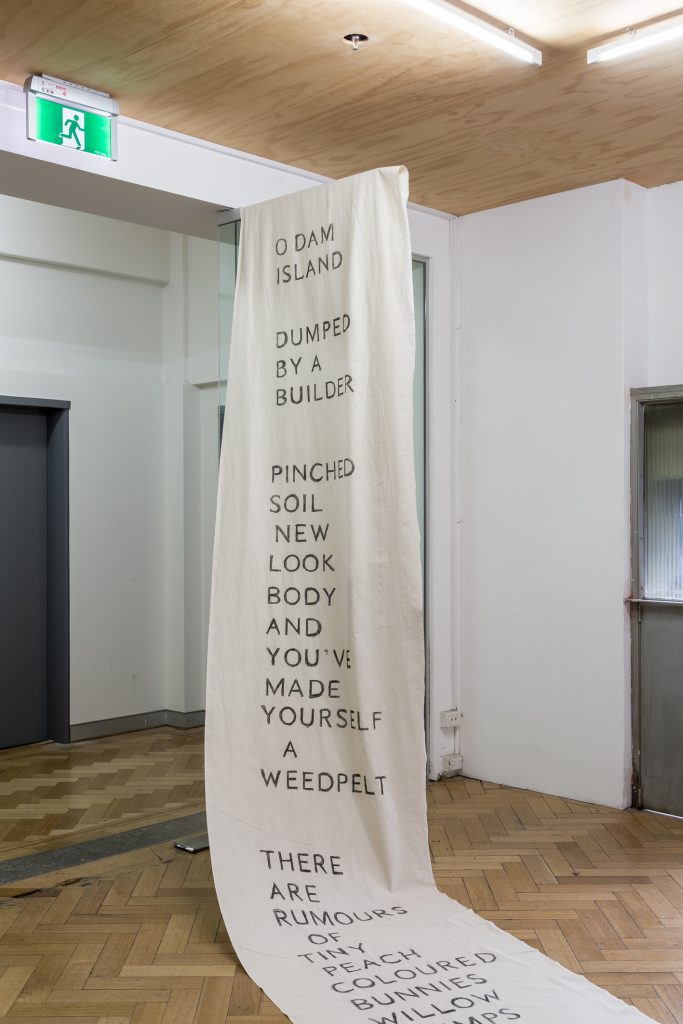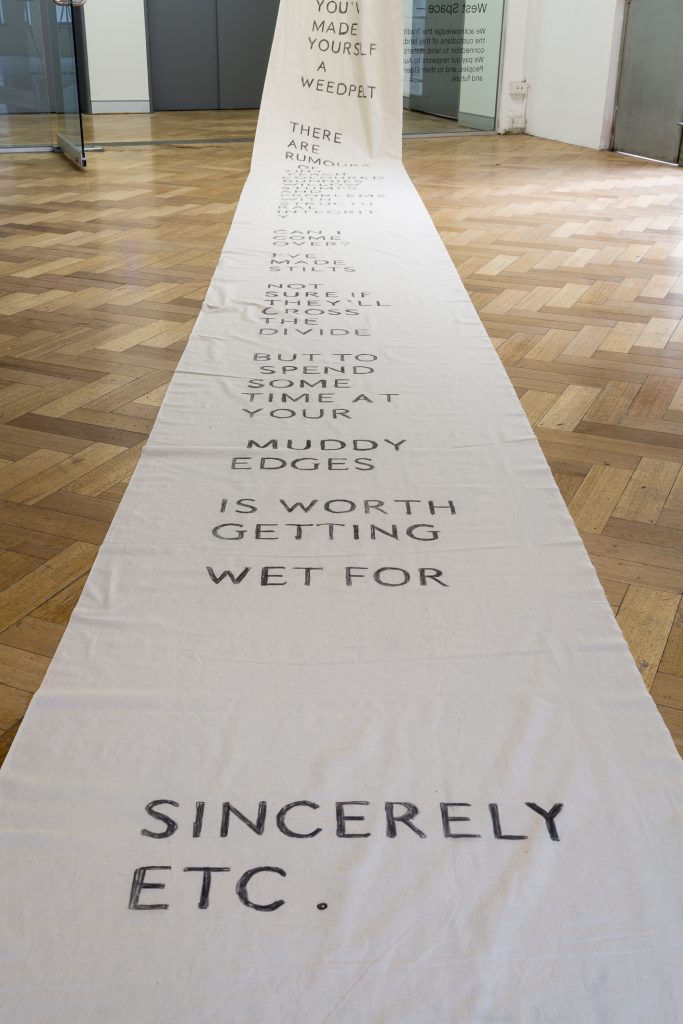 FIVE MINUTES WITH AN EEL
Performance/video. Presented at Liquid Architecture's Why listen to animals event, at Oyeawow studios, Berlin. 2016/17.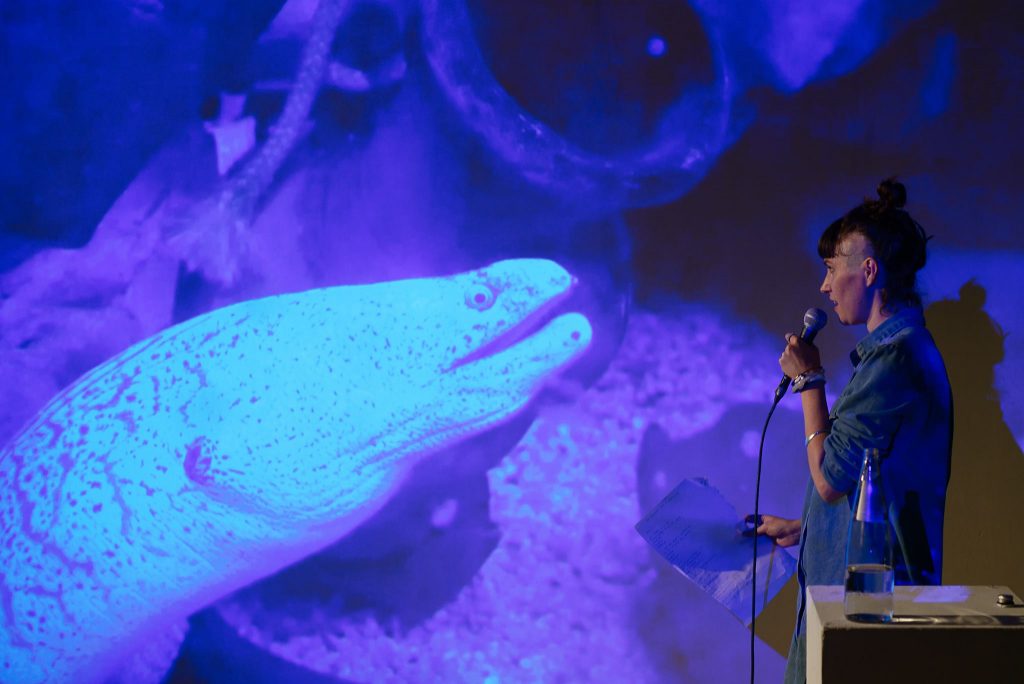 ALEXANDER FOR A AND B
Masters exhibition, Monash University. Performance, annotated script, publication, projection of drawings, rope, canvas, pillows, video (05:11), underwater sound recording of me taking a bath, reading shelf, ambo (wooden stair structure), sound recording of church with 12th century mosaic of Jonah being eaten by a whale, 24 carat gold line drawing at sea level on window, 2017.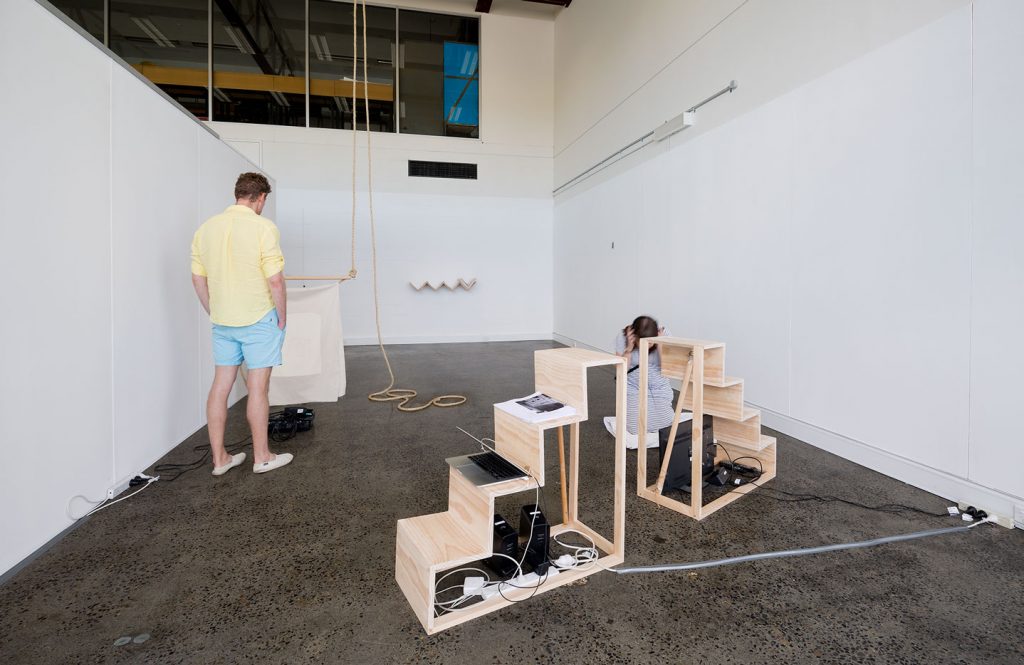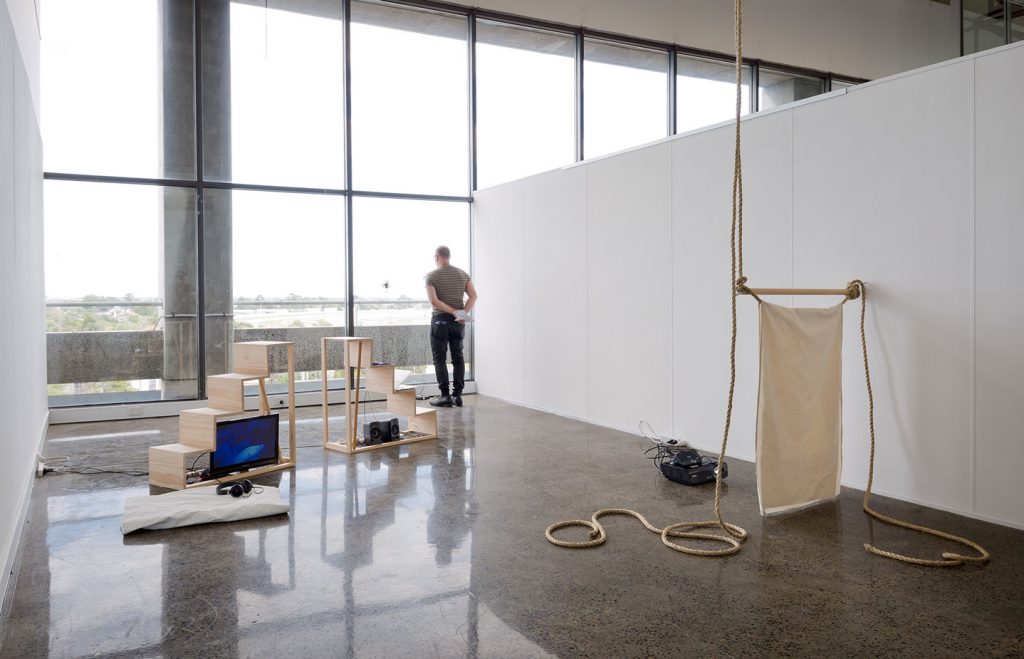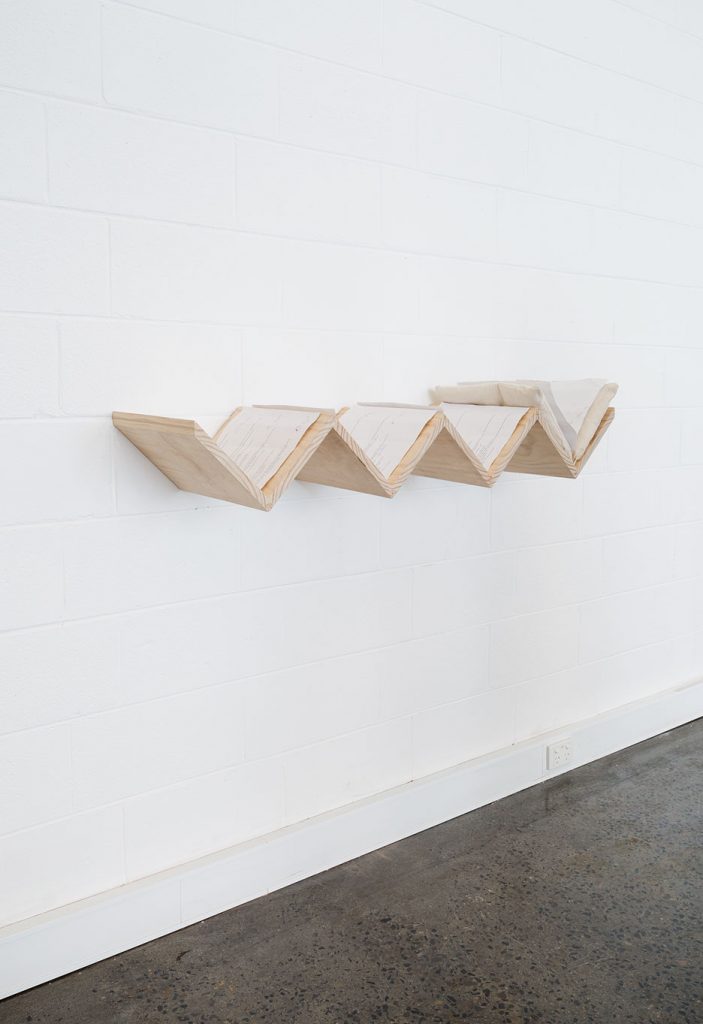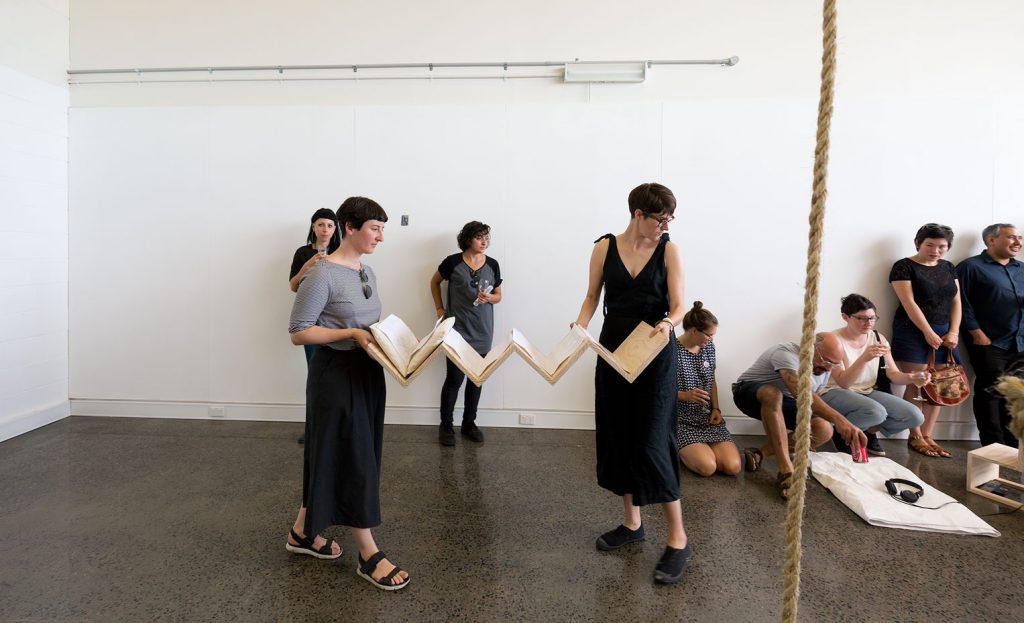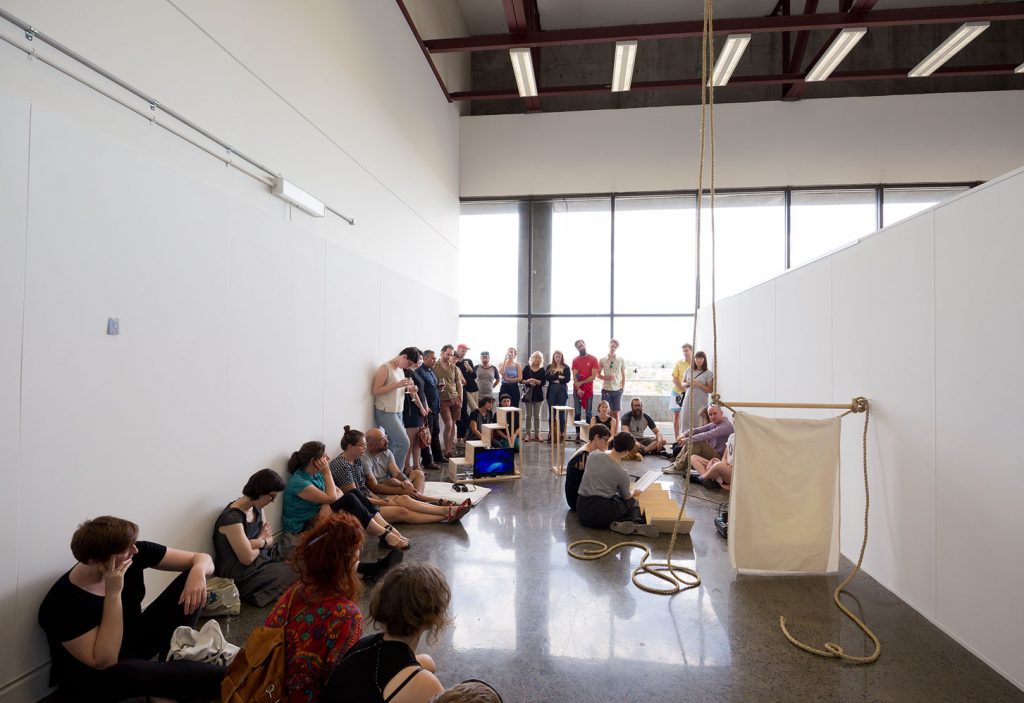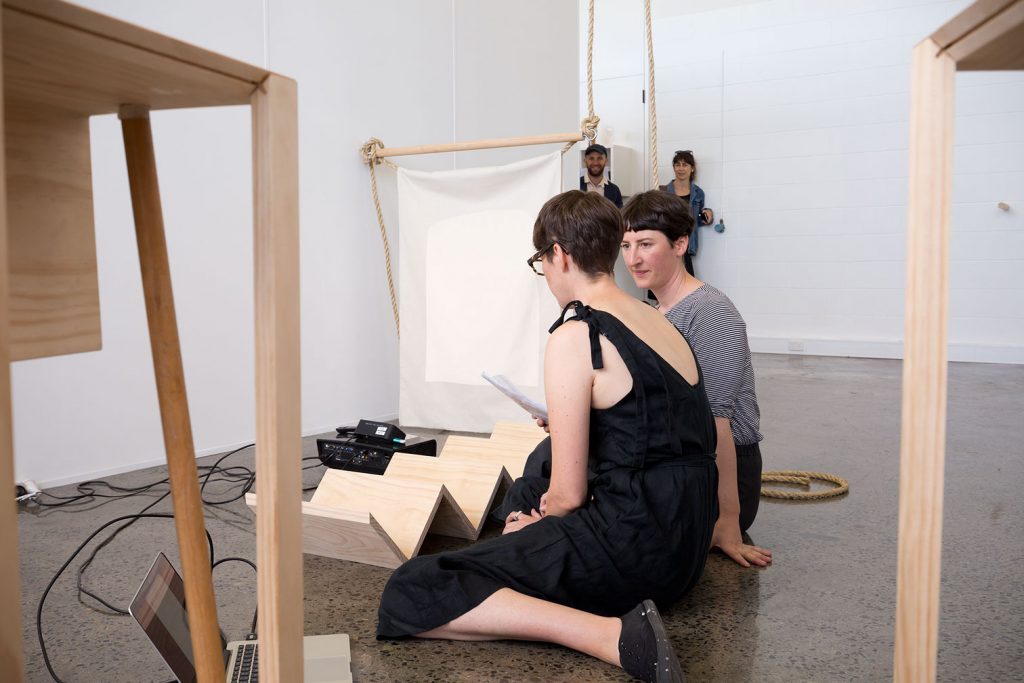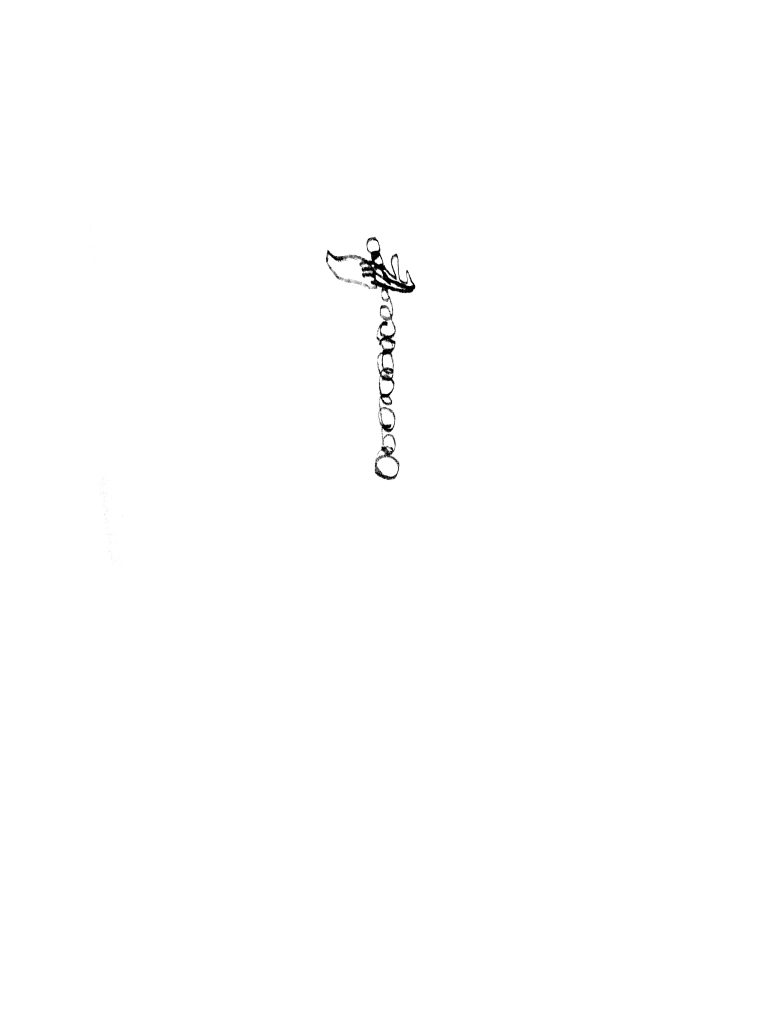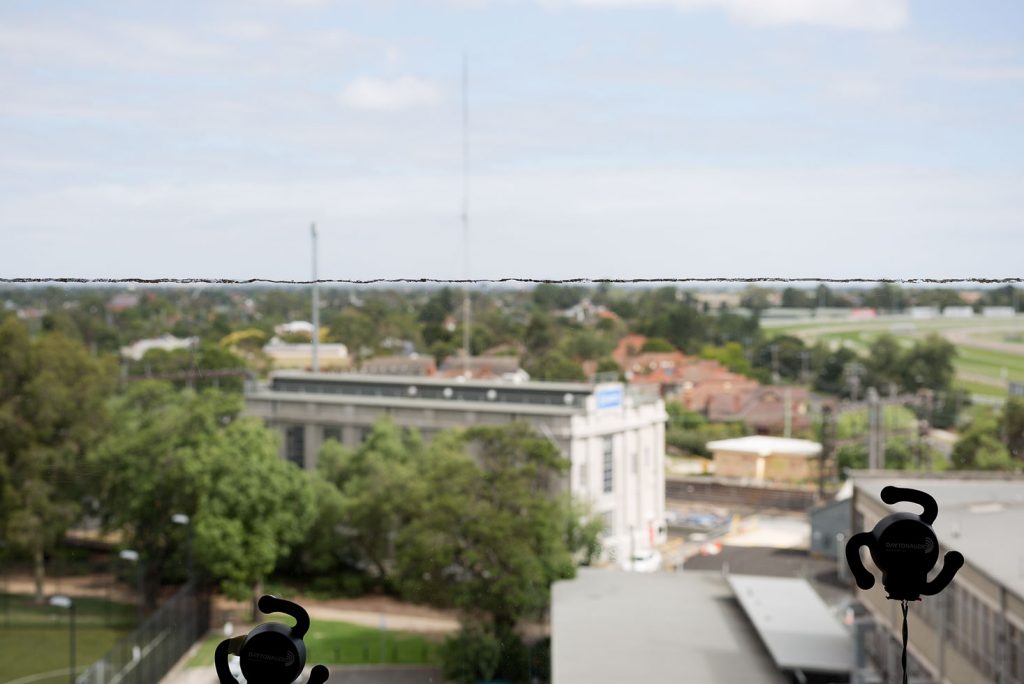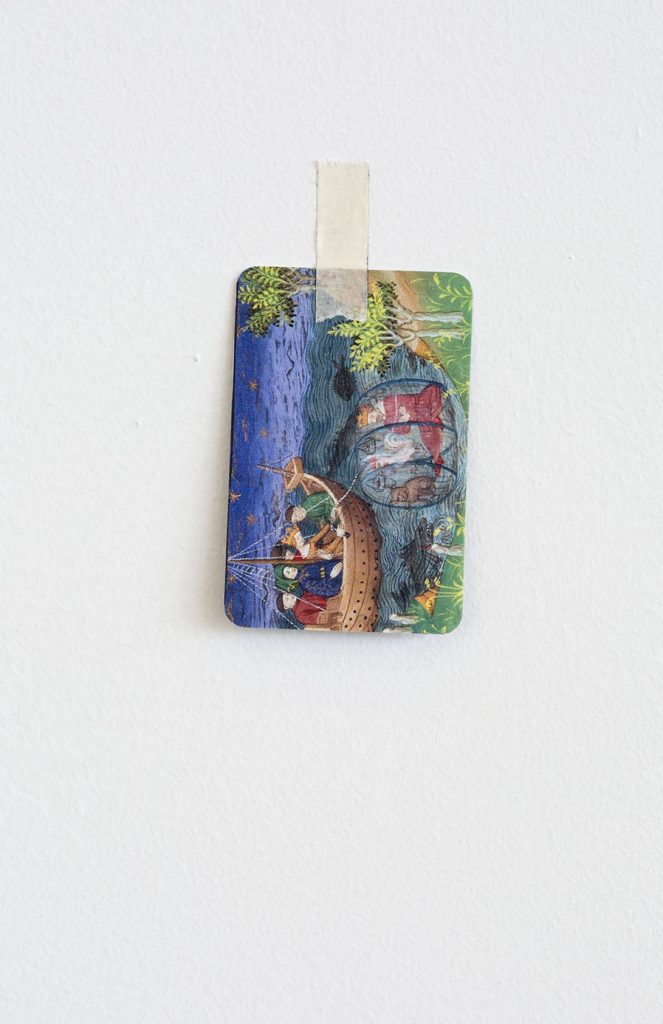 FEED THE BIRDS
A chip puppet play. Three videos of varying lengths. Shown at Manningham art gallery, 2016.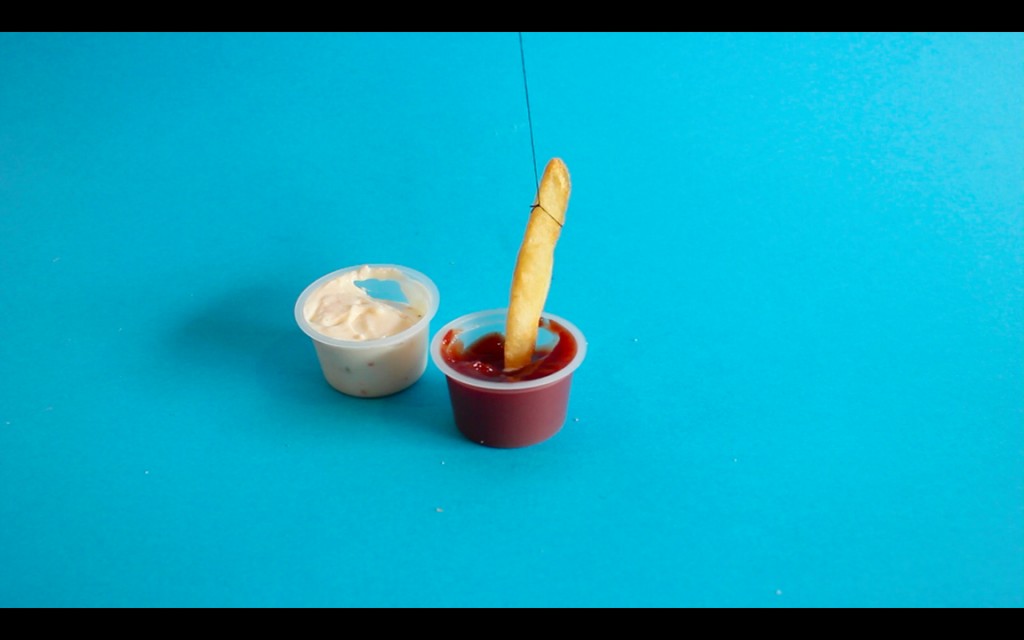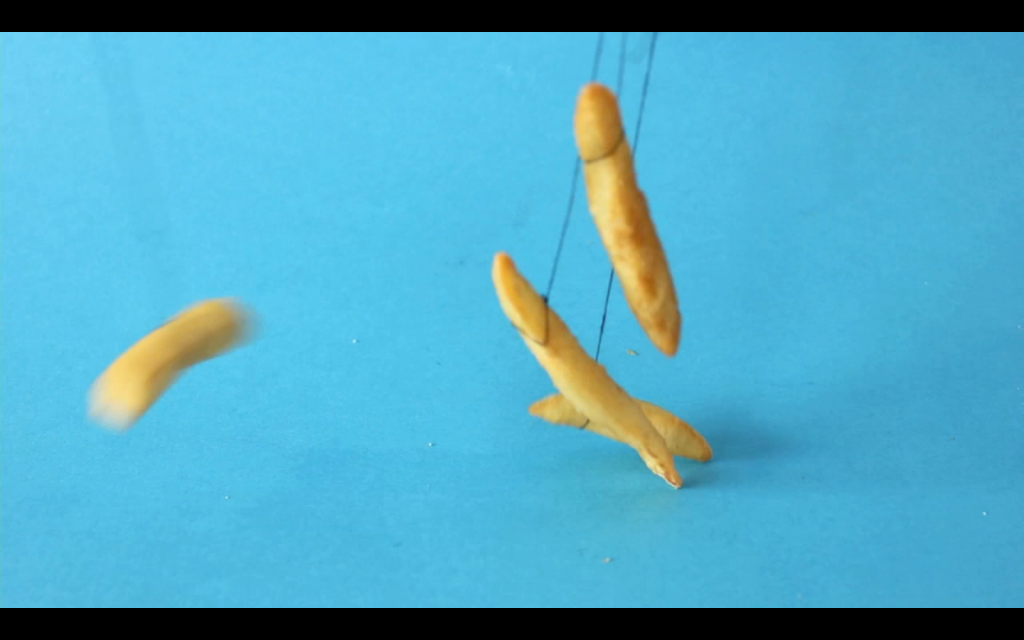 LOST PIGEON SERVICE
Performance, Cementa Festival through Runway Magazine. 2015
PIGEON PROJECT
Video, costume (calico, acrylic paint, oil stick, cardboard, tape), birdseed bricks (birdseed, agar). School of Visual Art, New York. 2014.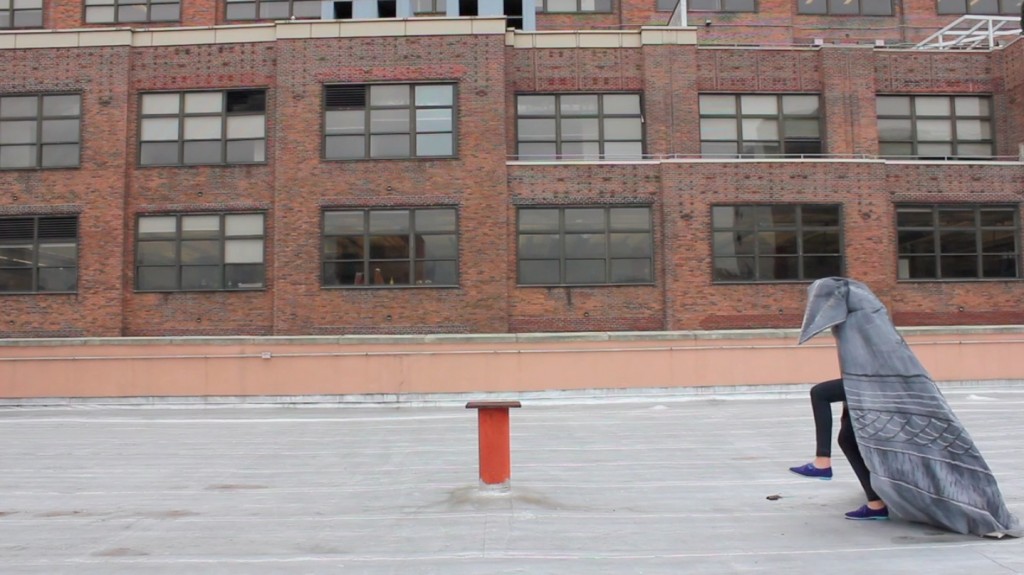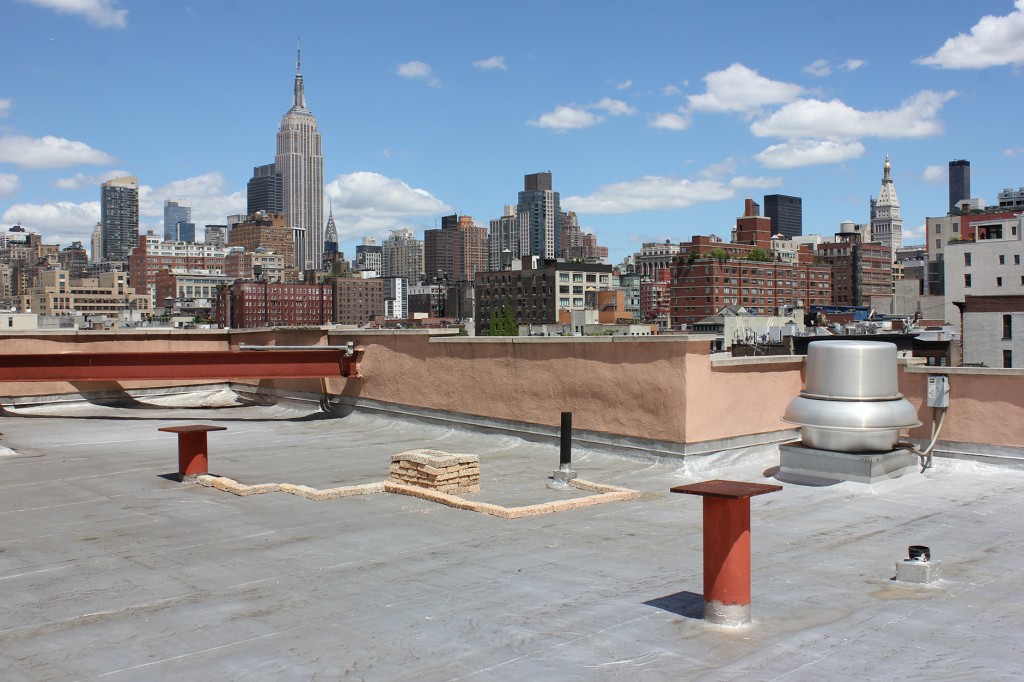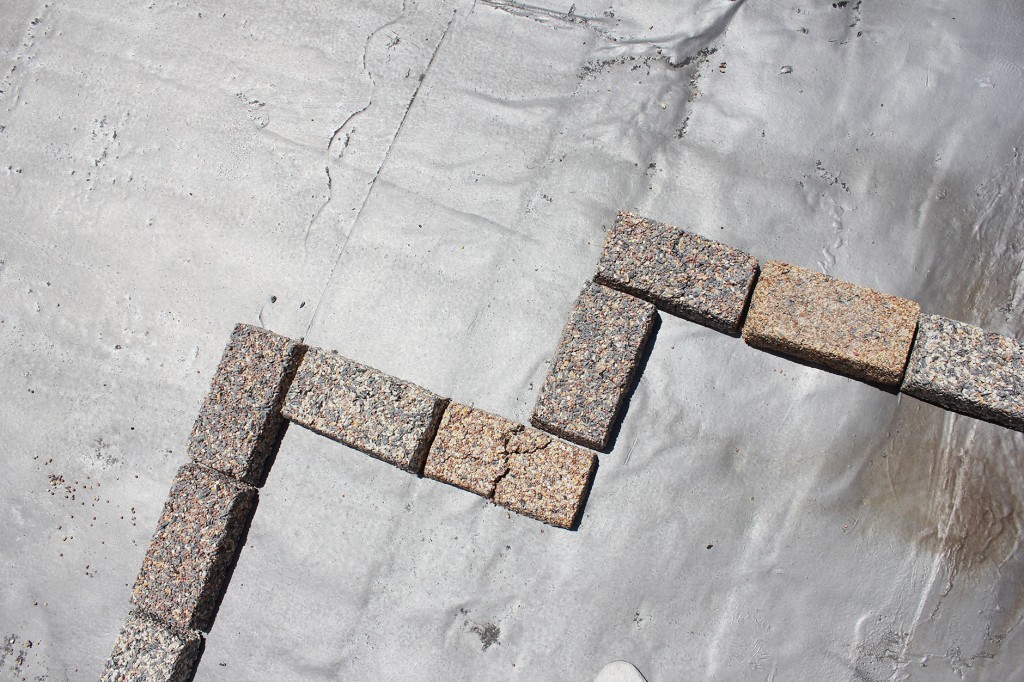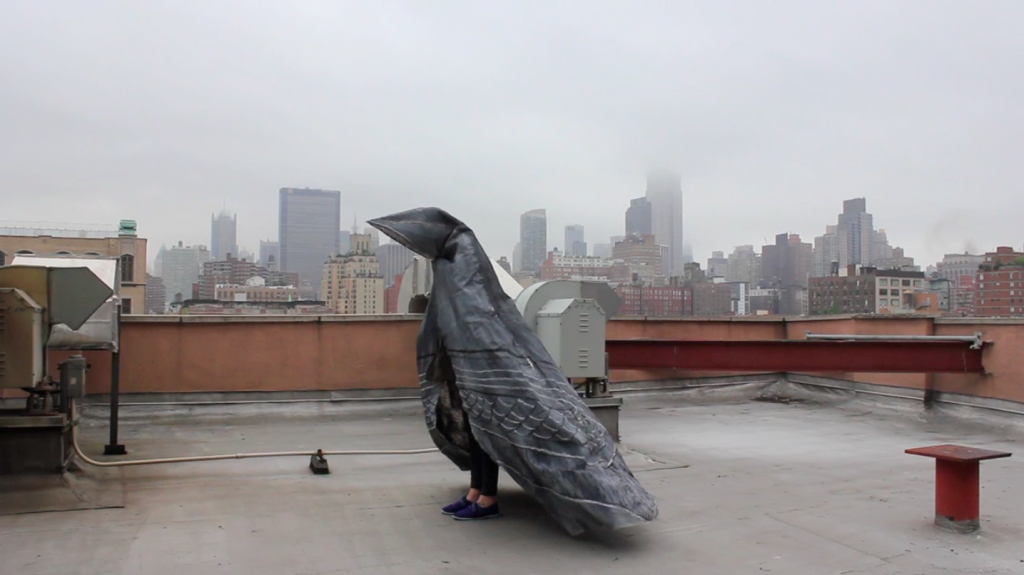 GARDEN CITY
A series of events at Testing Grounds, Melbourne. 2014.
Gardening videos, sound, garden encouragement workshop, publication, signs and ephemera.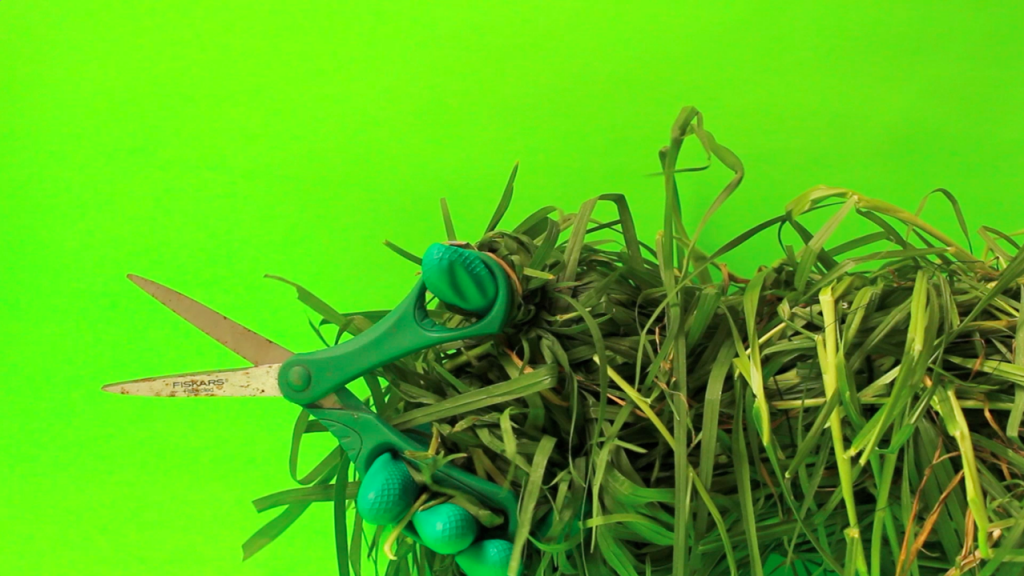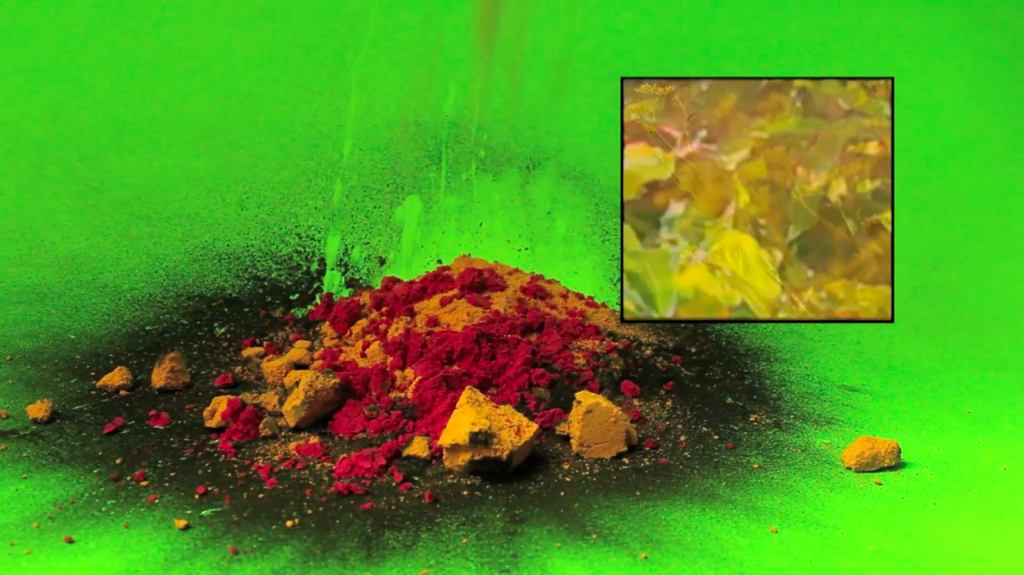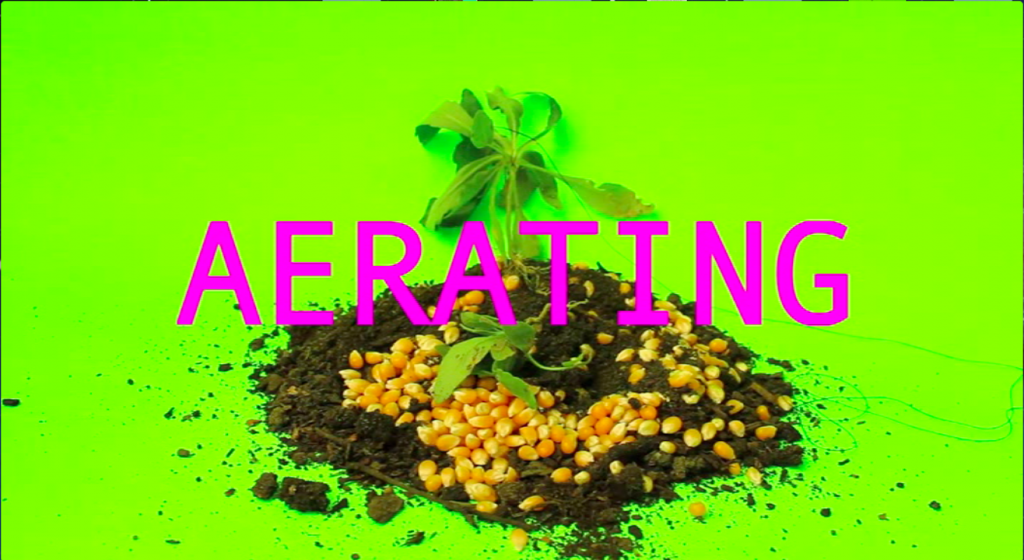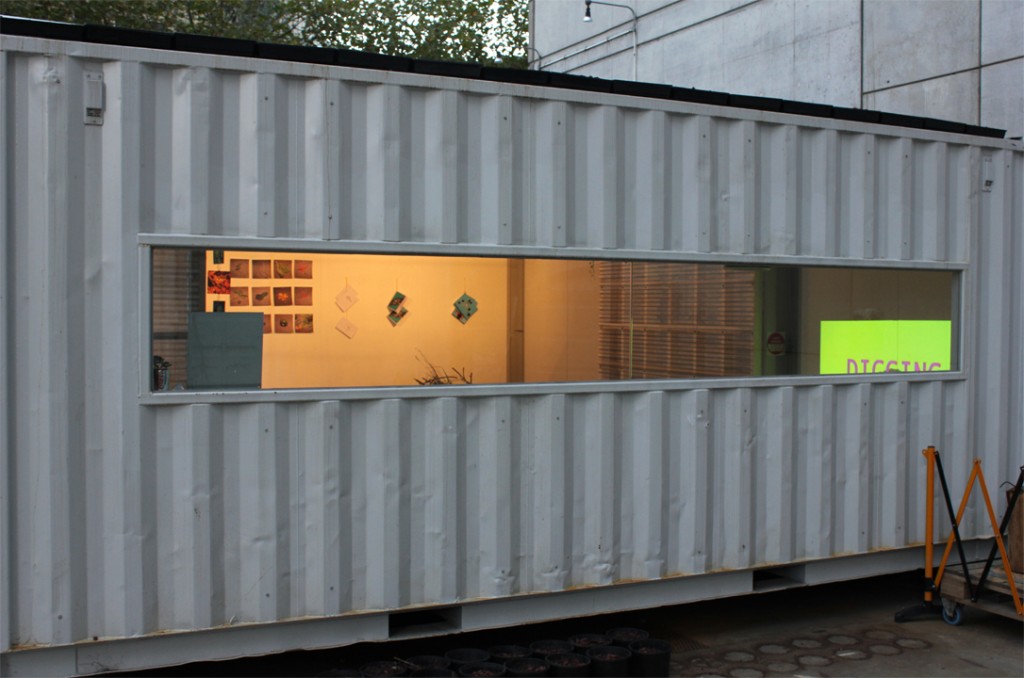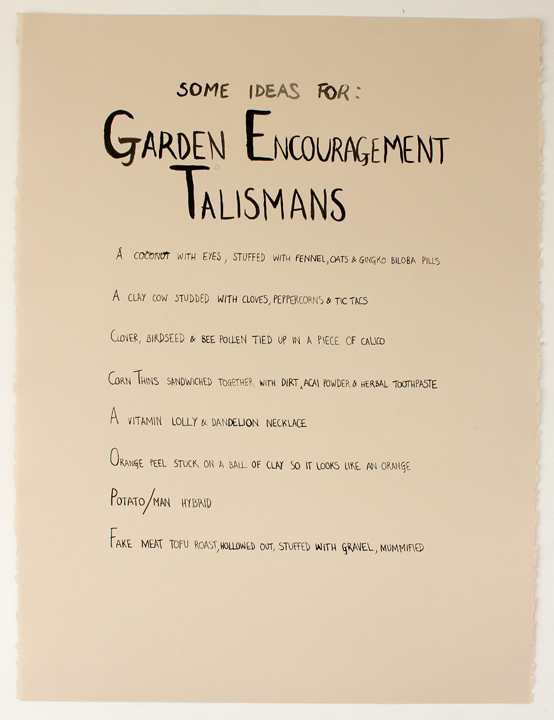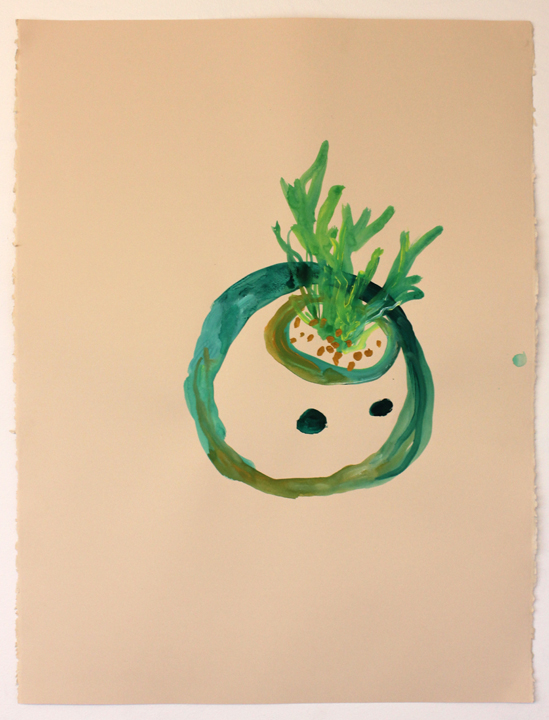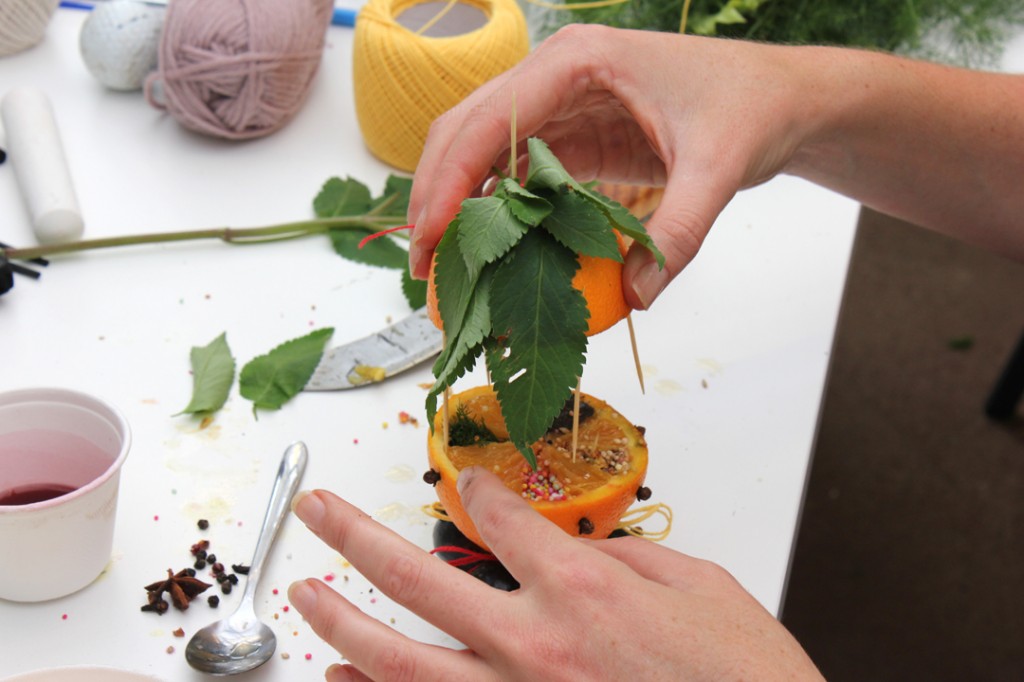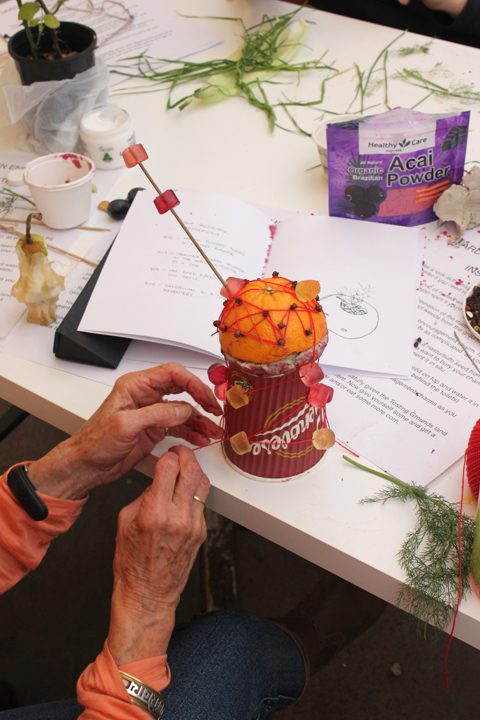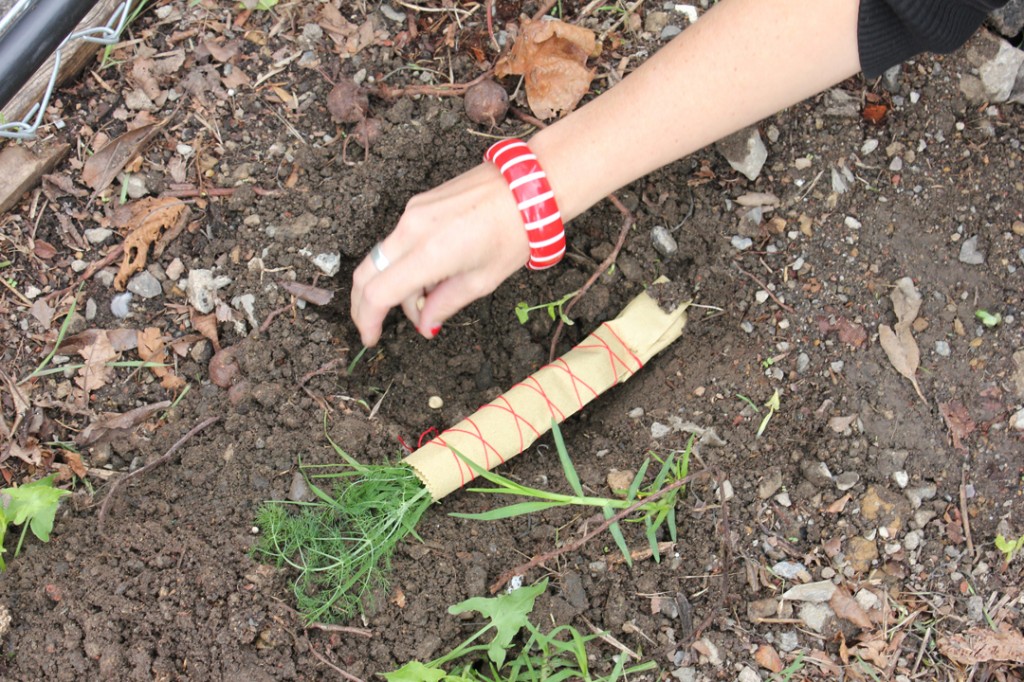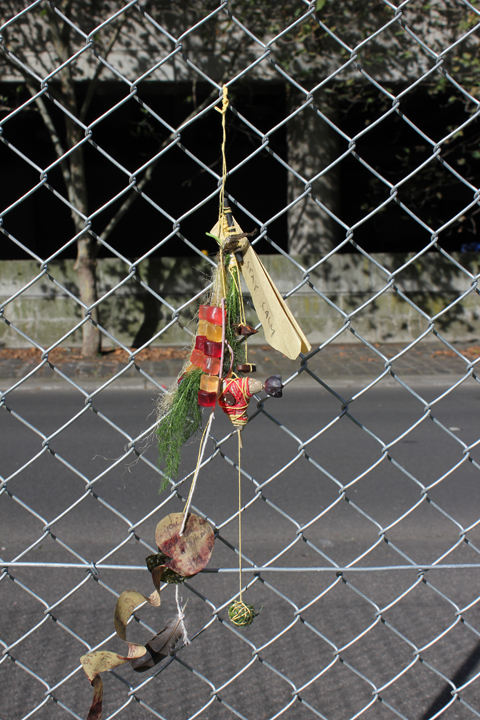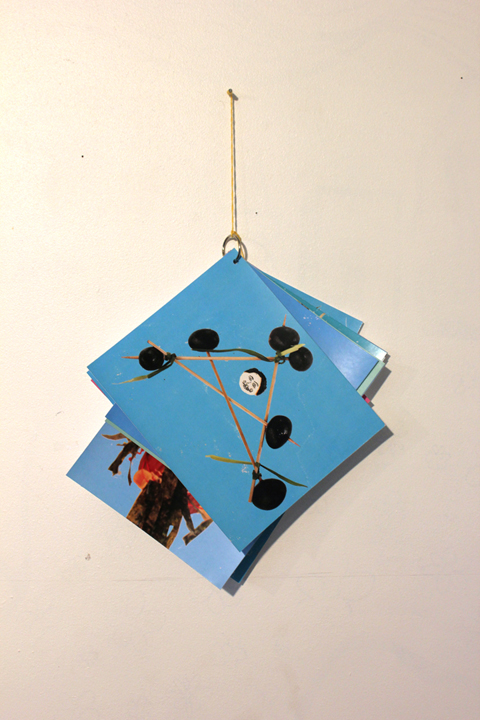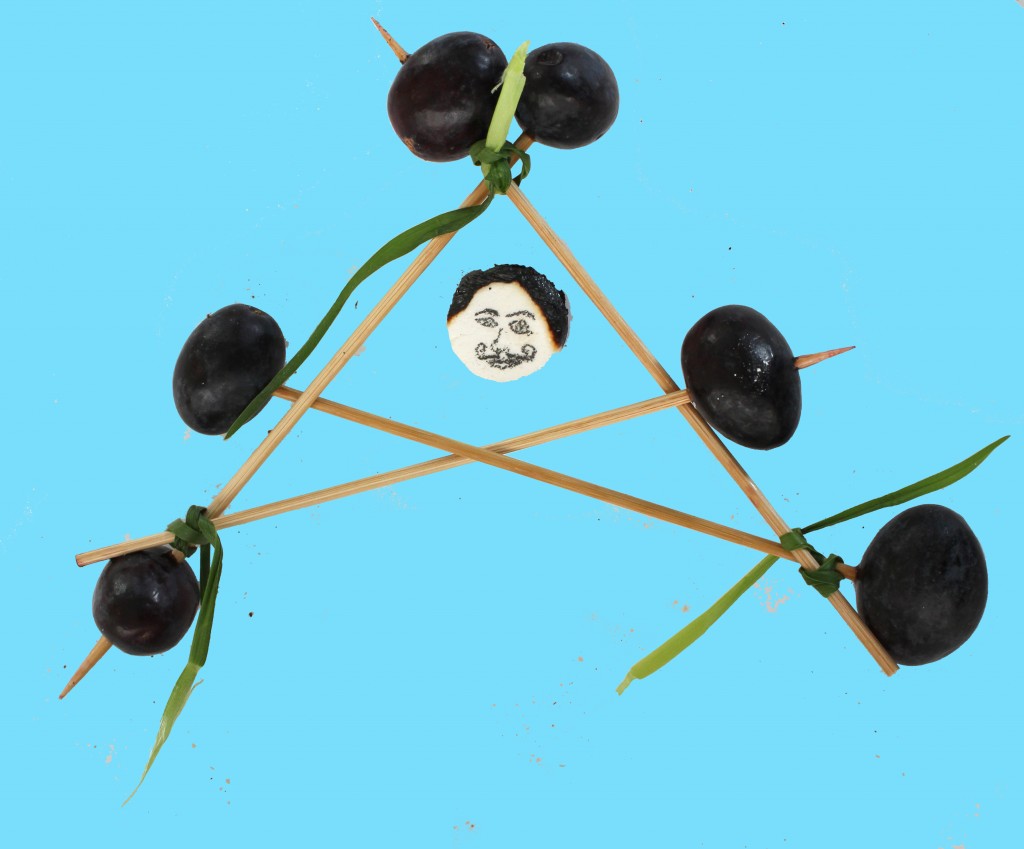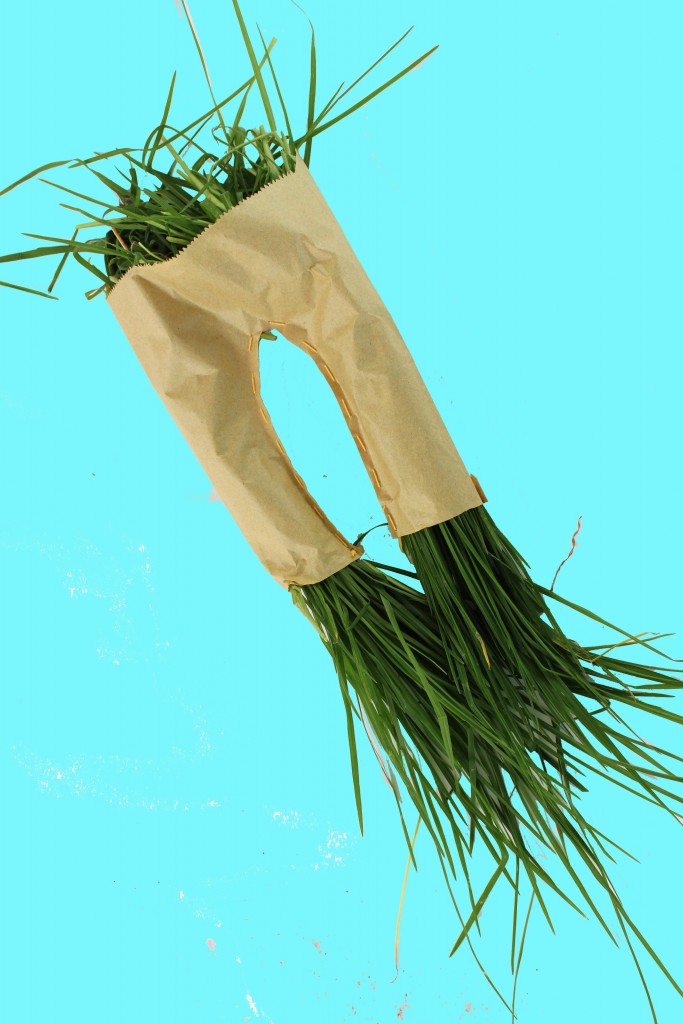 CATALOGUE ESSAY
For Mel Upton's exhibition 'between a rock and a hard place' 2014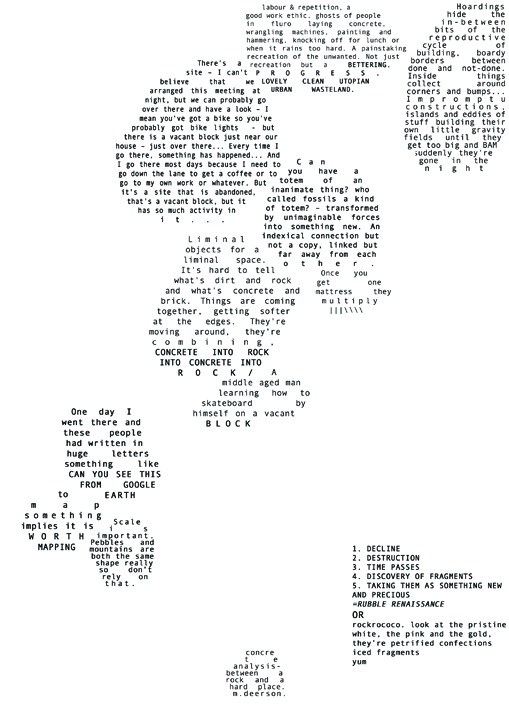 FRESH PRODUCE
Video. 05:26. Shown as part of the Tele-Visions broadcast. 2013.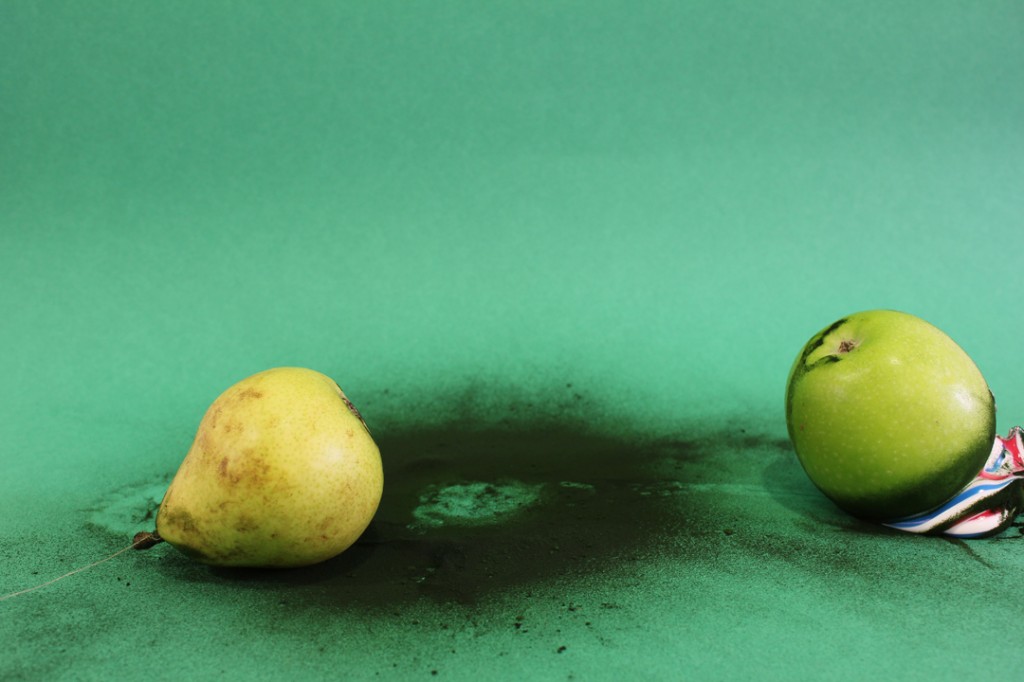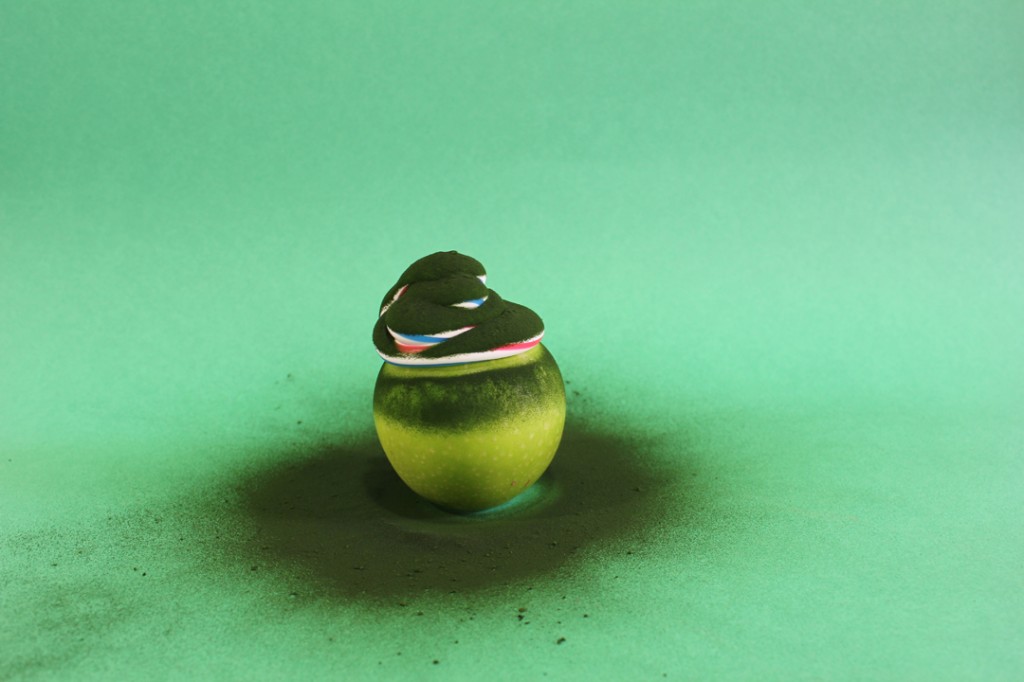 LOAM PARTY
Printed banner. Shown in Bloomingdale, Indiana and Trocadero Gallery Melbourne 2013/2015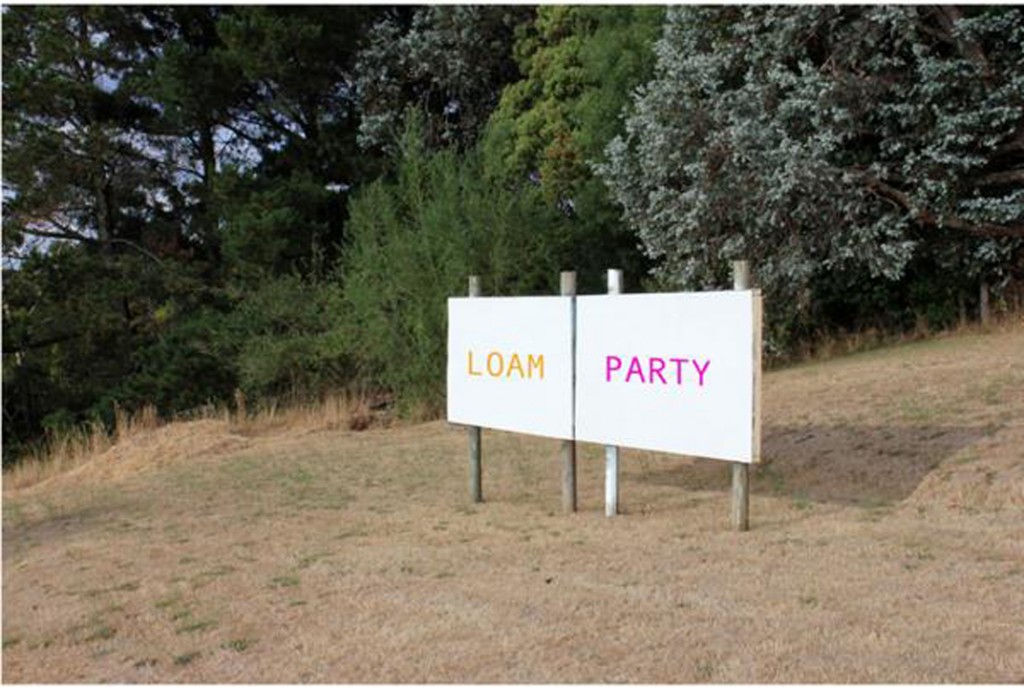 FOOD COURT/FIELD TRIP
Field trip of a desolate area of Melbourne to find wildlife, bread, sound, publications, ephemera. Docklands, Melbourne. 2013.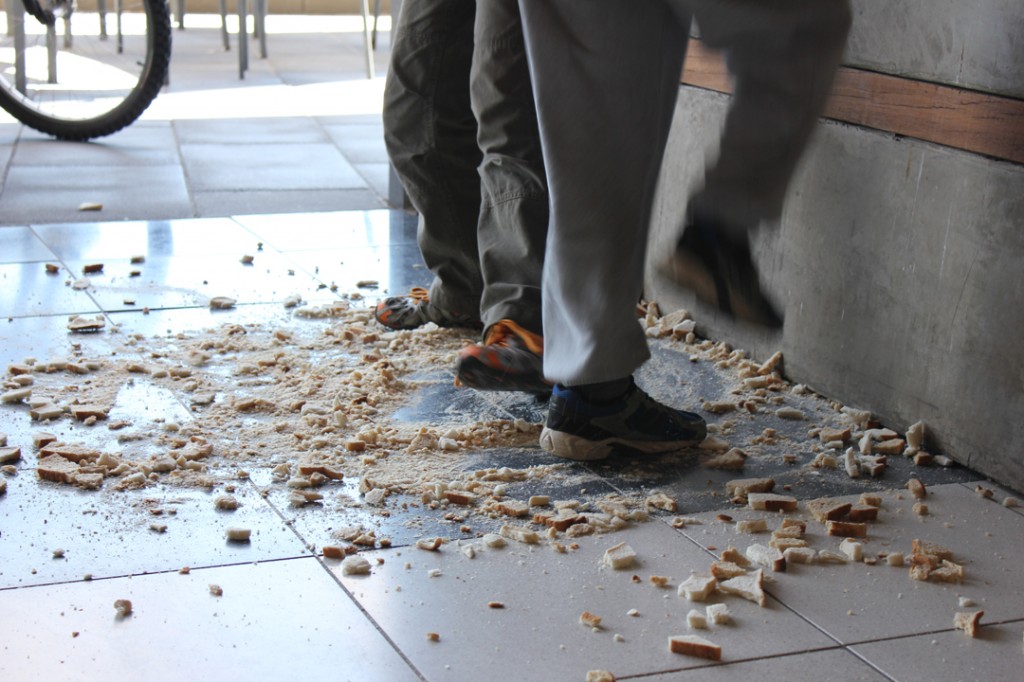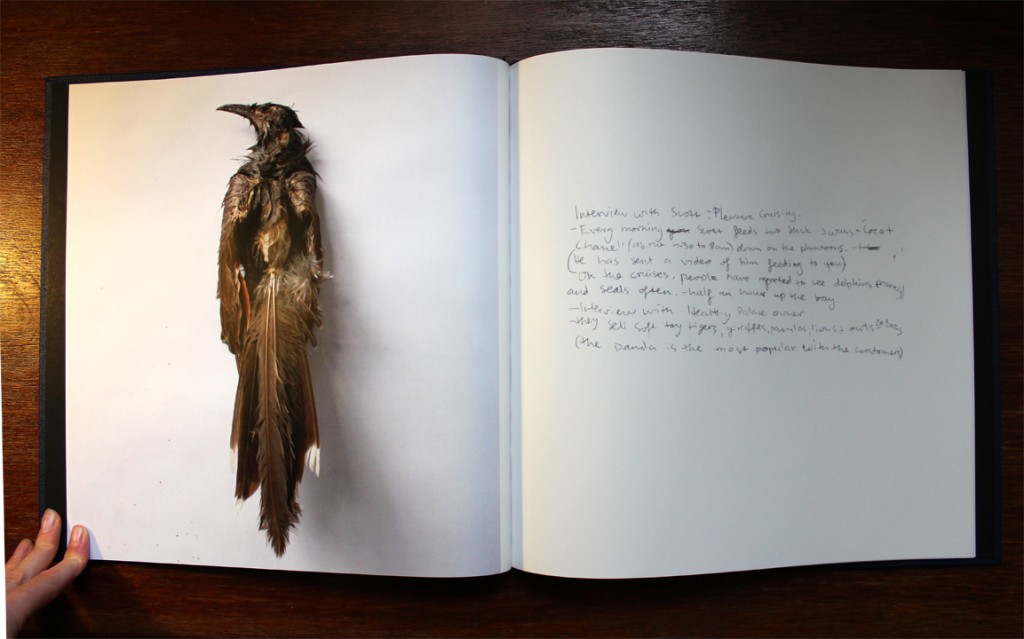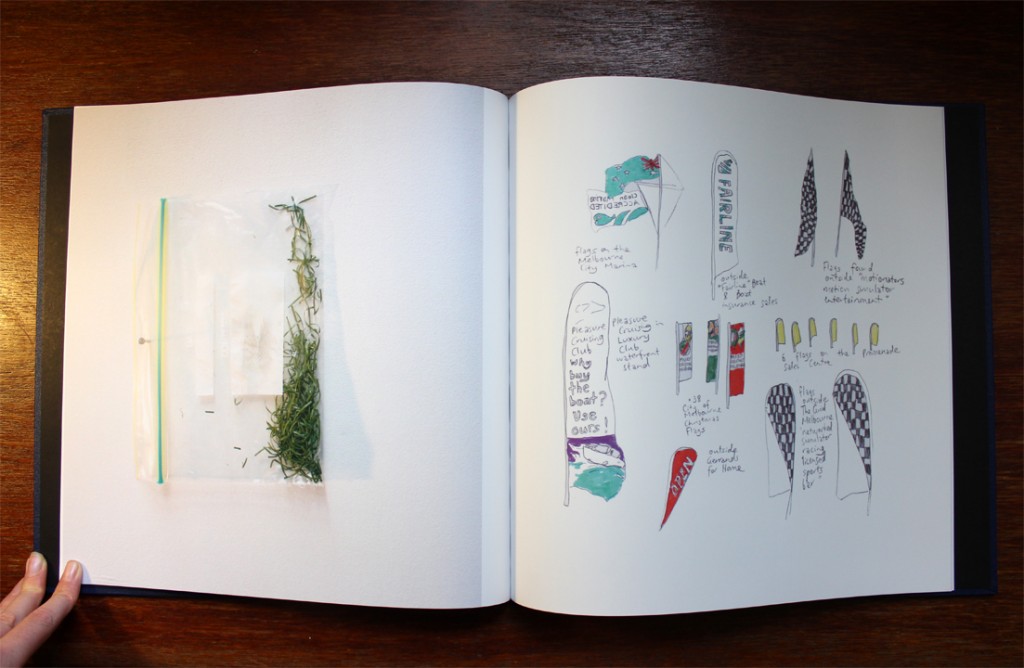 ROCK'S EYE VIEW
A rock watching tv of weeds while softly emitting sounds of birds and the wind. Papier mache, wire, acrylic paint, sound inside rock. Video. Shown at C3 gallery.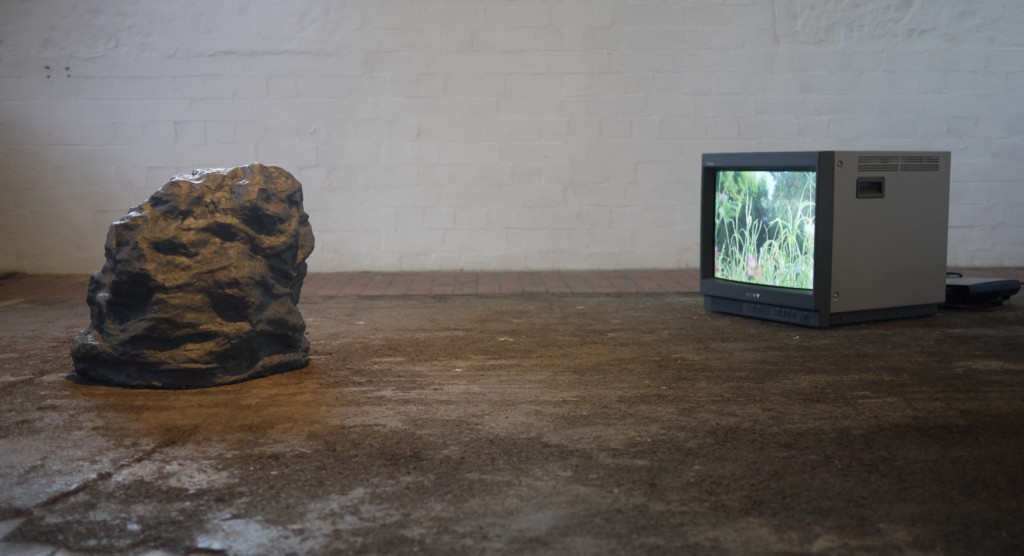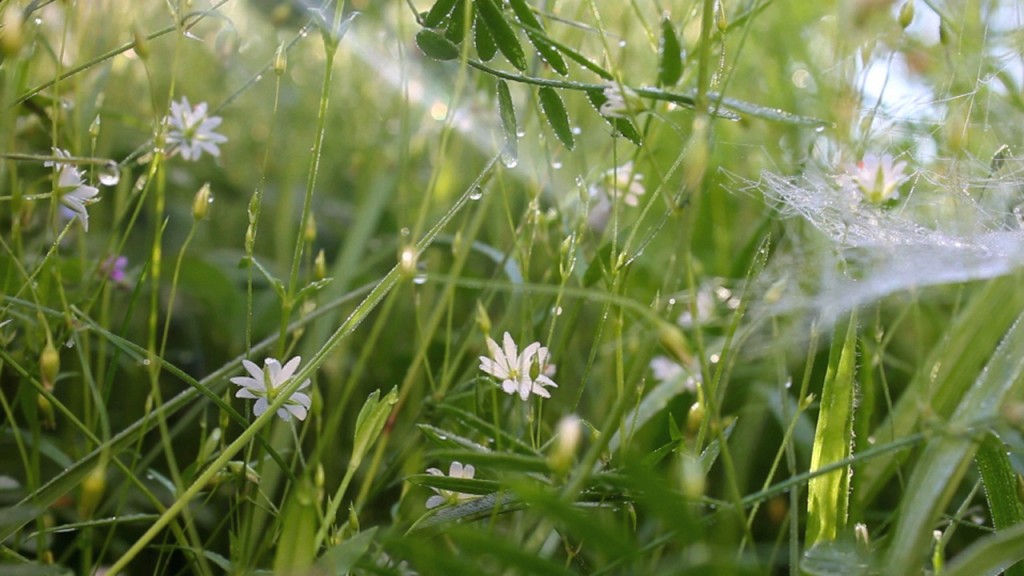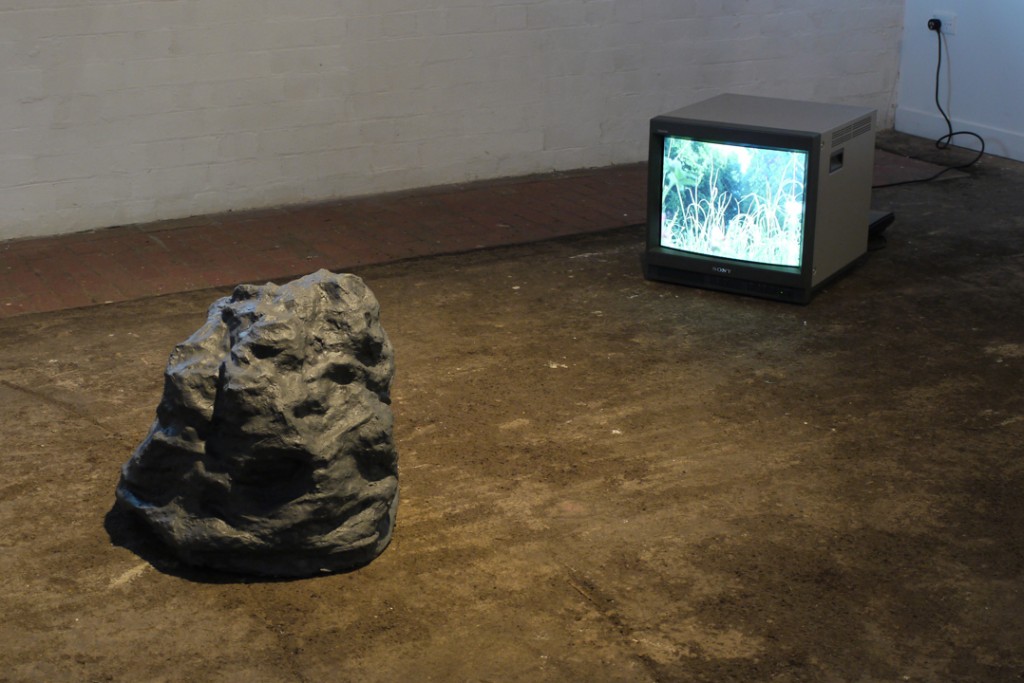 VEGETABLE KINGDOM
Video of weeds at the local creek backed with velvet, video of handmade signs for weeds, bricks, sound. Shown at the Substation, 2013.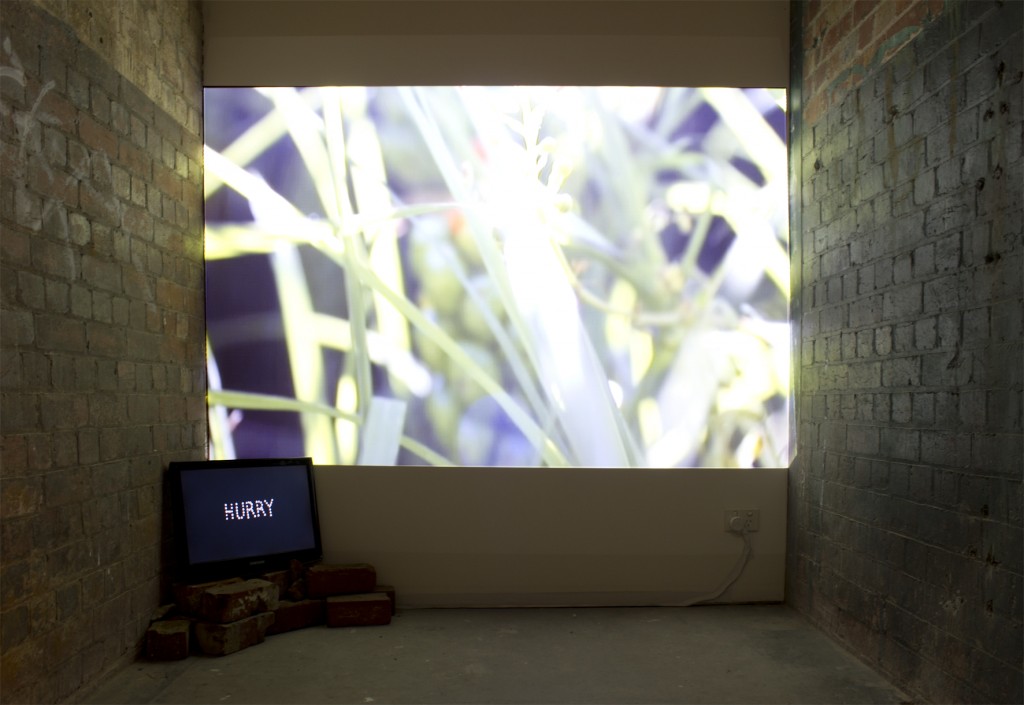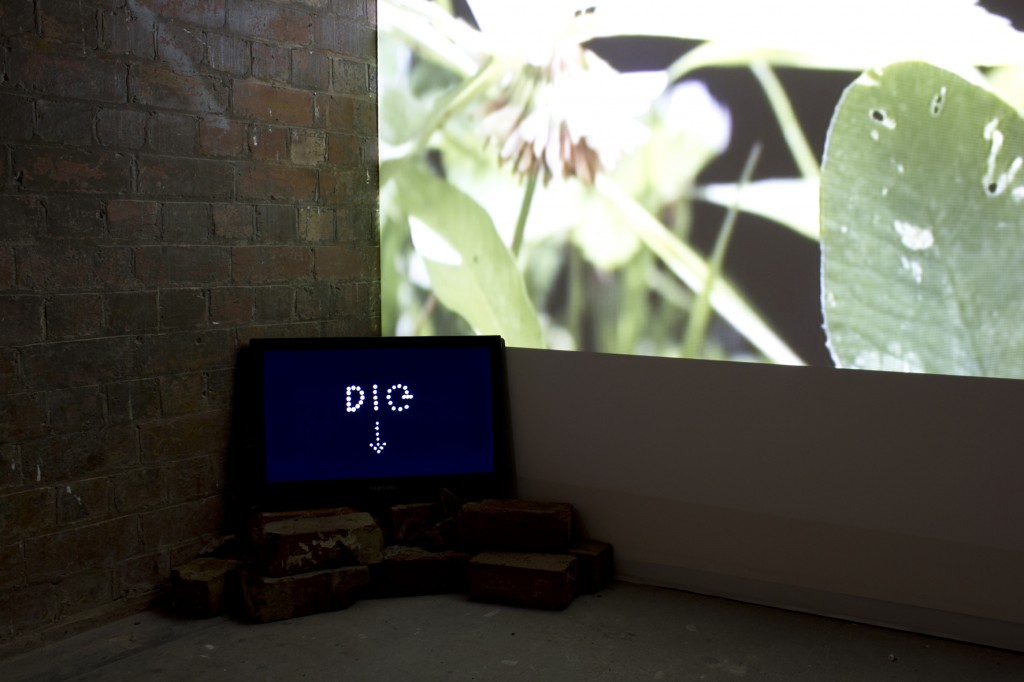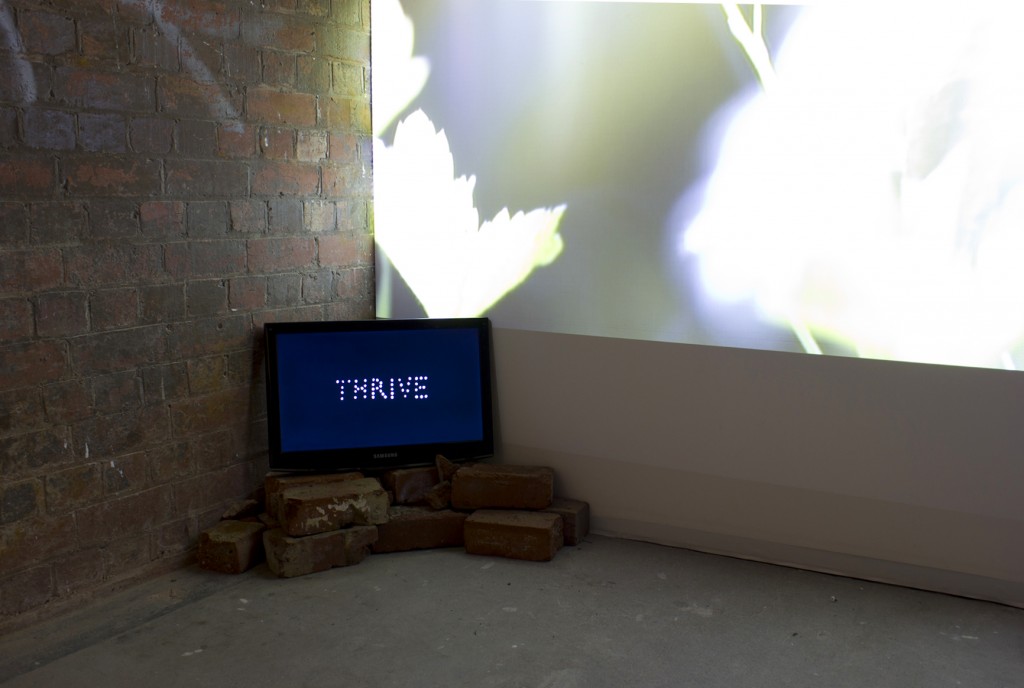 THE WHOLE SHEBANG
Receipt-list of made-up constellations, papier mache asteroids, video of the ground at the side of my house turned into a projected moon that rises and sets. 2013.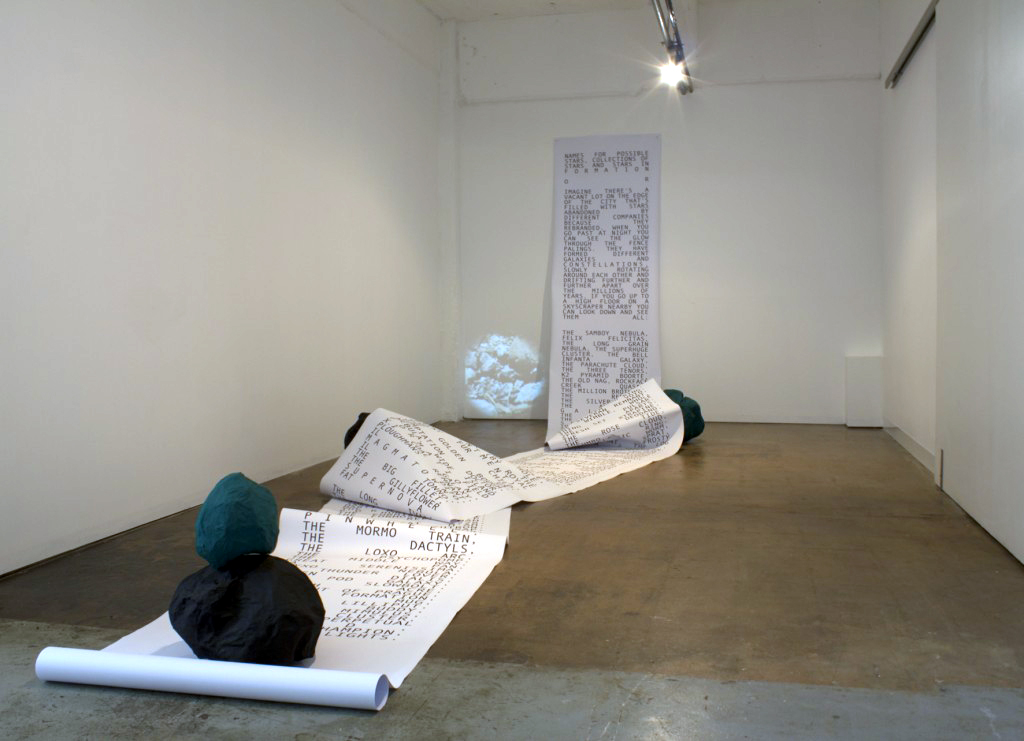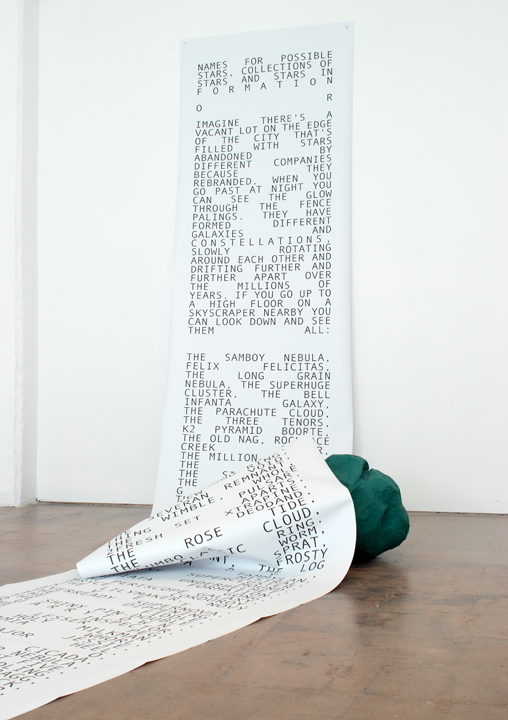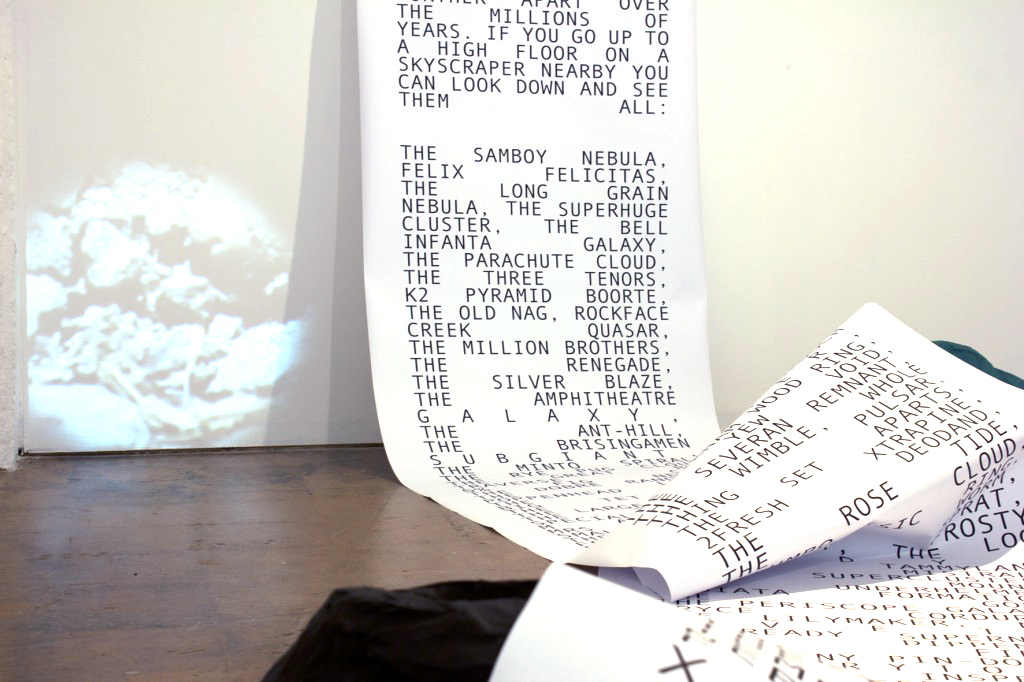 SIGNS POINT TO YES
Chip packet portals to other places. Chip packets, blackboard paint, letraset, papier mache meteorites, rocks, tanbark, confetti, rainbow eye sign (photo printed on metal, goggle eye, stick, string). Seventh Gallery. 2012.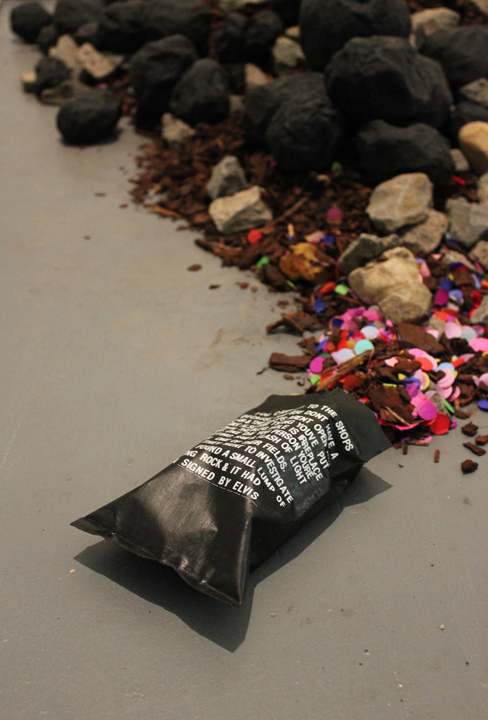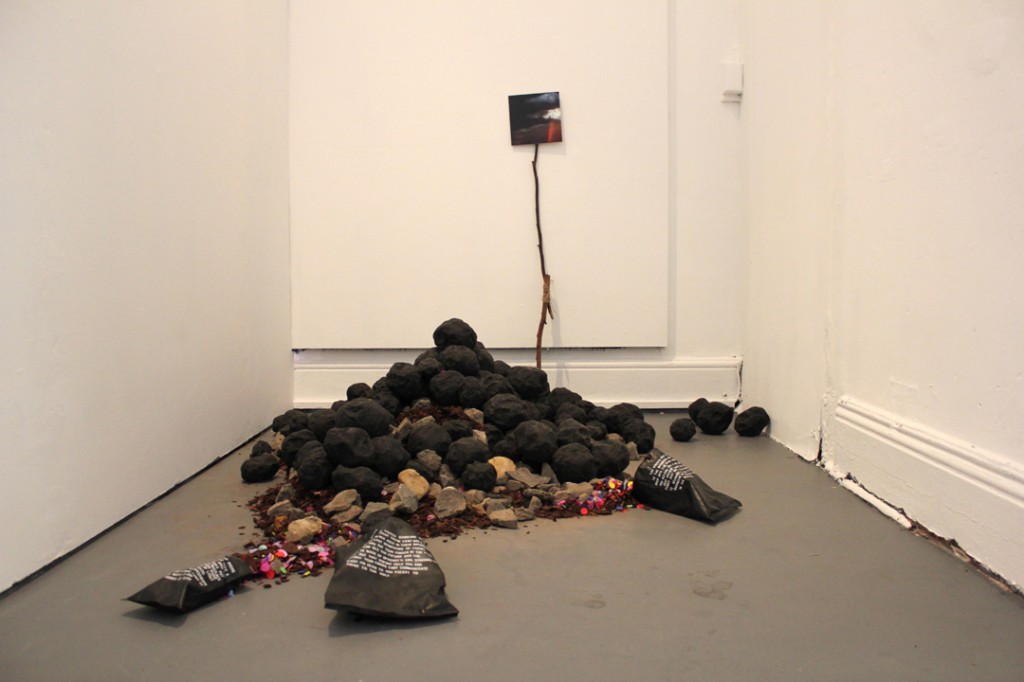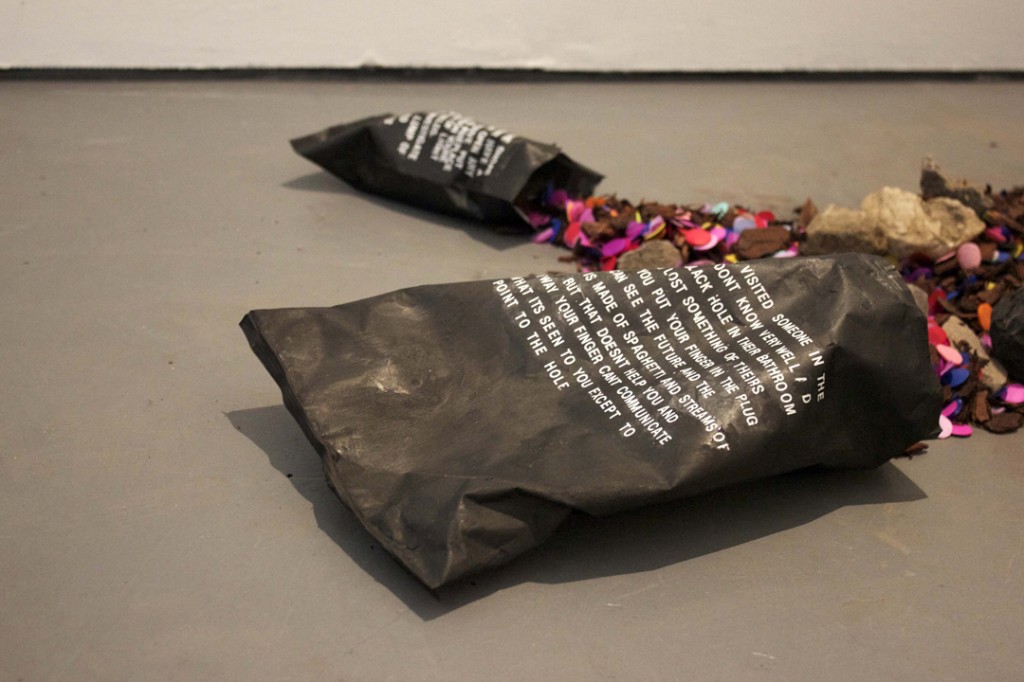 ONE DAY ALL THIS COULD BE YOURS
A meteor shower of predictions and portents. Papier mache, blackboard paint, letraset, tanbark, rocks. Kings ARI. 2012.